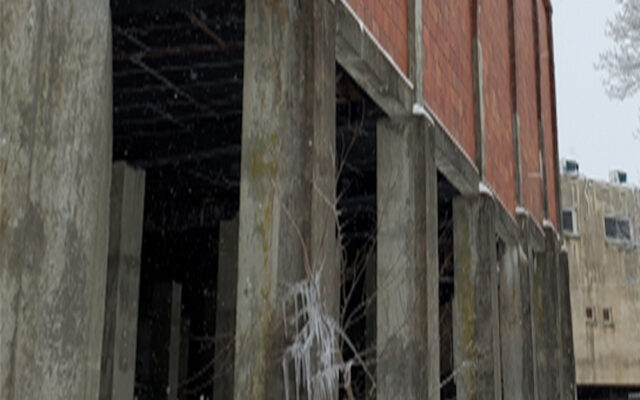 PO-theatresupport-10-21
File photo courtesy of Center Theatre THEATRE COLUMNS -- The Center Theatre auditorium and lobby are supported over the banks of the Piscataquis River in Dover-Foxcroft by a series of columns.
USDA invests in Center Theatre, Patriarchs Club
United States Department of Agriculture Under Secretary for Rural Development Xochitl Torres Small announced that USDA is investing $222 million to build and improve critical community facilities in 44 states, Guam and Puerto Rico. This community infrastructure funding will benefit nearly 2.5 million people in rural communities. It also includes $132 million to support health care, food security, and emergency response services for more than 850,000 rural residents in 37 states. In Maine, five community facilities will receive a total of $176,800 in grant funding.
One recipient is the Center Theatre of Dover-Foxcroft, which is receiving two grants totaling $28,000 ($15,600 and $12,400). This Rural Development investment will be used to renovate the Center Theatre, the only professional performing arts venue in Piscataquis County and is a major resource for the schools and community.
Funds will be used to fix the columns and footings supporting the theater over the banks of the Piscataquis River. The theater is a historic building and over time there has been damage caused by flooding, ice and erosion. Damage has also been caused by improper roof drainage which will be corrected as part of this project.
Many of the theatre's programs focus on children and education including drama camps, after school programs, educational programs and children's theatrical productions in cooperation with Foxcroft Academy. The theater also produces a number of live theatrical productions during the year as well as host concerts, meetings, and community events. Another component of the theatre's programming is first and second-run movies along with documentaries and art films.
The Patriarchs Club is receiving a grant in the amount of $50,000. This Rural Development investment will be used to expand the Harmony Cares Food Pantry located in the town of Harmony. This project involves the construction of a 28- by 30-foot addition that will provide the space needed for food distribution, storage, and a restroom. The food pantry also serves the neighboring towns of Cambridge and Wellington. Since the opening of the pantry in 2017, the number of food insecure families served by this facility has tripled. Additional food distribution/storage space and refrigeration/freezer capacity is desperately needed to meet the growing demand. The project also will provide facility upgrades, an emergency generator, and commercial refrigeration/freezer units.
"The Biden-Harris Administration is delivering on its promise to fight the COVID-19 pandemic and rebuild our economy," Torres Small said. "Rural Americans need emergency response, hospitals and medical facilities, and USDA's loans and grants invest in critical infrastructure to make that possible. USDA Rural Development puts rural people at the forefront of investment and opportunity to help us all build back better, stronger, and more resilient."
USDA Rural Development Acting Maine State Director Tommy R. Higgins said, "This Rural Development funding supports multiple projects in Maine that benefit critical community facilities. From repairing a rural library to expanding a food pantry to upgrading other essential and important facilities, this key funding is improving the quality of life for residents in rural communities."
USDA is investing in 537 projects through the Community Facilities Direct Loan and Grant Program. The assistance will fund essential community services that will help keep rural America resilient in the face of the COVID-19 pandemic. The projects will finance emergency response vehicles and equipment; build or improve hospitals and clinics; and combat food insecurity.
More than 100 types of projects are eligible for Community Facilities funding. Eligible applicants include municipalities, public bodies, nonprofit organizations, and federally recognized Native American tribes. Projects must be in rural areas with a population of 20,000 or less. For more information, visit https://www.rd.usda.gov/programs-services/community-facilities/community-facilities-direct-loan-grant-program.