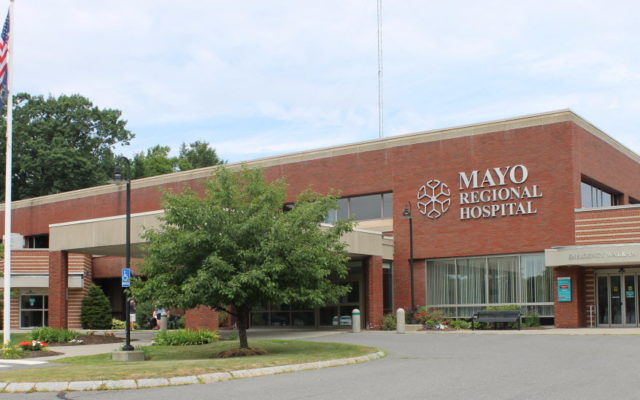 AX246_0D82_9
Northern Light Mayo Hospital in Dover-Foxcroft
Northern Light Health prepared to provide COVID-19 booster doses to any eligible citizen age 18-plus
BREWER — The Maine CDC announced on Nov. 17 that "effective immediately, all Mainers age 18 or older who received the Pfizer or Moderna vaccine are eligible for a booster dose at least six months after the second dose of their primary series. Those who received the single-dose J&J vaccine remain eligible for a booster dose at least two months after their initial dose." While this is the official approval needed to begin administering these doses across Maine, please refer to the information below regarding registering to receive a vaccination through Northern Light Health.
Matt Marston, PharmD, vice president, Northern Light Health, shares, "We have ample doses of the COVID-19 vaccine to accommodate our Maine communities. With cases on the rise throughout Maine, we look forward to being able to provide more Mainers with this additional layer of protection and reassurance. Along with additional recommended precautions, such as masking and appropriate hand hygiene, vaccination is the most effective way to control the spread of COVID-19."
For many Mainers it has been nearly a year since they were first vaccinated, and since that time new COVID-19 variants (like Delta) have developed and, for some groups, new strains are more likely to cause breakthrough infections. While breakthrough infections tend to be milder and are less likely to result in hospitalization or transmission to others, they are still a risk. We encourage all Mainers to get a booster shot as soon as they are eligible.
Northern Light Health booster registration — Online registration for booster vaccines is available effective immediately on our Northern Light Health vaccine scheduling tool (https://covid.northernlighthealth.org/). Eligible community members may schedule a booster appointment using the scheduling tool. If they do not have access to a smart phone or computer, they should call 207-204-8551 to make an appointment. If they are having trouble getting an appointment at a Northern Light Health facility, they should visit the full list of COVID-19 vaccination sites at Vaccination Sites | Covid-19 (maine.gov) or call the Maine COVID-19 Community Vaccination Line at 1-888-445-4111.
Information on "Mix-and-Match" boosters — While any initial, two dose vaccine series must be with the same vaccine, you may mix-and match vaccine types for your booster. Those who have had more severe side effects from their first two doses, may benefit from trying a different vaccine for their booster. Mixing and matching has also been shown in early studies to provide an enhanced immunity response, particularly for those who initially received John & Johnson as their initial vaccination.