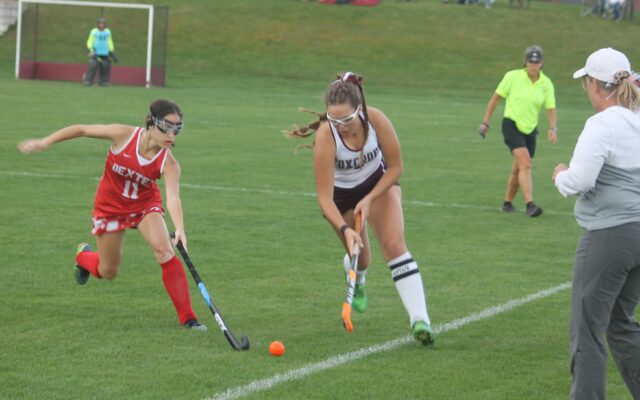 PO-spFHmcarty-42-21
Observer photo/Stuart Hedstrom STAYING IN -- Foxcroft Academy senior Reece McCarty works to keep the ball inbounds around the reach of Dexter freshman Lexi Vafiades during the Ponies' Homecoming game on Oct. 14. Foxcroft scored three times in the opening quarter to win 3-0.
Foxcroft field hockey earns Homecoming victory vs. Dexter
DOVER-FOXCROFT — On a warm mid-October day with the mercury exceeding 70 degrees, the Foxcroft Academy field hockey team got off to a hot start in its 2021 Homecoming game vs. Dexter Regional High School on Oct. 14. The Ponies scored all three goals in the first 11-plus minutes on the way to a 3-0 victory.
Several minutes into the opening quarter junior Emily McLeish passed to classmate Lauren Martin who was positioned in front of the Dexter goal. Martin's shot found the left side of the goal to put Foxcroft on the scoreboard at the 12:38-mark.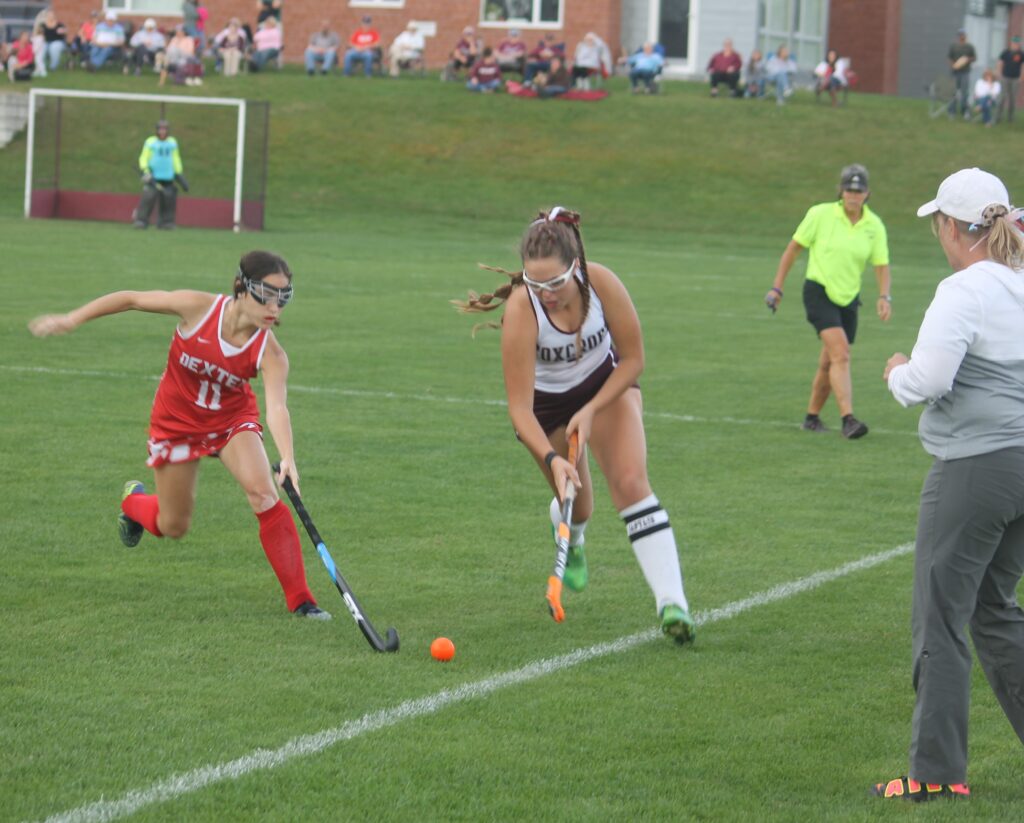 Just over four minutes later McLeish would score a goal. After taking a pass from fellow junior Justice Batchelder, McLeish moved the ball a few steps and found the left of the Tiger goal for a 2-0 advantage with 8:28 left in the first quarter.
Shortly after a penalty corner — Foxcroft would have an 11-3 advantage in corners — a shot by sophomore Hilary Howard was blocked by Dexter senior keeper Molly Bennett. The rebound rolled to McLeish who put it in for her team's third goal in less than nine minutes, her second of the stretch, and giving her a hand in all three Foxcroft goals.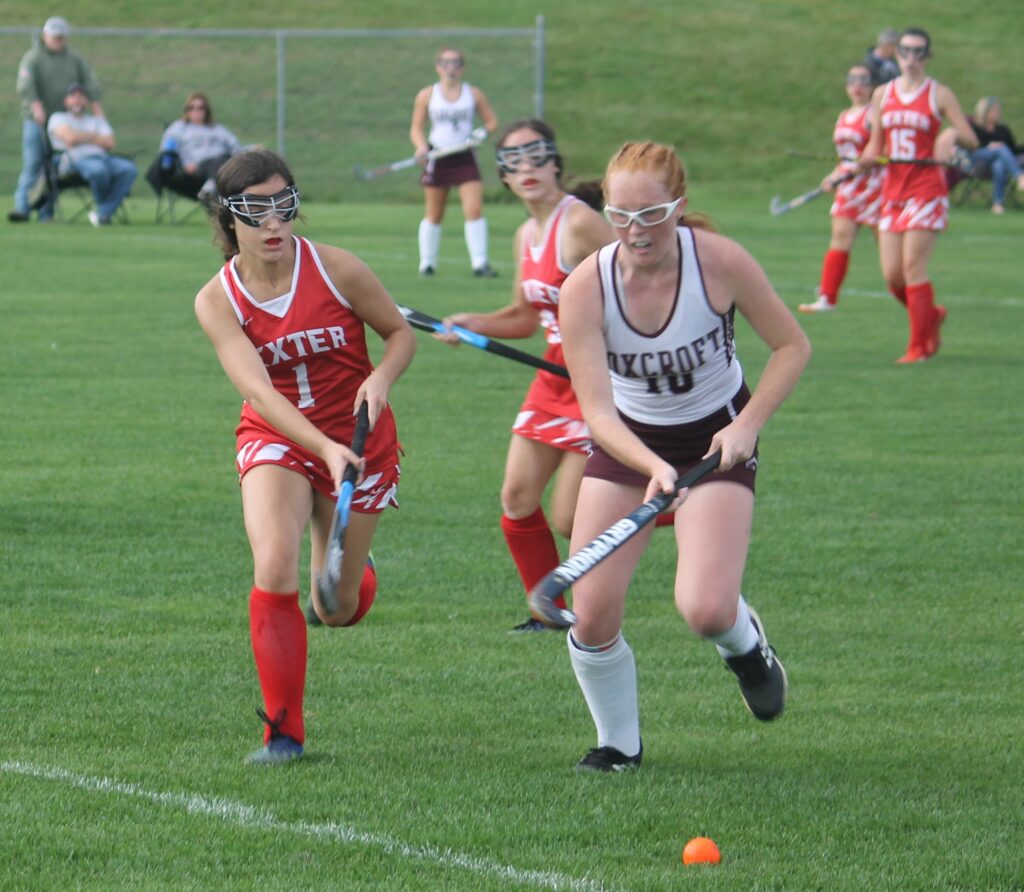 Pony junior keeper Destiny Weymouth finished with two saves for the shutout. Across the field, Bennett stopped four shots.
Foxcroft finishes the regular season at 9-4, having won five of the team's final half dozen games. The Ponies posted the team's ninth shutout of 2021, with each of the nine wins being earned by virtue of a scoreless performance by the defense. These nine games include a 2-0 win in Dexter on Sept. 17.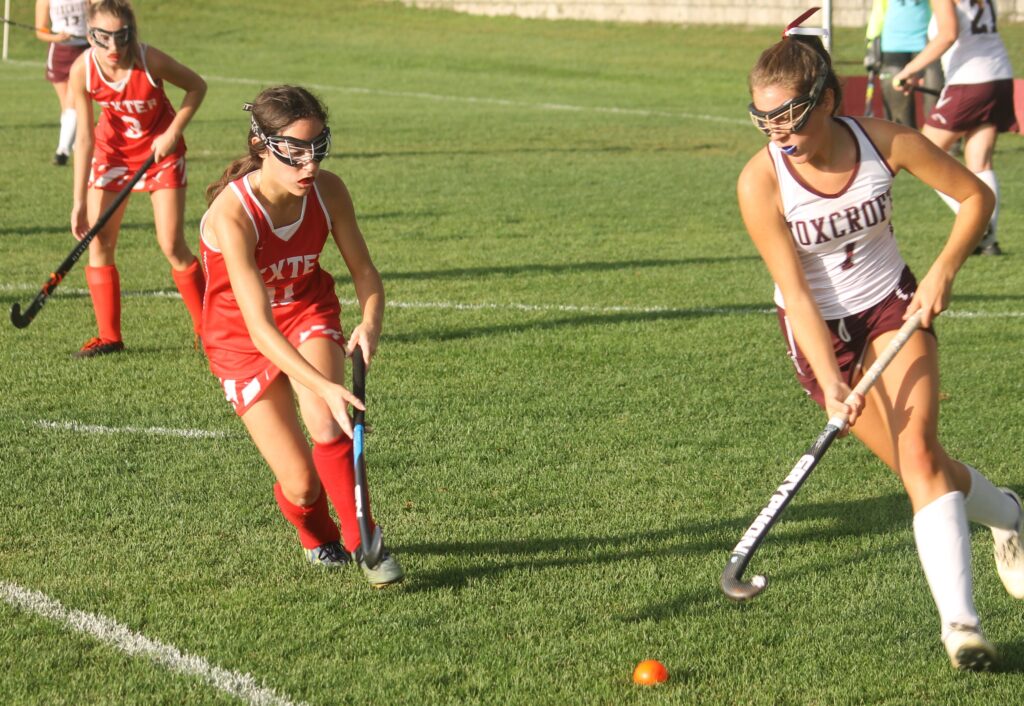 The Tigers fell to 5-7-1 with the defeat in Dover-Foxcroft.
The two teams will both be in the Class C North tourney, which is scheduled to start this weekend with preliminary matchups. Foxcroft will most likely have a bye to the quarterfinals while Dexter will play in the prelim round.
FIELD HOCKEY
Foxcroft 3,
Dexter 0
First: F — Martin
(McLeish)
F — McLeish (Batchelder)
F — McLeish (Howard)
Penalty corners: F — 11,
D — 3
Saves: F — Weymouth 2,
D — Bennett 4
Records: F — 9-4,
D — 5-7-1