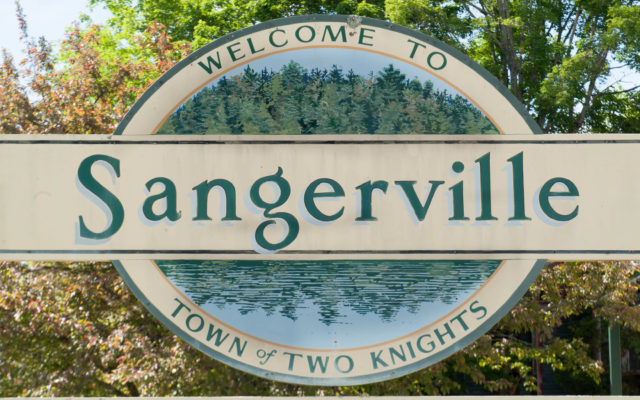 Sangerville residents approve property maintenance ordinance
SANGERVILLE — A property maintenance ordinance town officials say will allow action to be taken against properties that are in violation of town standards was approved during a special town meeting on Oct. 11 at the Grace Bible Church.
"I can tell you there's been a tremendous amount of interest in moving this forward," Selectperson Michael Wark told the two dozen residents gathered in the church community room.
Selectperson Dale Gray said the property maintenance ordinance is modeled after Dexter's. "It's very simple," he said. "It's not a list of bullet points of do's and don'ts."
The one-page document sets a minimum standard for the maintenance of premises surrounding buildings, structures and vacant lots. All premises and yard areas are expected to be maintained in a safe condition, including being free of trash, garbage, refuse, junk or other material which may cause a hazard to public health, sanitation and safety or may act as a breeding place for vermin.
The code enforcement officer enforces the ordinance provisions, first by written notice explaining the nature of the violation and allowing no more than 30 days from receipt of the notice to correct the violation. If not corrected in time, the property owner is subject to penalties.
Violators will be liable for $100 to $2,500 for each violation. Each day the violation continues constitutes a separate violation in accordance with Maine law.
Town Manager Brydie Armstrong said a previous property maintenance ordinance was repealed at an annual town meeting because it could not be enforced.
"We are using Dexter's ordinance because we're having a meeting now and we need to get two or three places cleaned up," she said.
"This has been a process," Wark said. He said once the previous ordinance was nullified, "we went to work trying to replace it with something that would function."
He said the previous document had no provisions for enforcing violations. "It didn't matter what we did, we couldn't fine [anyone]," Wark said. "The big difference is we can push a little and maybe make people comply."
When asked, the board said the new property maintenance ordinance can be enforced without having a comprehensive plan in place.
A motion to pass over the ordinance was voted on first after being made and seconded, with only one in favor and the remaining residents voting no on this. The motion was then passed unanimously as written.
Several other items on the special town meeting ballot also passed by unanimous votes.
Residents voted to appropriate $150,000 from the general fund for paving. This money will be used to finish the East Sangerville Road project.
"The $150,000 wasn't in the budget two years ago," Wark said. "We need that $150,000 additional to put a bow on that road we are working on this week."
He said with the East Sangerville Road under construction, the project can now be finished entirely with a top coat.
When asked, Armstrong estimated the general fund has about $960,000 in the account.
Another $20,000 from the general fund will be used for public works projects and expenses, such as trench paving, brush cutting, and culverts for next year.
The town manager said roadside work on the Silvers Mills Road was done in 2021 and the plan is for Flanders Hill and Goff roads to be done next. She said this work is performed by the mowing contractor, and the rate has gone up from $1,000 per mile to $1,400.
Lastly, $25,000 from the general fund will be used for health and sanitation.
"It's our contract with Mid-Maine Solid Waste," Armstrong said, with Sangerville recently joining this organization. "They bill monthly and we always paid semiannually."
She said the funds will help cover an increase that was not included in the municipal budget.