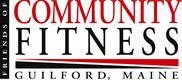 1c1bb78d33f27c6ece2d96ceff9b2239
Healthy4Life starts Tuesday at Community Fitness
GUILFORD — Friends of Community Fitness is now offering Healthy4Life, a cardiac fitness program. Healthy4Life starts on Tuesday, Oct. 19 and will run from 9:30-10:15 a.m. on Tuesdays and Thursdays.
Join us for a lifelong journey for heart health. Healthy4Life is specifically geared toward community members that have completed HeartWise or a cardiac rehab program. Participants seeking cardiovascular disease prevention are also encouraged to join. We will use cardio equipment such as fan bikes and light weights to gently work through a fitness program specific to each individual.
This program is free to Friends of Community Fitness members, ask if you qualify for a free membership with your health insurance. To register please contact 207-876-4813 or comfitme2003@gmail.com.
The four key components of Healthy4Life are cardiovascular exercise, strength training, education, and support.