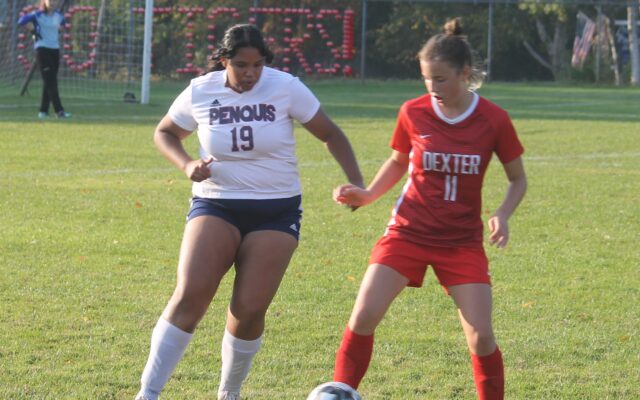 PO-spdexgudroe-41-21
Observer photo/Stuart Hedstrom THREE ASSISTS AND A GOAL -- Dexter's Cally Gudroe, pictured with Naima Ali of Penquis, would assist on three goals scored by Jillean Poliquin and have one of her own in the Tigers' 5-1 victory on Oct. 8. All six goals came within a span of just under nine minutes.
Dexter scores five times in second half to top Penquis
Poliquin hat trick paces Tigers
DEXTER — For more than 55 minutes on the field neither Dexter Regional High School nor Penquis Valley High School could find the goal during a Class C North meeting on Oct. 8. The Tigers (the team improved to 4-5-2) would end up with five goals in less than nine minutes midway through the second half, Penquis also scored during this stretch, to earn a 5-1 victory.
With less than 25 minutes remaining in regulation, a goal kick by Penquis landed on the Patriots' side of the field. Dexter's Jillean Poliquin got a hold of the loose ball and she broke free toward the goal. Cutting in, Poliquin put a shot on goal that landed inside the right post to end the scoreless stalemate at the 24:30 mark.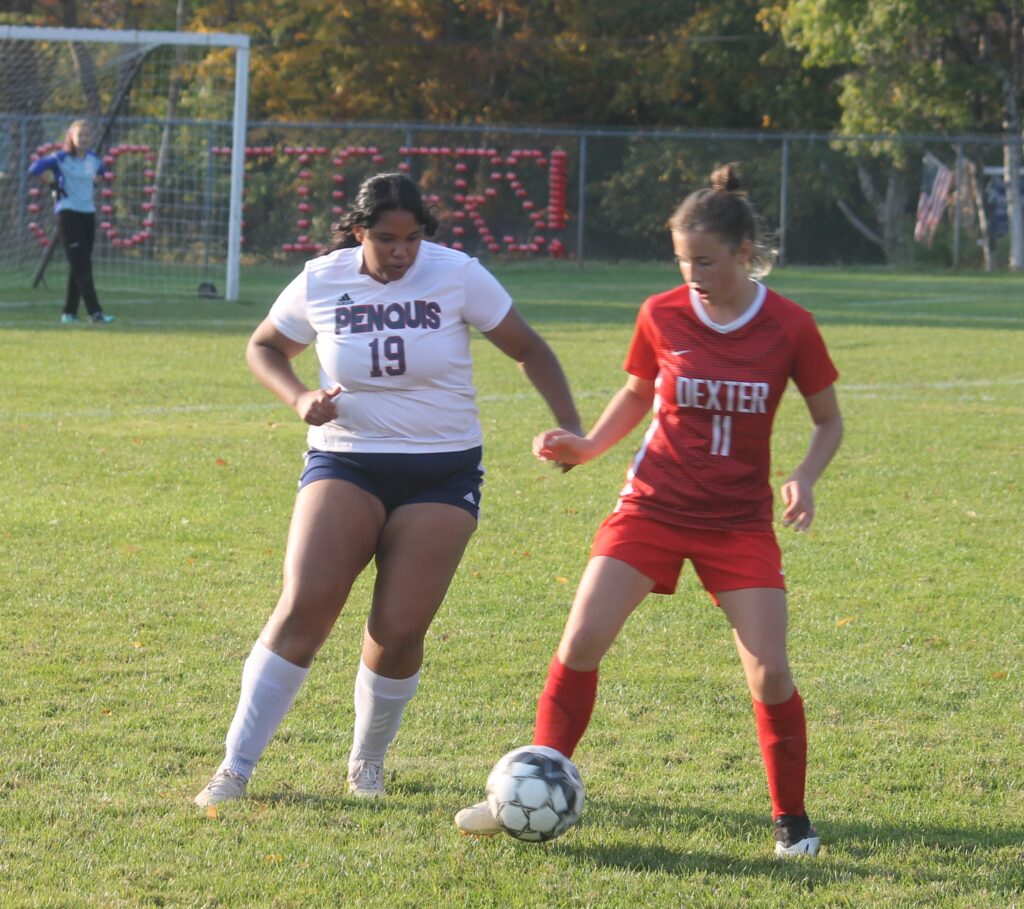 Just over a minute later Cally Gudroe gained control of a ball bouncing off the turf outside the box. She dribbled in, and lifted a shot that landed in the top of the goal for the 2-0 lead with 23:11 to go.
Gudroe assisted on the next goal, passing to Abilene Corson who found the mark from top of the box with 19:05 to go for the third Tiger goal in under four and a half minutes.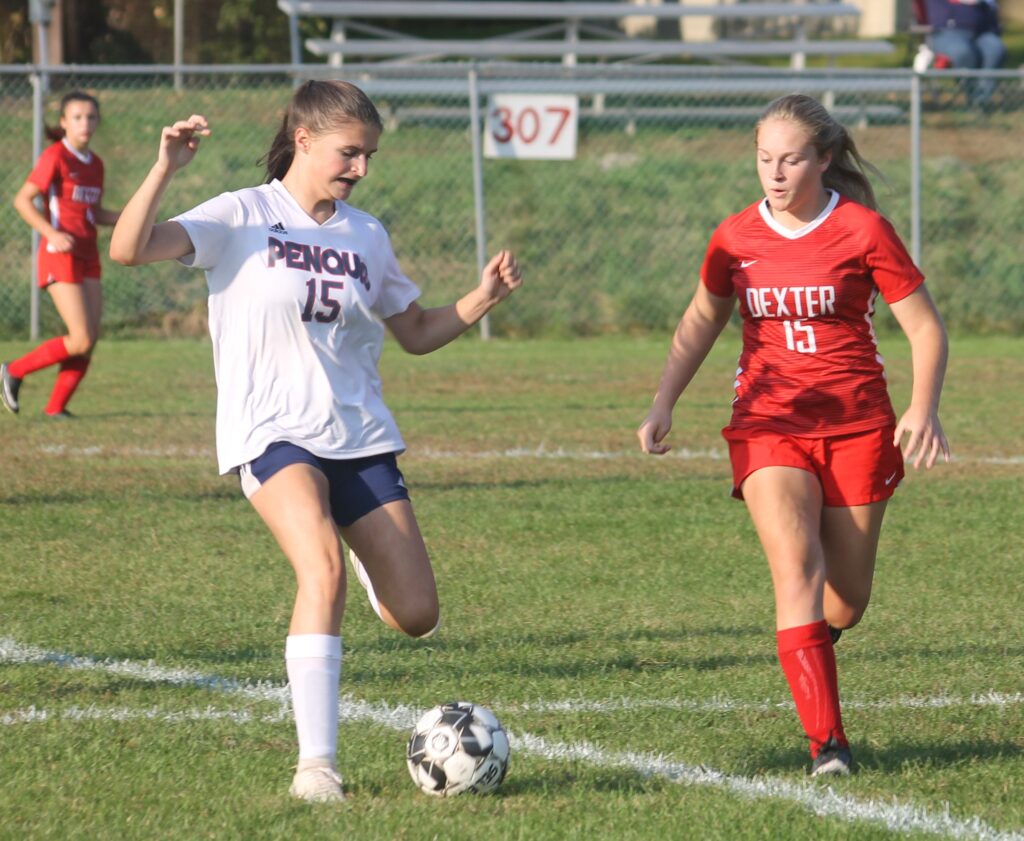 The scoring would quickly go the other way. Angela Bryden passed to Addison Conklin who had got past the Dexter defense. Conklin's shot rolled in to put Penquis on the scoreboard, making the contest 3-1 at that point.
Poliquin and Gudroe had a part of each of their team's first two goals and the pair would score and assist respectively on the fourth and fifth Dexter goals. Gudroe's left crossing pass went to Poliquin and in at the 17:02-mark.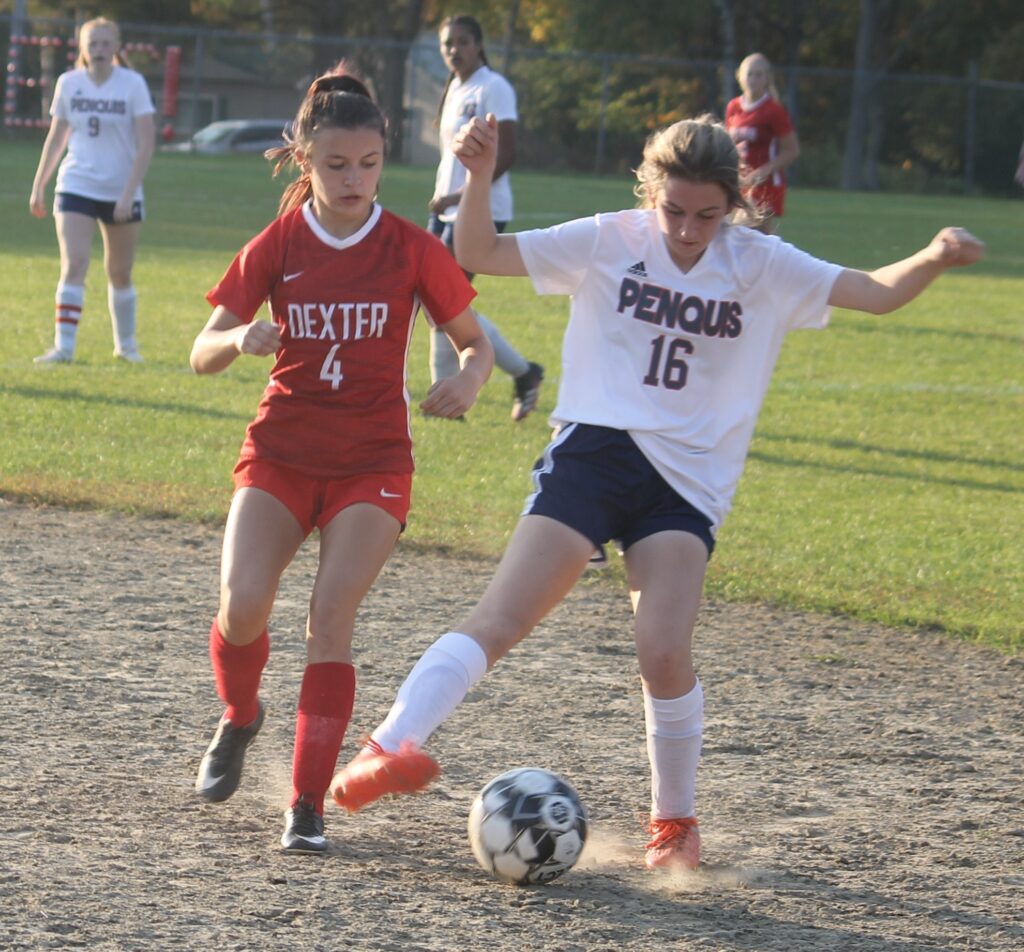 With a little less than 16 minutes remaining Gudroe passed to Poliquin whose centering shot went in. Poliquin scored her third goal in under nine minutes — for Gudroe it was her third assist of the day — for the Tigers' fifth and sixth overall during this stretch of play.
Dexter keeper Jasmine Lewis made four saves on six shots for Dexter. Across the field Patriot keeper Hope Lovell stopped 15 of 30 shots. The Tigers finished with an 8-1 advantage in corner kicks.
With the win Dexter earned a season sweep over Penquis (the Patriots fell to 2-9). On Sept. 11 the Tigers had a 7-1 victory in Milo.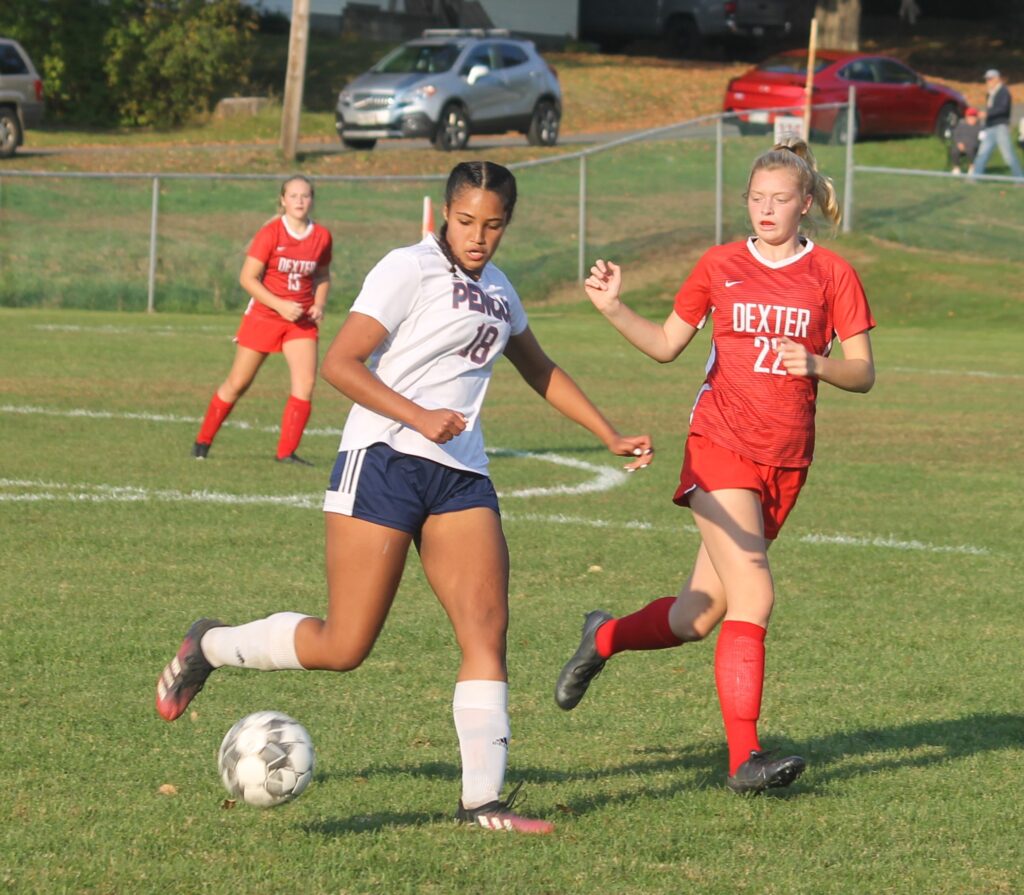 GIRLS SOCCER
Dexter 5,
Penquis 1
PEN 0 1 | 1
DEX 0 5 | 5
Second: D — Poliquin
D — Gudroe
D — Corson (Gudroe)
P — Conklin (Bryden)
D — Poliquin (Gudroe)
D — Poliquin (Gudroe)
Saves: P — Lovell 15,
D — Lewis 4
Corner kicks: P –1
D — 8
Records: P 2-9,
D 4-5-2