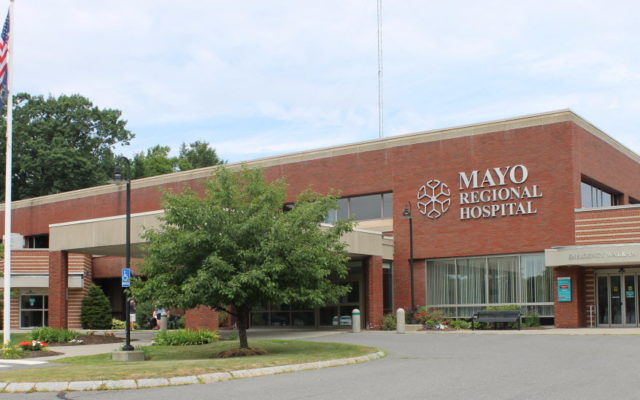 AX246_0D82_9
Northern Light Mayo Hospital in Dover-Foxcroft
Twenty sites in Piscataquis County recognized for helping kids make healthy choices
DOVER-FOXCROFT — Let's Go! recognizes 23 sites in greater Piscataquis County for a commitment to improving children's health. Among those honored are nine schools, one out-of-school program, 10 early care and education programs, and several health care practices. These programs are implementing the five Let's Go! evidence-based strategies to support healthy eating and active living.
Let's Go! partners with these programs who are committed to making it easier for children to eat well and be active. Across Maine and Carroll County, New Hampshire 100 percent of surveyed sites promote water over juice and sugary drinks, 97 percent prohibit the use of food as a reward, and 88 percent limit unhealthy choices for snacks and celebrations.
"Let's Go! is proud to partner with the sites in greater Piscataquis County to promote healthy changes in the places where children and families live, learn, work, and play," said Tory Rogers, M.D., senior director of Let's Go!. "Even with the difficulties presented during the pandemic, these sites stepped up and continued to make healthier choices a priority. It is this hard work that is crucial to the success of this program."
In addition, Let's Go! thanks the school cafeterias in Piscataquis County for their ongoing commitment and dedication to serving healthy meals throughout the COVID-19 pandemic. SeDoMoCha Elementary/Middle School is among the 90 registered Let's Go! School Nutrition Programs across Maine and Carroll County, New Hampshire.
Introduced in 2012, the Let's Go! recognition program identifies and celebrates schools, out-of-school programs, and early care and education programs for their role in improving the health of all children by focusing on sustainable change.
Let's Go! partners with 1,648 sites across 293 towns. A list of all recognized sites can be found at https://sites.letsgo.org.
For more information about Let's Go! in Greater Piscataquis County, please contact Shannon Fowles, MPH, Let's Go! coordinator, at 207-943-3151 or sfowles@northernlight.org.