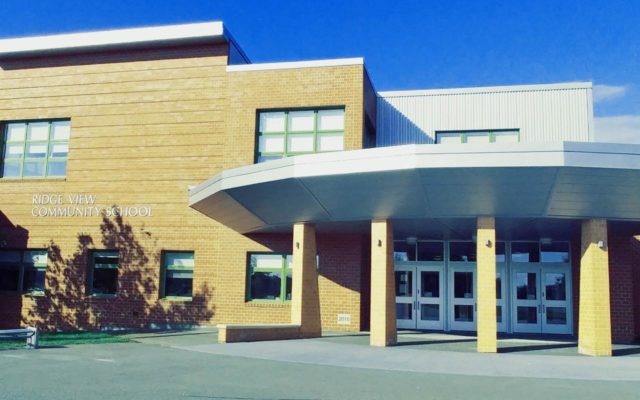 Ridge View Community School
The Ridge View Community School in Dexter.
SAD 46 enacts transmission rate-based mask policy
DEXTER — Masks are required in SAD 46 schools as Penobscot County is in the red, the most severe of the four designations under the Maine Center for Disease Control and Prevention's community transmission color code system.
A plan is now in place that should the numbers drop to the lowest two designations, mask wearing would become optional on a day-by-day basis. This decision would be made by building administrators rather than the school board at its meetings.
An updated Back to School Framework incorporating this adjustment and policies on pool testing was approved by the SAD 46 school board during an Oct. 6 meeting held over Zoom.
Superintendent Kevin Jordan said the board's policy committee has been meeting to review the current return plan "and started looking at the universal mask guidelines."
He said the group wanted to determine how to move forward and possibly relax mask requirements if circumstances warrant.
Board Vice Chairperson Brian Sawtelle said that before, mask decisions had only been made at school board meetings, as the directors are charged with ensuring the health and safety of SAD 46 students. He said decisions are based on Maine CDC guidance and for SAD 46 masking could be made optional if case numbers decrease. Sawtelle said this would be based on the rates of both Penobscot and Somerset counties, whichever is worse should the colors be different.
Mask optional days for the Ridge View Community School and/or Dexter Regional High School could be implemented if COVID-19 case numbers drop into the lower two levels. Sawtelle said students and staff would still have masks with them but an optional decision could be part of the morning announcements. Even if the region were in the less severe blue and yellow designations, masks could be required if there was a spike at either school.
Pool testing is now in place at both schools and Sawtelle said this is reflected in the return plan revisions. "Again, it's keeping kids in school — that's the ultimate thing," he said
Under this system students, with parental permission, are in small pods to then be swabbed. Samples are sent off to the lab for testing. If there is a positive case in the pool then the students would be tested again to determine who is positive. Those testing positive would need to quarantine,and this would help determine close contacts who may also need to quarantine.
"At this time we have no plan to require any vaccination of staff members," Sawtelle said, saying the same would be true for eligible students.
"It's a little less restrictive in the long run and hopefully we can get down to the yellow or blue so we can make masking announcements," he said, saying he does not anticipate such a change happening any time soon.
District Nurse Crystal Greaves gave an update by saying, "Unfortunately we are still in outbreak status here at Ridge View. Dexter Regional High School is also in outbreak status."
To get out of outbreak status, a school needs to go two weeks without a positive case and so far the longest such run at Ridge View is four days.
Greaves said nearly 250 students at Ridge View are participating in pool testing — the number is approximately 110 for the high school — and now about 50 are in quarantine. "Pool testing has been saving a lot of students, still allowing participation in sports," she said.
"It seems as quarantining happens, parents ask for pool testing forms," the nurse said.
"We had three student cases come out of the pool testing today," Dexter Regional High School Principal Steve Bell said at the start of his report, saying there has been another positive in the staff pool. "So we're obviously going to see some more quarantines come out of that."
He said the 2021 Homecoming was held the weekend before and "I would call it a very subdued Homecoming." Bell said football and girls soccer both played on Saturday but the Friday parade was postponed and hopefully can be rescheduled.
"It just didn't seem like the safest thing to do and a lot of kids would have missed out on it," Bell said.
"Believe it or not, it's much better, so that's encouraging," Ridge View Principal Jessica Dyer said, as last month the school had been in a period of all-remote learning due to high case numbers. She said the following day there would be 59 students and three staff members in quarantine, and there are currently five positive cases along with 21 others showing symptoms or awaiting test results.
Dyer said the week before no positive results came from pool testing, and earlier that day seven students came out of quarantine as a result of pool testing.
"Each day we have more and more parents sending in request forms," she said. The principal said participation numbers in pool testing may have been low to start because some parents had uncertainties about the program and how it worked.
"What's most interesting to me is we have students going home and asking parents to do it," Dyer said. "They want to be in school and they know it's not a scary thing."
"Fall athletics, it has been a series of starts and stops," she said. The principal said that day the Ridge View football team learned about two hours before kickoff the other team would not be coming as a result of too many players being out due to positive cases and quarantine.
Dyer said she and others are focusing on the positive. Despite some students being in quarantine, "There are still four or five hundred here."
Bell said a memorial service is being planned for Jacob Campbell at 2 p.m. on Sunday, Oct. 17 on the school football field. Campbell, a 2021 graduate, died in a single vehicle rollover last month.