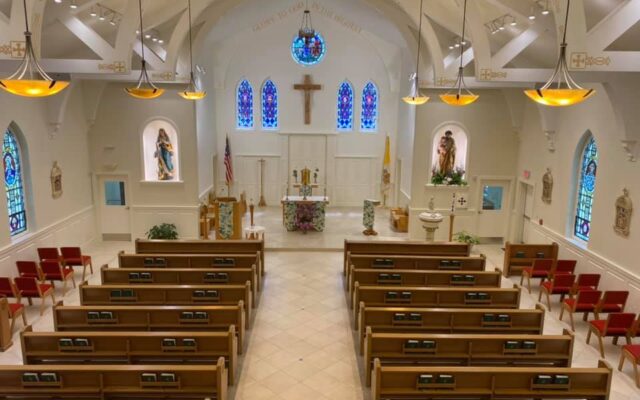 image002 (22)
Photo courtesy of Roman Catholic Diocese of Portland GOAL MET -- The goal and objectives of the $2.3 million "Beginning a New Century of Faith" capital campaign at Holy Family Parish in Greenville have been met. The project includes constructing a new church, parish hall, and offices, as well as renovating the current rectory.
Outdoor Holy Rosary rally at Holy Family Church
GREENVILLE — The month of October is dedicated to the Most Holy Rosary. On Oct. 7, the Feast of Our Lady of the Holy Rosary will be celebrated in honor of the Blessed Mother. October was also the month in which Mary appeared for the last time to shepherd children in Fatima, Portugal, urging them to "say the rosary every day to obtain peace for the world."
In celebration of the month, many parishes in the Diocese of Portland have planned rallies, processions, or other events One will be in the parking lot at the Holy Family Church, 145 Pritham Avenue, at noon on Saturday, Oct. 16.
The Rosary is an invitation to experience the grace of Mary's spiritual motherhood as she leads us to her Son, Jesus. Devotion to the Rosary was especially promoted in the 13th century by St. Dominic and in the 16th century by St. Peter Canisius. It was Pope Leo XIII who dedicated October at the Month of the Holy Rosary and who, in 1895, wrote an encyclical, Adiutricem, on the Rosary. An invocation known as the Fatima Prayer was commonly added in the early 20th century. In 2002, Saint John Paul II, who called the Rosary his favorite prayer, added a new set of five reflections called the luminous mysteries. They join the joyful, sorrowful, and glorious mysteries, in providing opportunities to reflect on the lives of Jesus and his Blessed Mother.