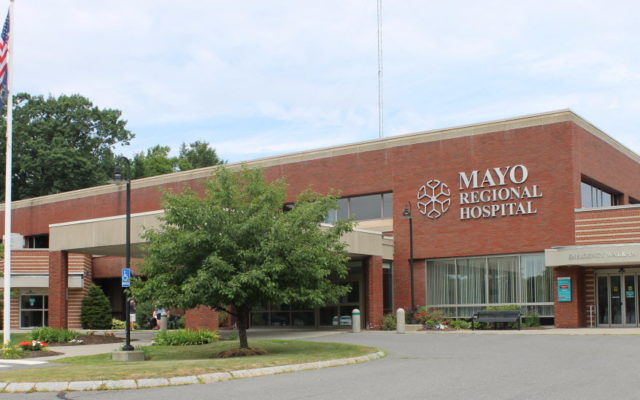 AX246_0D82_9
Northern Light Mayo Hospital in Dover-Foxcroft
Northern Light Mayo Hospital receives $625,000 Drug Free Communities Award
DOVER-FOXCROFT — The $625,000 Drug-Free Communities Support Program award to Northern Light Mayo Hospital will support the proposed PYSUP project- Preventing Youth Use of Alcohol and Tobacco in Piscataquis County.
The Piscataquis Youth Substance Use Prevention Coalition was formed in fall 2019. The establishment of this coalition formalized, both to the public and to potential funders, that substance use amongst youth in Piscataquis County is a challenge stakeholders around Piscataquis County would tackle head-on. The Piscataquis Youth Substance Use Prevention Coalition's mission is to reduce youth substance use/misuse in Piscataquis County through engagement with collaborative partners in the planning, implementation, and evaluation of strategies that prevent youth substance use in a comprehensive and long-term manner.
The PYSUP Coalition conducts its efforts recognizing the unique factors and context of Piscataquis County. The county, which is comparable to the size of Connecticut, has only 16,836 residents (that's just under four people per square mile) and is one of only two counties in Maine classified as 100 percent rural. Over 80 percent of the land in the county is classified as "Unorganized Territory," meaning the land is not part of any municipality. This project focuses on working with youth in grades 6-12 who reside in Piscataquis County and attend the public middle and high schools in the county, estimated to be 1,400 students.
"The receipt of the Drug Free Communities Grant is a huge win for Piscataquis youth! It allows us to add staff that solely focus on youth substance use prevention and build strong, long-term community supports for a healthier County" said Hillary Starbird, community outreach supervisor.
The PYSUP project will improve the coordination and collaboration among the Piscataquis County organizations interested in tackling youth substance use issues and supporting substantial county-wide multi-sector activities that will prevent and reduce youth use of alcohol and tobacco. The project will focus on strengthening collaboration among community stakeholders and organizations in Piscataquis County to address youth use of alcohol and tobacco, with a goal to reduce alcohol and tobacco use among youth in Piscataquis County by addressing the factors that increase the risk of alcohol and tobacco use. Specific outcomes of this project will be to:
Increase awareness among community stakeholders (including coalition members) in Piscataquis County of issues and factors around youth alcohol and tobacco use
Increase the capacity of the Piscataquis County coalition to plan for, support, and implement the DFC work plan
Evaluate the implementation and effects of the project
Decrease the percentage of high school and middle school students in Piscataquis County who use alcohol
Decrease the percentage of high school and middle school students in Piscataquis County who use tobacco.