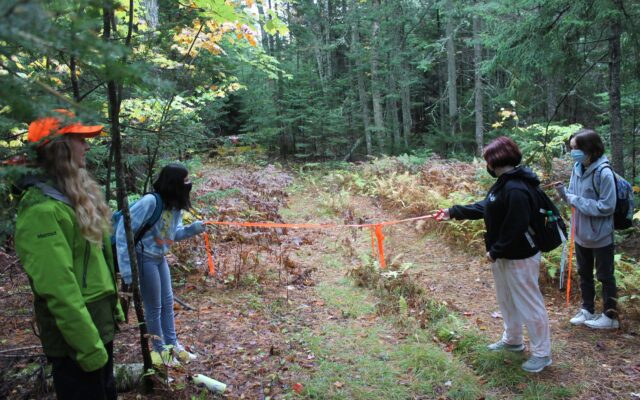 PO-trailcut-40-21
Observer photo/Stuart Hedstrom NICKERSON TREE FARM TRAIL -- A trail at the Forest Society of Maine's Nickerson Tree Farm on Route 15 in Greenville was formally opened during a ceremony on Oct. 1. The mile loop features interpretive signs developed by Greenville High School students.
Nature trail opens at Nickerson Tree Farm
GREENVILLE — A mile-long looping nature trail with eight interpretive panels designed by local high school students is now open to the public at the Nickerson Tree Farm on Route 15 (480 Moosehead Lake Road).
Located next door to the Destination Moosehead Lake Visitor's Center, the trail was ceremonially opened Friday morning, Oct. 1.
After attendees followed Forest Society of Maine Senior Forestland Steward Erica Cassidy Dubois several hundred yards onto the trail, Forest Society President/CEO Karin Tilberg gave some welcoming remarks.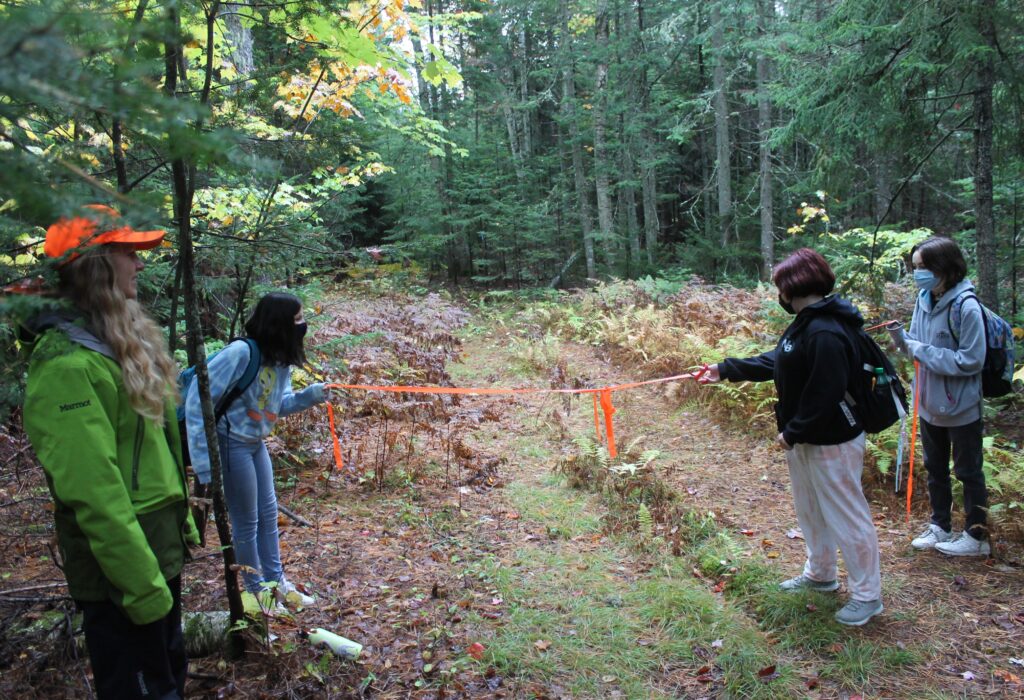 "This is an extremely happy gathering, I'm so proud of the combined effort of the students, the school, the community, Erica and her work and of course the amazing gift from Ellen Poole that began all this opportunity," Tilberg said. "The creativity that is exhibited in these signs, the playfulness and information will help people appreciate and learn more about this forest, this place."
"The Forest Society is a land trust for the north woods of Maine. We're deeply committed to this area," she said. "We hold easements on about 400,000 acres in this great area to try to hold onto it, to keep it the way it is."
Tilburg said the organization supplies timber products from its lands while also having parcels open for hiking, fishing, hunting, ATV riding, snowmobiling and mountain biking. "We just love our relationship with this area and this specific place is near and dear to us," she said.
Dubois said many of those present had been to the Nickerson Tree Farm before and the trails had been used mostly for cross country skiing. "We've picked the highest and driest trails for the loop but it is not a perfect surface, it is not a chipped trail," she said, encouraging everyone to be mindful of rocks and roots as they walk.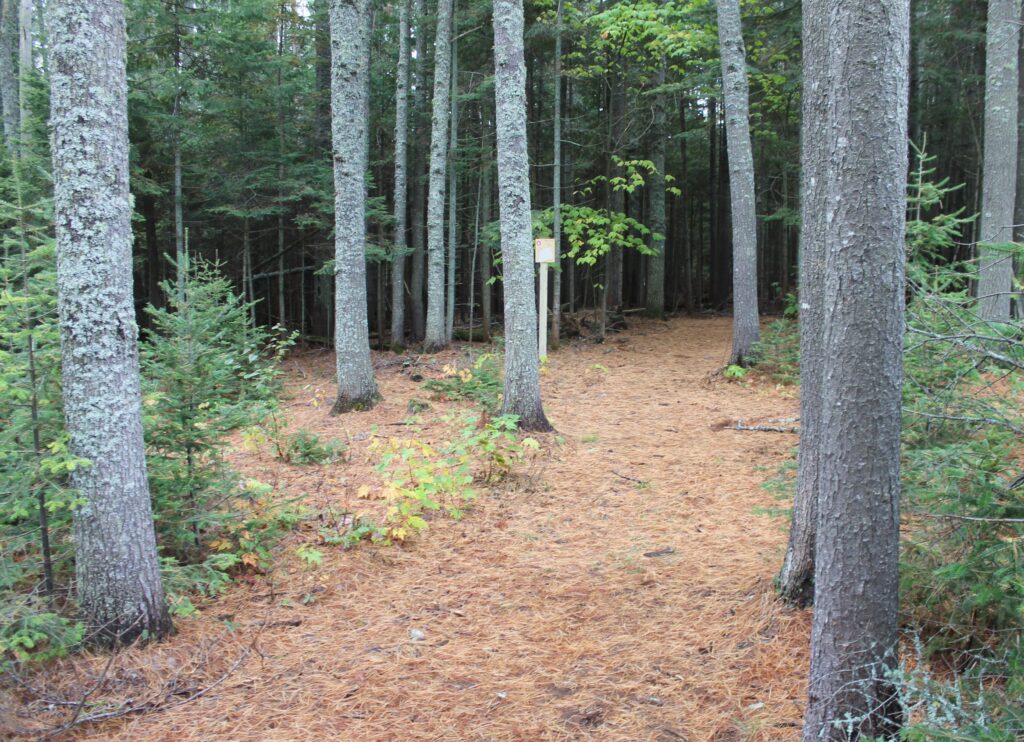 Thanking Poole and her extended family Dubois said, "They donated this 80-acre property to the Forest Society in 2018 for permanent conservation and to ensure that the public will always be able to access these trails and we are so grateful for their foresight and generosity and we hope that we are doing them proud in our management. Every year I think we do a little bit better with what we have on the lands and letting people know that we're here and grooming the trails in winter, but it's all possible because of Ellen's gift."
Monies from the Ed Meadows Fund of the Maine Community Foundation and the Onion Foundation helped cover the costs to manufacture and install eight interpretive panels along the trail. Dubois said a number of local residents, businesses and organizations supported the project.
She said existing trails on the land had been developed with students and involving the school again seemed like a worthwhile endeavor. Two years ago she approached teacher Selena Tardiff at the Greenville Consolidated School. Soon Tardiff's environmental science students — who graduated in 2019 and 2020 — walked the property
Students "picked their own themes for each of these signs. They came up with those themes themselves and the content and the wording," Dubois said.
Tardiff thanked Dubois for reaching out. "I'm always looking for those opportunities to connect our students to our community, to get kids outdoors," Tardiff said. "It was a wonderful experience."
Tardiff said she has a new group of students and hopes to do something more at the site in the future.