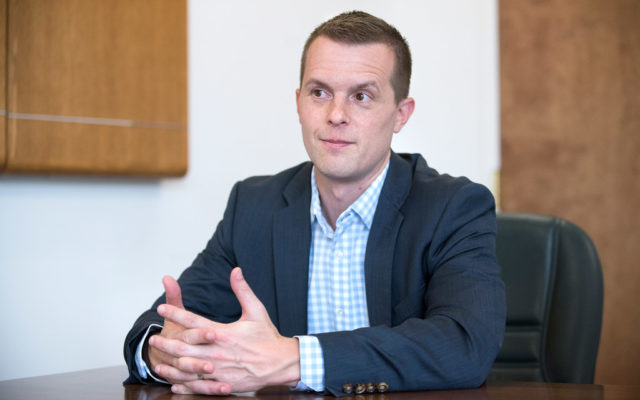 bx053_1994_9
Rep. Jared Golden, D-Maine of Maine's 2nd Congressional District
America is at its best when we build, and Maine has often set the pace.
By U.S. Rep. Jared Golden
The first two phases of the Maine Turnpike — what is now I-95 in our state — were completed in 1955, a year before President Eisenhower and Congress created the Interstate Highway System. Those federal resources paved the way to extend the old Turnpike from Augusta to Houlton.
But the government's investments in maintaining and improving infrastructure like I-95 and the roads and bridges that connect with it have not kept up with our heavy use of them. Recently, the American Society of Civil Engineers gave Maine a C- grade on its infrastructure report card. In our state, 315 roads and more than 1,438 miles of highway are in poor condition. We must build upon the work of previous generations by renewing and improving our infrastructure.
That's why I am so hopeful about the bipartisan infrastructure package that recently passed the Senate—and believe firmly that we need to get it signed into law ASAP. This legislation would invest $1.3 billion in Maine's roads, $225 million for bridges, $390 million to remove dangerous lead pipes, $74 million for airports, nearly $300 million for affordable broadband, and hundreds of millions of dollars for climate infrastructure like emissions reductions, electrical grid upgrades, and resiliency.
This funding could be particularly important for Piscataquis County, which is home to its fair share of deteriorating roads and bridges. Route 6 needs to be fixed up from Abbot to Monson and Greenville, and the bridges over the Sebec River in Milo are old and need to be replaced. Getting a strong infusion of funding for projects like these would be a big win for Maine towns and small businesses, and our cars and trucks.
The bipartisan infrastructure package would make transformative, once-in-a-generation investments in communities across our country. It's paid-for without raising taxes. And it now has support from lawmakers across the political spectrum. But despite its common-sense approach, this legislation almost fell victim to partisan bickering in Washington—and it still could.
On June 8th, infrastructure negotiations between the White House and Senate Republican committee leadership collapsed. But the very next day, on June 9th, I helped lead a bipartisan group of my colleagues in the Problem Solvers Caucus—a group of 29 Democrats and 29 Republicans—in unveiling our own infrastructure framework. Our Problems Solvers Caucus plan showed that if leaders were willing to stay at the table, a bipartisan deal to rebuild American infrastructure was possible. And our plan became the basis for the framework that the White House and Senate negotiators agreed to two weeks later.
This bipartisan plan wasn't built in a day. It was the result of months of hard work and thoughtful negotiations. It started in earnest in April, when we convened a bipartisan infrastructure summit with other members of Congress, including other members of the Problem Solvers Caucus and a bipartisan group of senators and governors, including Senator Collins.
During that summit, when we were sharing ideas and working to find common ground, another congressman leaned over and told me, "You know, when I first ran for Congress, this is what I expected working here would be like." I told him that this was how we worked on issues in the Maine Legislature.
The bipartisan infrastructure deal was a rare example of Congress working across the aisle to tackle urgent challenges. Its overwhelming passage through the Senate shows that serious bipartisanship is possible. But it's not a done deal yet.
House leadership had intended to hold this bipartisan infrastructure bill hostage until the Senate passes a separate, much larger bill through a partisan process called budget reconciliation. Time kills deals, and we can't afford any delay in passing this infrastructure bill.
That's why I joined several of my colleagues to demand House leadership hold a vote on the bipartisan infrastructure bill swiftly. Our pressure on party leaders worked. We secured a standalone vote on the bipartisan infrastructure package by September 27th. This successfully released the bipartisan infrastructure package from being held hostage to other legislation by party leaders and established a path for Congress to send this once-in-a-generation infrastructure bill to the president.
The bipartisan infrastructure package would create jobs, support rural communities, make daily travel easier for people and businesses, help keep our water and air clean, and connect more homes to broadband. It's time to get it done.