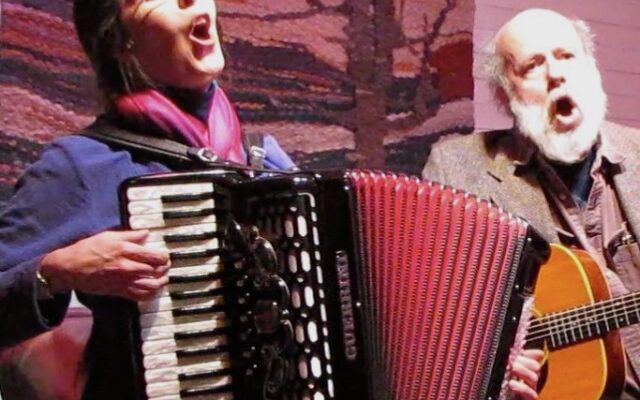 PO-teatalk-35-21
Contributed photo TEA TALK PERFORMERS -- Allison and Hunt Smith, musicians and storytellers, will perform at Wayside Park in Dexter on Sept. 9 as part of a free Dexter Age-Friendly Tea Talks.
Smith musical duo to perform at Sept. 9 Tea Talks
By Beth Ranagan
DEXTER — The last outdoor Tea Talks musical performance for the summer season will be held at Wayside Park on Thursday, Sept. 9 at 10 a.m. featuring the musical duo Allison and Hunt Smith. In the event of rain, Tea Talks will be held at Gatherings 4 Main Street at 10 a.m. on Sept. 9. Dexter Age-Friendly Tea Talks is free and open to everyone from everywhere.
Using keyboard and string instruments, Allison and Hunt will perform old-time New England dance music and songs from the British Isles, Celtic traditions, French Canadian heritage, and Appalachia accompanied by some storytelling to enrich audience experience. Hunt will play the fiddle and guitar while Allison will use her electronic keyboard and accordion skills for the presentation. Any kind of audience participation will be encouraged such as singing or clapping as well as dancing. The music may be lively or slow offering dance opportunities for those at any energy level.
The Smiths have had many years of experience sharing music with multigenerational audiences and students. Pre-pandemically, they performed at schools, parties, weddings, dances, and libraries. Their education programs for school and library events include Dance, American History Through Music and Dance and Storytelling, Sound Science, and How to Play by Ear. These programs can be presented via Zoom as well as in person. Allison and Hunt also give private and group lessons in voice, fiddle, guitar, ukulele, 5-string banjo, mandolin, recorder, piano, and accordion. They look forward to the time when dances and group singing can resume following the COVID crisis.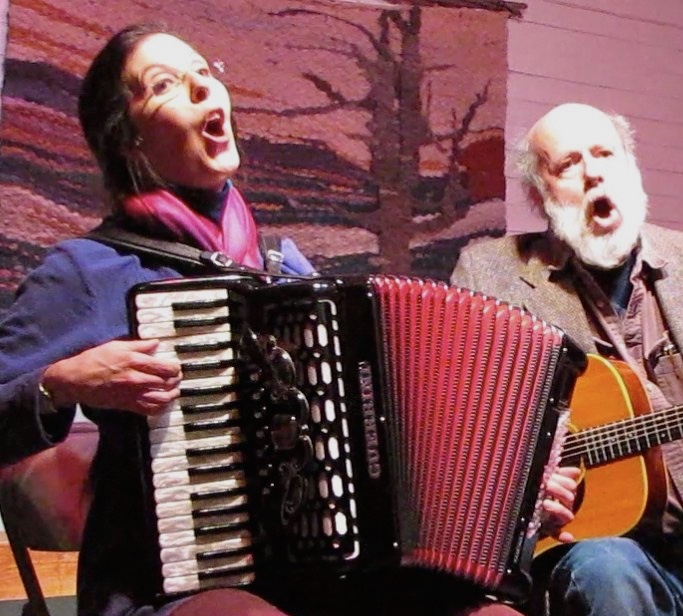 These multi-talented musicians came to Maine and Dover-Foxcroft from New Hampshire with rich resumes. During her 25-year teaching career in Massachusetts and New Hampshire, Allison taught music, mostly American, and world folk music with special focus on singing and dancing to her elementary school students. She was a singer and dancer in the Cambridge Revels for 20 years and founded and directed a 50-voice women's chorus in Keene, New Hampshire. She and Hunt helped to establish the Cherryfield contradance group in which she played and was caller through February 2020 before the pandemic. Allison looks forward to starting a community chorus and to resuming her "house caller" position for contra dances at Central Hall Commons when the pandemic is over.
Hunt played and taught music and art for many years at the John C. Campbell Folk School in Brasstown, North Carolina, where he lived until 2007. He is an accomplished, professional painter using watercolors and oils as well as being a seasoned musician. He recently completed an oil portrait of the Steamship Katahdin for the Moosehead Marine Museum. Presently, he is working on local commissions and is painting small local scenes in oil.
Together, the couple presented school music programs in South Berwick and Harmony in 2019 through the Maine Art Commission and a Zoom teaching event for a school in Albuquerque, New Mexico. This past June and July, when COVID cases subsided and mandates were relaxed, they gave an in-person presentation of their Sound Science program for children at the Thompson Free Library in Dover-Foxcroft. Both Allison and Hunt play in the Some Reel People contradance band.
The Smiths have developed a warm feeling for this part of Maine. Allison expressed, "We love the Maine Highlands region for many reasons. We love the beauty and relatively untouched quality of the area, the friendliness of the people, and the presence of contra dances and musicians. This place feels like home, and we plan to stay."