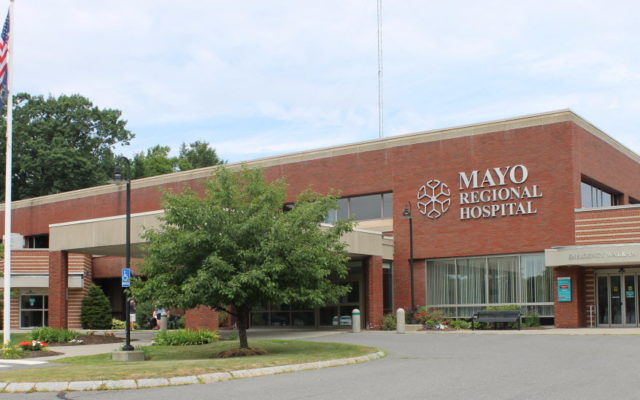 AX246_0D82_9
Northern Light Mayo Hospital in Dover-Foxcroft
Grant helps rural communities address vaccine hesitancy
The effect of the COVID-19 pandemic has been felt across Maine communities, from the largest cities to the smallest rural towns. Vaccine hesitancy is more common in rural communities, extending beyond the COVID-19 vaccine to all required vaccinations. With grant money awarded from Health Resources and Services Administration's Rural Health Clinic Vaccine Confidence Program, Northern Light Mayo Hospital of Dover-Foxcroft and Northern Light CA Dean Hospital of Greenville will have resources to support vaccine outreach in their communities.
The initiative is aimed to improve vaccine confidence and counter vaccine hesitancy in rural communities where COVID-19 and other vaccine uptake lags in comparison to more populated areas. The program will address health equity gaps by offering support and resources to medically underserved rural communities including:
Engage local partners and stakeholders including local schools, libraries, state, and public health officials, and community health agencies early and often to create a community culture of sustainable, equitable, and inclusive vaccine confidence, communication, and strengthen the capacity of fact-based community conversations.
Create, equip, and deploy a "vaccine van" to transport community members to vaccine clinics, and setup pop-up education centers and vaccine clinics throughout our rural communities. Local nurses and trusted experts will be on hand to address questions from the community.
Host community events about vaccine education and vaccine confidence located at schools or public facilities such as libraries and town halls.
Provide patient transportation including van service and travel vouchers to and from vaccination appointments and/or transport vaccination resources to homebound patients.
Create and distribute educational materials to provide information to the community on the location and availability of vaccines.
"I am pleased that this funding will help us educate parents on the importance of vaccines and their ability to keep children in our communities safe. With the new Maine law requiring vaccines for children attending schools going into effect, we hope our outreach and education sessions will encourage hesitant parents to seek answers from qualified medical staff they trust in their hometown and local region," shares Hillary Starbird, community outreach supervisor, Northern Light Mayo and CA Dean Hospitals.
At Northern Light Health, we're building a better approach to healthcare because we believe people deserve access to care that works for them. As an integrated health delivery system serving Maine, we're raising the bar with no-nonsense solutions that are leading the way to a healthier future for our state. To learn more about Northern Light Health and our locations across Maine, visit www.northernlighthealth.org.