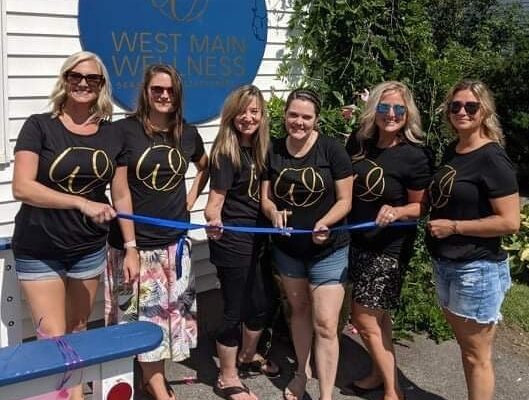 PO-wellness-35-21
Contributed photo WEST MAIN WELLNESS -- Cutting the ceremonial ribbon for West Main Wellness in Dover-Foxcroft on Aug. 15 are, from left, Ashley Rideout, Robin Raye, Jodi O'Connell, Jessica Brasier, Katti Simpson and Shawna Stevens.
West Main Wellness opens its doors
DOVER-FOXCROFT — Six women entrepreneurs have come together to offer their respective health services in one place. West Main Wellness, located at 859 West Main St., has preventive dental care, massage therapy, naturopathic (natural medicine) consultations, Reiki and a variety of other health-related services and remedies for all ages.
Independent Hygienist Katti Simpson said the idea for West Main Wellness came from she and the other five all being "pretty like-minded women and we all had our own businesses and knew each other or through each others' mutual friends. Honestly it's always been a dream of mine to have a holistic or wellness center that just promotes health in a non-pharmaceutical way."
"The idea of collaborating with other female entrepreneurs was also a dream come true," she said. "It just all came together. The timing was absolutely perfect."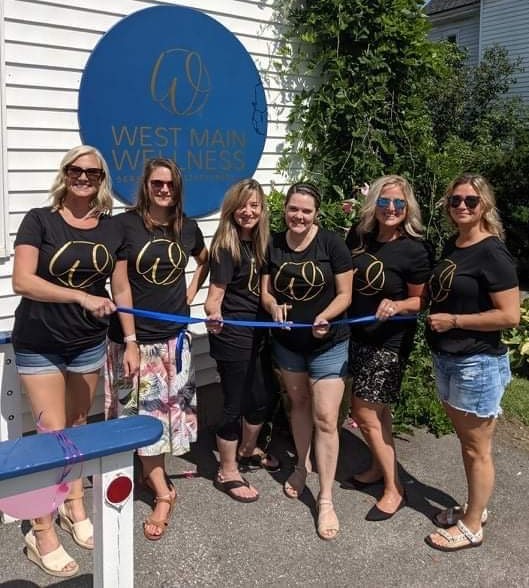 West Main Wellness is composed of Simpson and fellow Independent Hygienist Ashley Rideout, Jessica Brasier, Robin Raye, Jodi O'Connell and Shawna Stevens.
Brasier said she had been a patient of Simpson's and Brasier described herself as being entrepreneurial. She said some health issues in her home were fixed through natural remedies and now she wants to share these methods.
"I felt it was something the community needed to know more about and working in the medical field over the years also found there were some places that we could improve that client/service provider relationship," Brasier said. She said she and Simpson talked about Simpson's idea for a wellness center and the concept grew from there.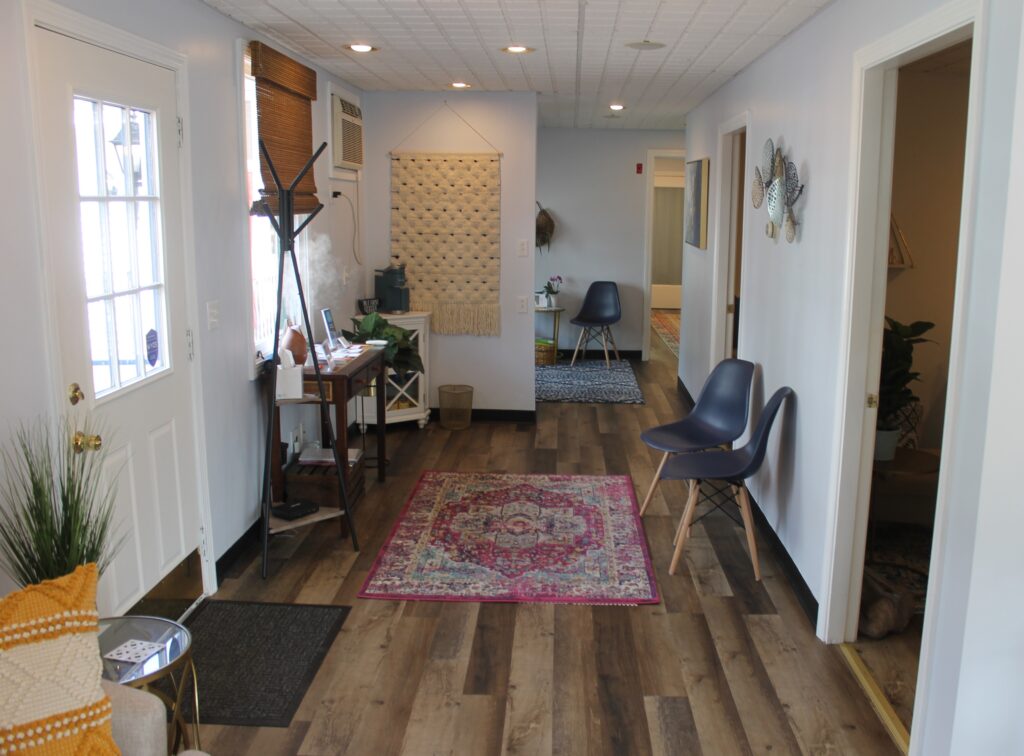 Simpson said O'Connell, a licensed massage therapist, had been offering services out of her home, but rather than go out on her own O'Connell opted to join West Main Wellness. "She was excited about that so she jumped on board," Simpson said.
She said Stevens came on in a similar way with her plasma lifting procedures. "She had always dabbled in it but had never had a facility to offer her services out of, so again the timing was just right," Simpson said.
"We all agree that health comes from a lot of different moving pieces," Brasier said. "Everybody bringing in their own piece to health holistically is really cool, and I think people are responding really well to it too."
"My biggest thing was providing a space — nobody likes going to the dentist's office — that was relaxing and welcoming," Rideout said.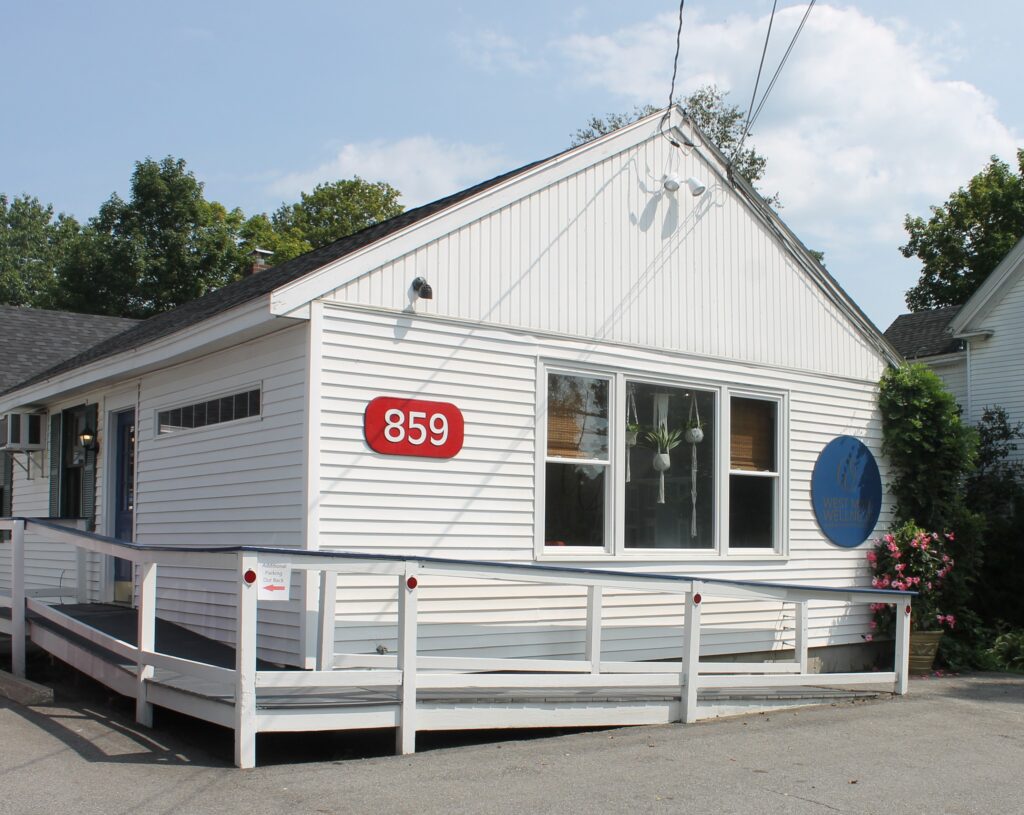 West Main Wellness opened in mid-July in the former home of Vision Care of Maine, next to Dover Audiology. "It's amidst all these beautiful old homes," Simpson said. "This is an ideal location for us."
"We did some cosmetic renovations to the place," she said. "We put in all new flooring, everything's been painted. Just updated things really."
"I got my naturopathic diploma during the pandemic with plans to get certified and possibly go for a doctorate," Brasier said. "This is a place for people to go and consult, whether it's acute issues or maybe goals that they have with their health."
Brasier said she will consult and treat when she can but if not she can direct her clients to the appropriate resources "for holistic hygiene or massage or chiropractic or whatever it is that they are looking for that they have for goals, they have a resource and we have an outreach for that."
"I just think we're all just trying to find our flow and part of that collaboration too is you're sharing a space so finding the flow so that patients and clients feel comfortable as well," she said.
"The space is big enough it offers more private space for say the massage with a quiet and subdued area and what Jess does with the touch and consults," Simpson said.
Brasier said Raye offers Ayurvedic medicine. "It is actually the oldest form of medicine known to humans, and it's based on the season you were born along with the type of body you have," she said.
Rideout said Raye also is "an amazing yoga instructor, she has an outdoor studio at her house — her yoga shala."
Raye and O'Connell both offer Reiki at West Main Wellness.
Stevens, a fibro blasting technician, offers noninvasive skin care treatment for fine lines and wrinkles as well as stretch marks. People looking for help losing those last few pounds can be helped by the Zerona cold laser system, a service currently only available in southern Maine.
Education classes are being planned through West Main Wellness
"We all talked about having opportunities for having education [programs], whether it's hormone support or dental hygiene or whatever the topic is but having it open to the community to come and learn," Brasier said. "I just feel like for me personally giving back that information in order for people to make their own choices on what to do with their own health gives them maybe a leg up on Google plus you're getting that community outreach. Us women, we like to chat about what works and doesn't work."
She gave an example of a client dealing with menopause coming to West Main Wellness and not having all the services available, but they also would be welcomed into the space and would learn and be empowered to go out and feel better.
"It's really easy, especially nowadays to get stuck in just the everyday and you forget to take care of yourself," Brasier said.
Simpson said a sauna room is under construction. This will join the two dental hygiene treatment rooms, waiting room, massage room and other space.
"We tried to create a space that is comfortable and relaxing," she said.
Simpson said people are looking for alternatives, more holistic health and "the timing was perfect for all of us to get together, I couldn't be happier. This is a dream come true."
For more information on West Main Wellness, please call 207-564-0095 or see the business Facebook page.