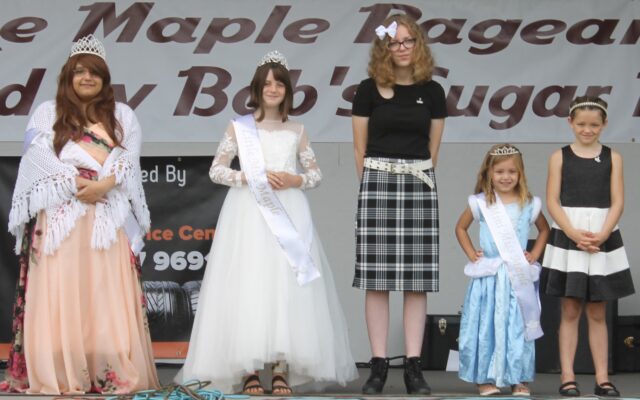 PO-maplewinners-35-21
Observer photo/Stuart Hedstrom MISS MAPLE CROWN HOLDERS -- Three contestants earned first-place honors in their respective age categories during the sixth annual Miss Maple Pageant at the Piscataquis Valley Fair in Dover-Foxcroft Saturday, morning Aug. 28. Standing at the front of the stage are the respective winners and runners-up, from left, Miss Maple Grace Leavitt, Little Miss Maple Kaydance Flint and runner-up Shaye Toussaint, Mini Miss Maple Charlotte Reynolds and runner-up Kinsley Weymouth.
Miss Maple trio crowned at 134th Piscataquis Valley Fair
DOVER-FOXCROFT — Three girls will reign as Miss Maple in three respective age groups for the next year after being crowned during the sixth annual Miss Maple Pageant on Saturday morning, Aug. 28, at the 134th Piscataquis Valley Fair.
Charlotte Reynolds, 5, who is a student at the SeDoMoCha Elementary School in Dover-Foxcroft, earned top honors in the youngest "Mini Miss Maple" division for entrants in kindergarten to grade 4.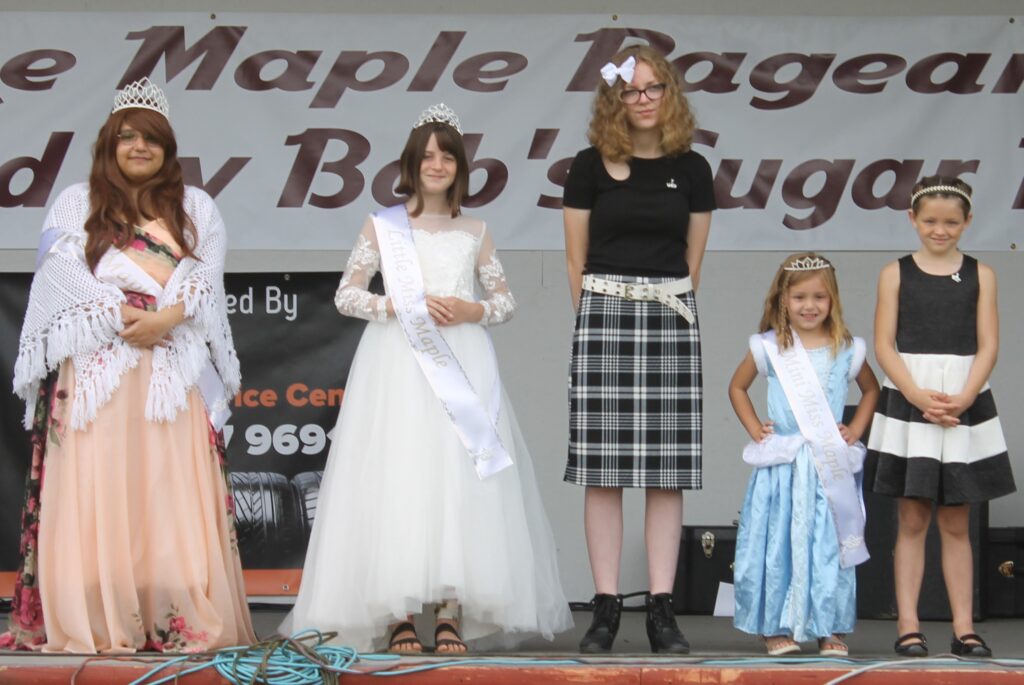 Kaydance Flint, 11,who attends Piscataquis Community Elementary School in Guilford, was the winner in the "Little Miss Maple" class for entrants in the middle age group.
Finishing first among the older girls to receive the title of "Miss Maple" was Grace Leavitt, 15, a Foxcroft Academy student.
Kinsley Weymouth, 8, a SeDoMoCha student, was the Mini Miss Maple runner-up. Shaye Toussaint, 12, who attends Central Middle School in Corinth, placed second among Little Miss Maple contestants — there was no Miss Maple runner-up in 2021.
The three respective second-place finishers earned $25 apiece. The trio of Miss Maple age group winners each were presented $50 along with a crown and a sash.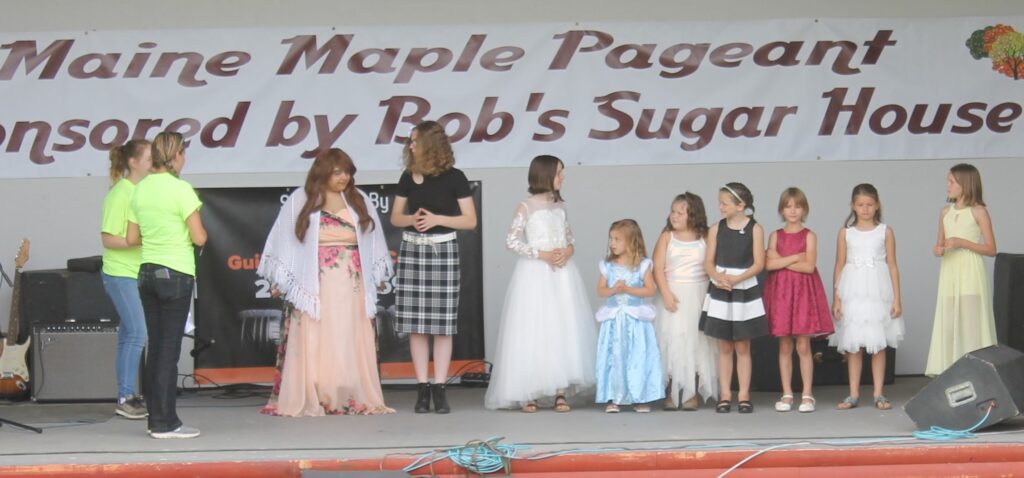 The 2021 edition of the Miss Maple Pageant featured nine girls taking part, who first introduced themselves gathered by the Bear's Den Maine Stage dressed in their country wear.
Next up was the talent portion as the girls' skills included singing, playing the guitar and ukulele and performing a cheer routine.
The other four pageant contestants were all in the Mini Miss Maple division: Davyn Levensalor, 9, who is a student at Belmont Elementary School in New Hampshire; Elaine Mills, 6, who is a homeschool student; Taylor Weymouth, 8, who attends SeDoMoCha; Madison Weymouth, 9, who is a SeDoMoCha student.
The Miss Maple Pageant was sponsored by Bob's Sugar House and Guilford Service Center.