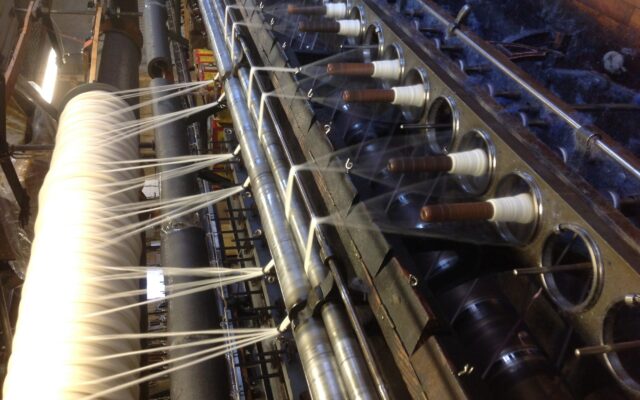 IMG_0085-scaled
Contributed photo
Bartlettyarns reaches 200 years
HARMONY — In the heart of central Maine is a special place that has survived for 200 years along the banks of Higgins Stream in a tiny little town named Harmony. That special place is Bartlettyarns, a woolen mill that has survived wars, a fire, floods and pandemics.
But, most importantly it has withstood time and its time-honored traditions of working with shepherds and wool producers from across the United States to produce woolen spun yarns and roving using vintage equipment. Starting as a water powered carding mill, it transformed into a state-of-the-art woolen mill in the 1920s when the present mill building was erected, and it transformed from waterpower to electric. Today, the mill still operates this vintage equipment, including the last remaining spinning mule in the U.S.
This summer marks the 200th birthday of Bartlettyarns, which was started by Ozias Bartlett, and its legacy continues with the Rice family. The Rices feel it is important to share the history, after all it is almost as old as the State of Maine itself. Each year the Rices open the doors to the public for narrated guided tours. This year, these doors will open on Aug. 6-7 from 10 a.m. to 4 p.m. each day. Tours generally start on the hour, please wear shoes, there is a lot of walking and stairs to climb. The company store is also open both days. The mill is located at 20 Water Street, or visit www.bartlettyarns.com for more details.
To celebrate even more, Bartlettyarns was chosen as a stop in the "SummerBreezeME" campaign. Stop by, find the "selfie poster station", take your selfie and post to social media-instructions are detailed on the poster. Perhaps you will be the lucky winner of a great prize.
Bartlettyarns is open Monday to Wednesday from 9:30 a.m. to 3:30 p.m. and Thursday until noon.