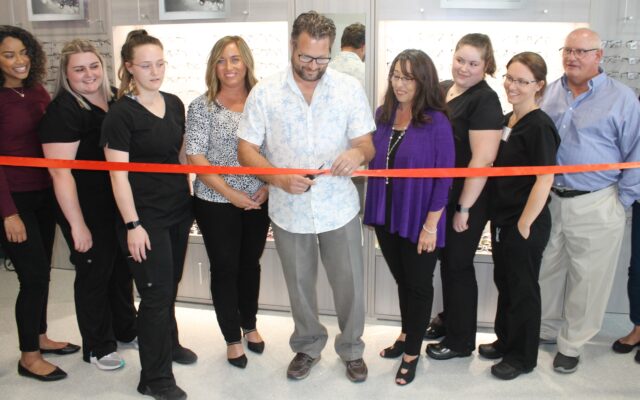 PO-visioncare-30-21
Observer photo/Stuart Hedstrom VISION BECOMES A REALITY -- Vision Care of Maine owner Dr. Curt Young cuts the ribbon for the new Dover-Foxcroft location during a Piscataquis Chamber of Commerce ribbon-cutting ceremony on July 21. Vision Care of Maine moved up the street to its new home at 1012 West Main Street.
Chamber ribbon cutting welcomes Vision Care of Maine to new D-F location
DOVER-FOXCROFT — A move up West Main Street has enabled Vision Care of Maine to expand into a larger space at 1012 West Main Street, next to Dollar Tree. The transition was celebrated with a grand opening and Piscataquis Chamber of Commerce ribbon cutting during the late afternoon of July 21.
"We are just huge advocates for business. We want to make sure you all succeed and we want to do whatever we can to make sure that happens," Piscataquis Chamber of Commerce Executive Director Denise Buzzelli said.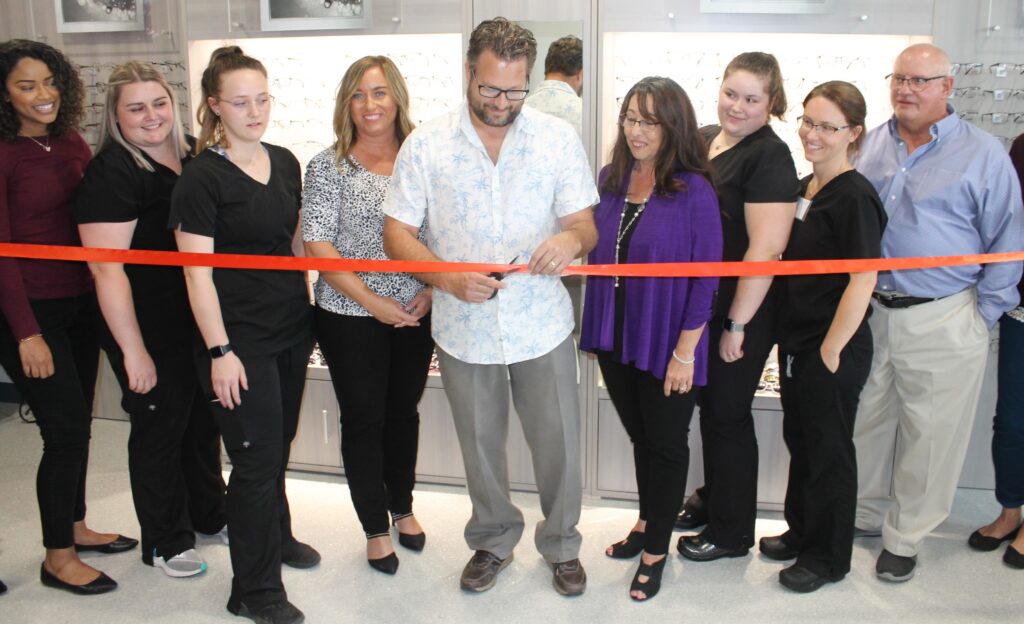 "We welcome your larger office to our community as you already have been part of our community for a long, long time," she said.
Vision Care of Maine has more than 10 locations across the state and has been in Dover-Foxcroft since 2005. The former location a mile down the road shared a small parking lot with Dover Audiology, severely limiting the volume of patients that could be seen.
The practice grew over the last year, enabling management to employ a local optometrist three days per week exclusively in Dover-Foxcroft. Unfortunately the parking situation often led to a provider with downtime, and it became obvious to business officials that moving the office to a new location was inevitable.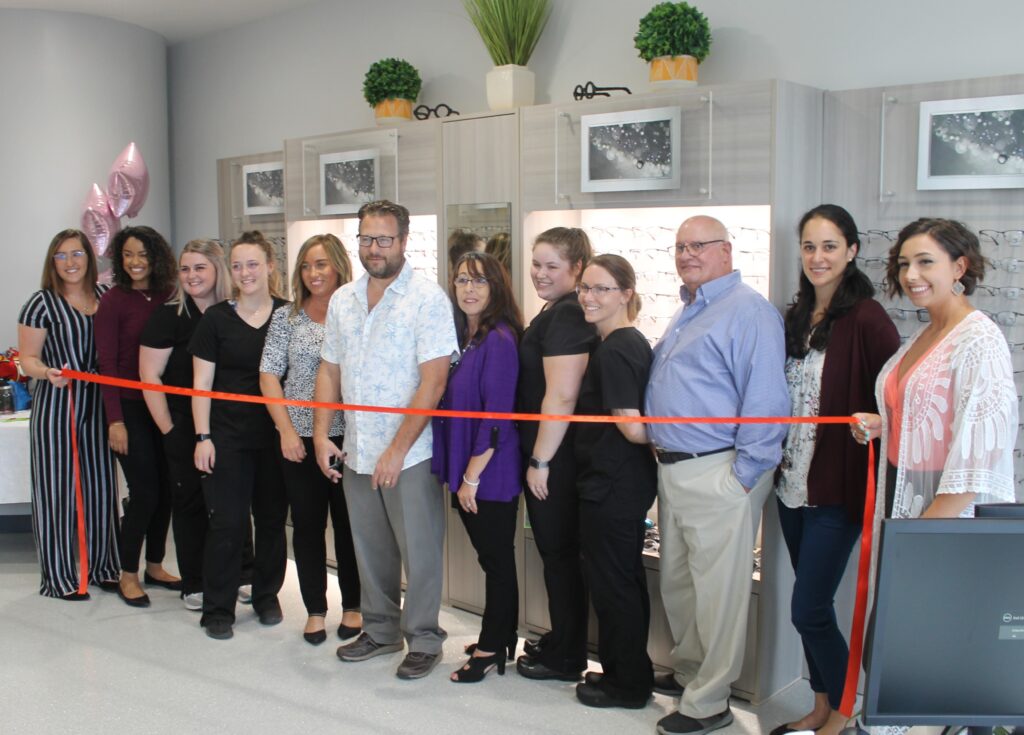 Renovations began in April to get the 1012 West Main Street office ready.
"We're really excited to have an actual optical shop and choices and to bring some professional level doctors to the area that specialize in the eye because obviously we don't have that here right now and haven't for some time," Buzzelli said. "We welcome you, we wish you all of the best. We're excited to see staff and employees and activity. The building is gorgeous and it just adds to the professionalism of [the] town so we're really, really pleased to have you and so glad you chose to stay in Dover and not leave the county and go somewhere else."
"We're excited to be here, not that we are new to the area," owner Dr. Curt Young said before he snipped the ceremonial orange ribbon. "We've been here a while and we're looking forward to being a bigger, brighter, cleaner, more convenient office for our patients."
He then welcomed doctors Julie Goldman, Luke Gamble and David Benes.
Dr. Goldman will be seeing patients on a monthly basis, plus performing surgical procedures at the Bangor surgery center. Dr. Gamble has been with Vision Care of Maine and has worked in the Dover-Foxcroft location in some capacity since 2012. Dr. Benes has been with Vision Care of Maine since 2017, working in the Bangor location and other offices in northern Maine.
For more information, please go to the Vision Care of Maine Dover-Foxcroft location website at https://www.loc8nearme.com/maine/dover-foxcroft/vision-care-of-maine/6217720/.