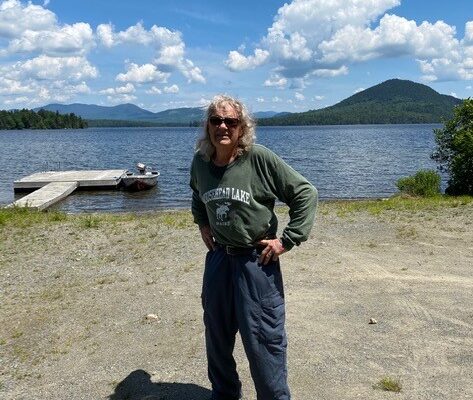 PO-linz-29-20
Photo courtesy of Ed Linz "They Never Threw Anything Away, Memories of the Great Depression by Americans Who Lived It" author Ed Linz near his family's camp on Lower Wilson Pond, where he finished his latest book profiling 22 families who lived during the Great Depression.
Greenville author profiles Great Depression families in new book
In his latest book "They Never Threw Anything Away, Memories of the Great Depression by Americans Who Lived It," Greenville author Ed Linz profiles 22 Great Depression era families.
"The book resulted," Linz explained, "from interviews I did in the late 1990s while traveling the U.S. in search of interesting stories told by people who lived during the Depression. I kept all those cassette tapes and notebooks and wrote the book last summer at our camp on Lower Wilson Pond. I had just enough internet connectivity to do further research, while the beauty and relative solitude of the Maine woods inspired me to finally finish the project."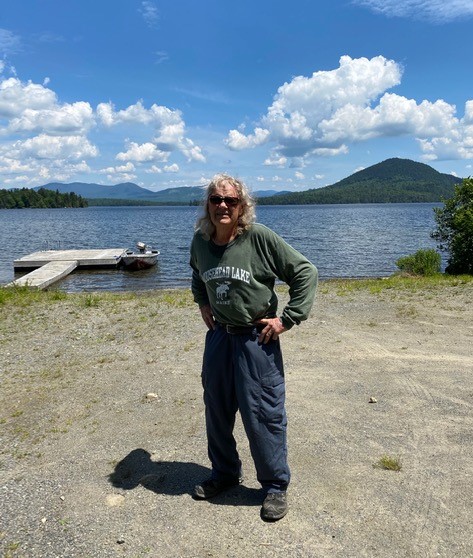 Interestingly, the parallels to our present time presented in the book are ominous: 1919-29 …. an international pandemic killing hundreds of thousands of Americans …. a booming stock market …. political turmoil …. an all-too-familiar scenario for everyone now living during this current pandemic. "They Never Threw Anything Away" provides an entertaining, all-too-plausible comparison of the eras by providing stories told in their own words by Americans who lived through the social and economic chaos preceding, during, and after the Great Depression 100 years ago.
"During my travels, I interviewed a wide array of Americans from varying geographic regions and differing social strata," Linz said. "Among the stories I uncovered are ones told by a wide swath of survivors: a Black man in southern Georgia who worked in a turpentine forest; a socialite (and friend of Ginger Rogers) whose famous engineer grandfather (John Stevens) took her on a steamship to visit his masterpiece, the Panama Canal; a teenage big band leader who played in the speakeasies on Long Island; the daughter of recent Greek immigrants who found herself in a L.A. tuberculosis sanitarium at age 9; a Seattle barnstorming aviator; a raccoon hunting dirt farmer in North Carolina; Mennonite farm families in northern Indiana; teachers, who as very young women, worked in one-room schoolhouses in the Dust Bowl of the Midwest; a group of nursing students from the coal mining regions of Kentucky – and many other captivating memories of life during the Great Depression."
Each story is interspersed with interesting anecdotal facts about the events and circumstances mentioned during the interviews. A timeline of major events during the Great Depression is an included Appendix.
Linz was born and raised in Kentucky. He studied Physics at Villa Madonna College for two years prior to receiving an appointment to the U.S. Naval Academy from which he received a B.S. in mathematics in 1965. For the following 20 years he served as an officer aboard nuclear submarines, including a tour as Commanding Officer, USS KAMEHAMEHA (SSBN 642). From 1974-76 Commander Linz pursued studies in politics, philosophy and economics at Christ Church College, Oxford University as a CNO Scholar, receiving a M.A. degree.
Following his retirement from the Navy in 1985, Linz began a second career teaching mathematics and physics in public schools in northern Virginia. He received a masters degree in secondary education from George Mason University in 1988 and continued teaching and coaching (cross country) until his retirement in 2011 to pursue a full-time writing career.
Having been diagnosed with a life-threatening cardiac disease in 1991, Linz was the beneficiary of a lifesaving heart transplant operation in 1994. He remains forever grateful to his donor family and has been a frequent speaker promoting organ and tissue donation in venues across the U.S.
Linz is the author of four books; "Life Row" in 1997, about his medical experiences; a textbook, "Team Teaching Science" (2011); a novel "Hurtling to the Edge" (2015) and his latest book (2021) about the Great Depression "They Never Threw Anything Away." He also writes a weekly opinion column under the pen name, Eyes Right. His current writing project is "Heart Transplant Hiker," a recounting of his adventures both on the Appalachian Trail and other locations throughout the world.
His hobbies include hiking, kayaking, world traveling and gardening. He lives with his wife, Sharon, a retired registered nurse, at a camp in Greenville and winters in northern Virginia.