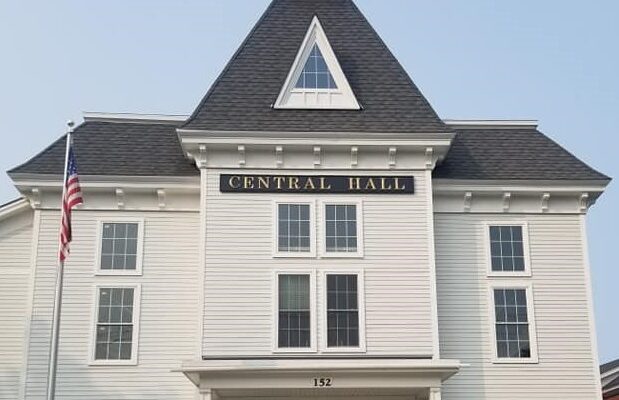 CHC sign (2)
The Commons at Central Hall in Dover-Foxcroft.
Workshop nurtures active hope
We are living in extraordinary times as we are just now emerging from a deadly pandemic that has killed over 600,000 of our fellow Americans. We are seeing the Pacific Northwest hotter than it has ever been, huge lakes and reservoirs drying up, and mussels cooking on the shore, and increasingly violent storms battering large areas of the country. Meanwhile ordinary citizens are taking shuttles into space, and scientists have the ability to make test tube living animals or cure diseases by altering the genetic codes of life. We in the U.S. are living in communities that are increasingly divided, angry, and violent and over 60 percent of Americans think trust in the government and each other is shrinking. How do we make sense of our enormous capacities and also our devastating failures and what sometimes feels like the unraveling of our world? How do we remain resilient and hopeful?
"The usual response to this kind of external stress," says local physician and climate activist Lesley Fernow, "is to feel panic, and either to stick our heads in the sand or to search for scapegoats on whom to vent our fear and rage or even to turn on each other." It is clear, though, that we are not just witnesses to this unraveling, but we are part of it.
Fernow is a hospice and palliative care specialist. She has spent her career supporting patients and families who are facing the fear and sadness of terminal illnesses, and she is familiar with the many patterns of response. She sees many corollaries in the work of eco-philosopher and teacher Joanna Macy, author of "Active Hope: How to Face the Mess We're in Without Going Crazy."
Now retired, Fernow is turning her efforts to addressing what she sees as societal suffering by bringing people together to explore our natural interconnectedness and develop our inner wisdom as we experience the painful truth of the world's plight. Using Macy's groundbreaking "Work That Reconnects" template, Fernow is offering a 10-hour experiential workshop that will help participants connect with each other, their love for the Earth, and their inner fears and uncertainties about the state of our world. "When people confront their grief and fear honestly," she says, "I have found it motivates them towards amazing strength, creativity and compassionate action."
The free workshop, held in collaboration with Central Hall Commons and the Thompson Free Library in Dover-Foxcroft will be held on four consecutive weeks on Wednesdays from 4-6:30 p.m., starting July 28 and completing Aug. 18. Location, depending on weather, will be both in the tent at the library and at The Commons. Each session will include group meditations, ritual, conversation in pairs, dance and song. We will explore spiritual, emotional, and intellectual aspects of envisioning and creating a life-sustaining society. Commitment to all four sessions is encouraged.
To register or for more information call Central Hall Commons at 207-343-3018 or Thompson Free Library at 207-564-3350 or go to info@centralhallcommons.org.