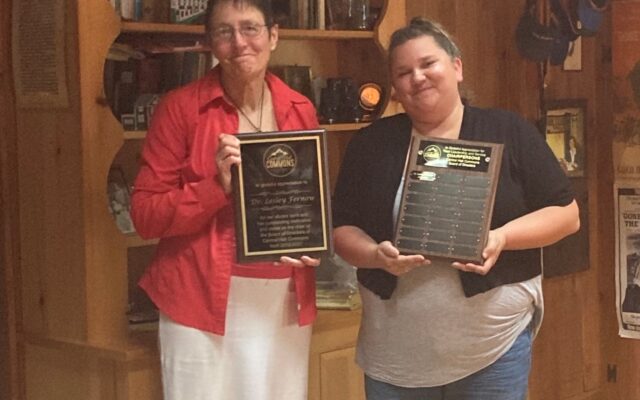 PO-commonsleaders-28-21
Contributed photo OUTGOING PRESIDENT -- Dr. Lesley Fernow, left, holds the plaque presented to her for her nine years of service as president of the Central Hall Commons. Michelle Fagan holds the plaque with the names of past presidents to hang in Central Hall in Dover-Foxcroft.
Central Hall Commons board of directors leadership transition
By Beth Ranagan
It was early evening at a Sebec Lake setting on July 26 that the transfer of leadership for the Central Hall Commons took place. The mood was joyful as so many of the members of the board of directors, their guests, Executive Director Tara Smith and bookkeeper, Chris Mass, had not seen one another in person for more than a year because of the pandemic restrictions.
Dr. Lesley Fernow, a well-known and respected community member, after filling her full nine-year term, stepped down as president of the Board of Directors as Michelle Fagan stepped into the role. The ceremony was simple but heartfelt with respect to the remarks from both leaders. Dr. Fernow was ready and glad to relinquish the presidential responsibilities to Fagan even as she expressed some personal sadness about leaving her role behind as she recalled the growth of the CHC that she witnessed during her tenure. Any unhappiness was tempered because the organization has matured to great satisfaction during that time. Dr. Fernow will gladly remain actively involved in CHC activities and on committees where her ideas, passion and experience will be always very much appreciated.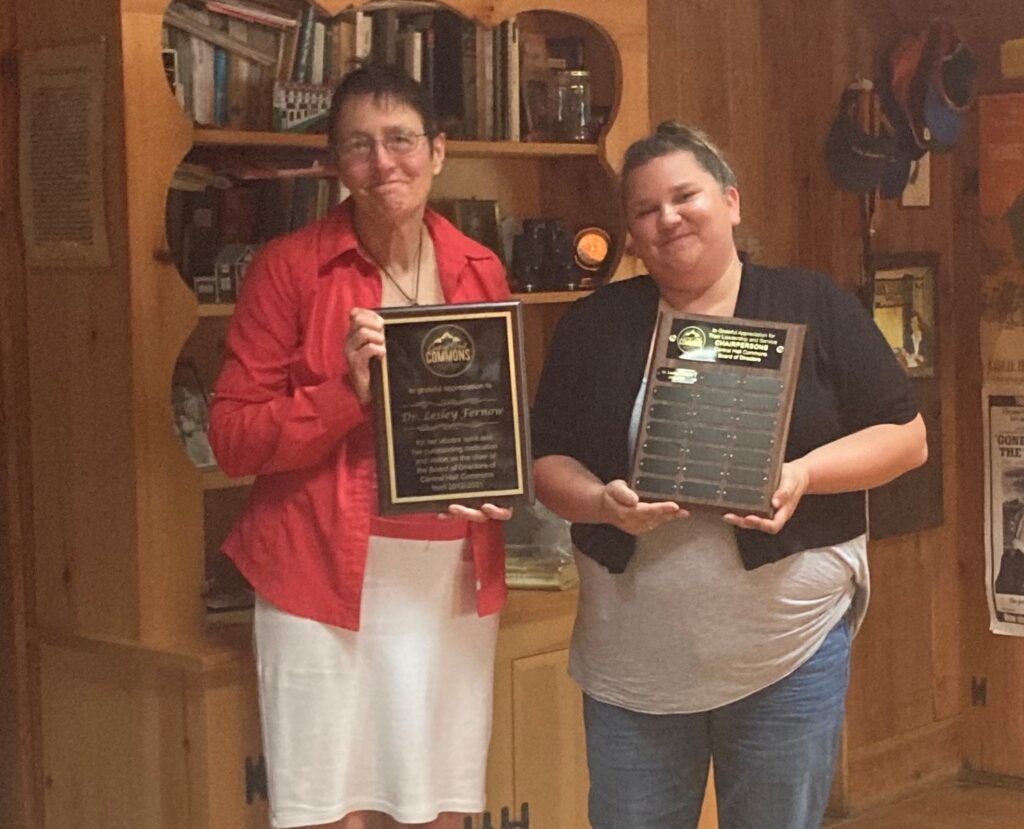 Dr. Fernow led the Central Hall renovation project beginning in 2012 dedicating her endless energy to raising funds, mobilizing people with shared interest, directing building plans and completion, participating in early committee meetings, and undertaking some of the physical work necessary to complete and maintain the facility. During her nine years as leader, she drove the project to the beautiful entity that it has become, always remaining positive and hopeful through the many challenges.
The mission of Central Hall Commons is to nurture a welcoming, inclusive, healthy, rural community culture by engaging people and organizations in the Maine Highlands region in connecting, celebrating and learning together. This mission has been accomplished under Dr. Fernow's direction, setting a solid example for future leaders. A plaque was presented to her commemorating her many significant years of service to CHC. Further, a lilac bush was planted in her honor in front of Central Hall earlier in the day.
Fagan, youth services librarian at the Thompson Free Library in Dover-Foxcroft, expressed her enthusiasm for the vision and mission of CHC. As a member of the Dover-Foxcroft community, she looks positively to her new role as the chief officer of the organization. Fagan brings a wealth of knowledge as to the organizational procedures of a well-run 501c3 from her experience at the library, Region 5 representative for the Maine State Library's Maine Library Advisory Council as chairperson and participation in 501c3 educational sessions including MANP's nonprofit boot camp. She strongly supports community outreach and cooperation seeking common goals for the common good among community entities. Fagan was involved with program planning since before CHC officially opened its doors in May of 2018.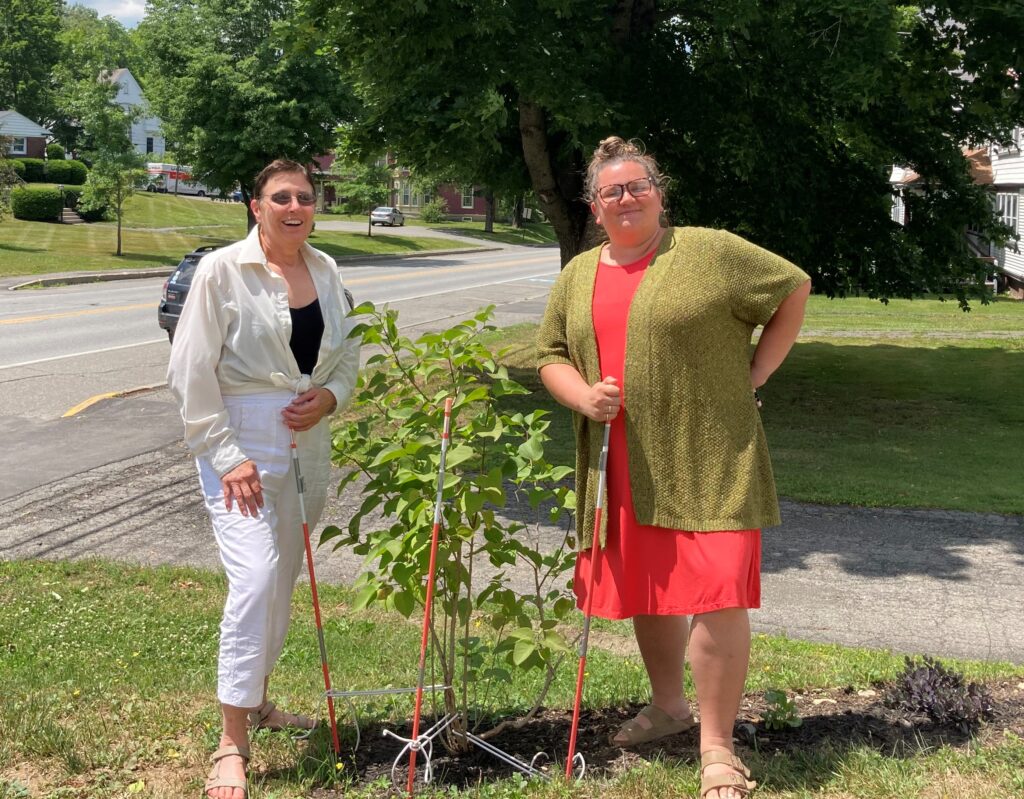 She is honored and grateful for the opportunity to serve as president of the Board of Directors of Central Hall Commons and is dedicated to moving the organization forward. CHC envisions a community where all voices are heard, and people of all generations feel safe, valued, included and cared about. Fagan's vision aligns well with that of CHC.
Work to raise funds to restore Central Hall began in 2008 was supported primarily by the Dover-Foxcroft Historical Society, various grants through the town, Center Theatre, the Maine Highlands Senior Center and donations from interested citizens. The building faced possible destruction as it was in poor condition. The town selectmen supported the restoration efforts. In 2012, the project was named Maine Highlands Senior Center, eventually evolving to Central Hall Commons.
Central Hall Commons began operations in 2018 with a working board of directors eager to complete remaining building projects and obtain grants to do so. The building is now complete except for the first-floor full kitchen, which is currently under construction.
Income is obtained from programs, grants, donations and rentals. Although the COVID-19 year was challenging, CHC was able to maintain financial stability.
At the business Meeting preceding the annual dinner, a new slate of officers was approved: Fagan, president; Patrick Myers, vice chairperson; Gail D'Agostino, secretary; and Gloria Zela, treasurer. In addition to the slate of officers, board members Andrew Bermudez, Kevin Chasse, Lysbeth Ranagan, Joseph Ranagan, Susan Ramsey, Richard Swett and Cheryl White were recognized.
During the pandemic shut-down, CHC committees met regularly via Zoom. A four-part PTSD Conversations presentation occurred via Zoom and Facebook in the summer of 2020. Equipment and event center rentals have prevailed. A popular grocery delivery service and a phone call check-in program were instituted to help people in need during this isolating period of time. A bimonthly Common Conversation series was developed via Zoom and is transitioning to a hybrid model. Most recently, a Joy & Justice Dance was held at the CHC event center. This dance will continue to occur in partnership with the Joy Truck on every last Saturday of the month.
Recurring in-person programs are welcomed back into the CHC building now. These include the weekly Quilting Group, a monthly NAMI Support Group, monthly NAMI community education programs, LGBTQ+ monthly meetings, the monthly meeting of the Piscataquis Spinners Group, the weekly meeting of the Dover-Foxcroft Age-Friendly Community and the weekly meeting of NeedlePoint Sanctuary. The event center, community room and office spaces are currently available for rent.
Central Hall Commons is committed to honoring these values as our guides in mission delivery and program development: courage, inclusion, place and history, cooperation, healthy aging, inspiration, interconnectedness, and respect. A new website, www.centralhallcommons.org, will be online soon for everyone to explore the many programs and events available in the coming weeks and months. There will be something for everyone. Take a look to find something for you. Also check out the Central Hall Commons Facebook page at facebook.com/centralhallcommons. For further information about the organization, programming or the building, inquire at info@centralhallcommons.org.