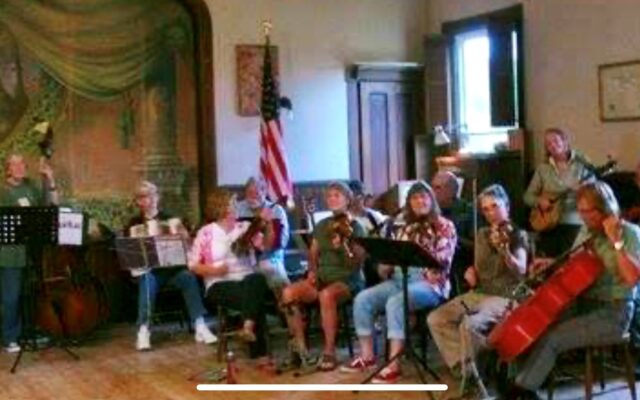 PO-somereel-26-21
Contributed photo SOME REEL PEOPLE -- Some Reel People will perform at 10 a.m. on July 8 at Wayside Park in Dexter for the Dexter Age-Friendly Tea Talks.
Some Reel People to entertain at Age-Friendly Tea Talks July 8
By Beth Ranagan
The Dexter Age-Friendly Tea Talks is delighted to host the Some Reel People band at Wayside Park at 10 a.m. on Thursday, July 8.
This lively contra-dance band plays frequently in the Maine Highlands area. Venues for contra dance performances over the past decade have included the Garland Grange, the Dexter Universalist-Unitarian Church and Central Hall Commons pre-pandemically. The Central Hall Commons, particularly, provides the large space adequate for an evening of energetic dancing. Some Reel People also play at Maine country fairs, such as the upcoming Maine Grain Alliance Artesian Bread Fair on July 31 at the Skowhegan Fairgrounds.
At the July Tea Talks event, Some Reel People will not be holding a contra dance for attendees. There will be ample opportunity, though, for people to dance together or alone to the waltzes, polkas, jigs and reels, if moved to do so. The toe-tapping tunes just may bring you up on your feet for enjoyment.
The music and dance forms originated in the 17th century in England and Scotland. They were carried here by our forefathers to their new country where the entertainment was popular until the middle of the 19th century, when couples dancing became more accepted and prevalent than the contra-dance formations done in lines. The contra dance form was rarely expressed through the 20th century until it reappeared with its music during the back-to-the-land movement in the 1970s and became popular once again in New England and, then, elsewhere in the U.S and Canada.
Today, contra-dance participants include adults ages 20 to 80-plus, teens and children. These family-centered events feature no alcohol. Dances are taught by the caller before each particular dance begins. Assistance is available during the dance by the caller and other experienced dancers who may be dancing with you. You don't need to come with a partner. You will find one, male or female, when you get there.
There are several instruments that you may hear in the Some Reel People contra dance band. Fiddlers include Donna Burt, Beth McEvoy, Danielle Stanley, Stuart Moore, Hunt Smith, Georgia Prickitt and Jody Richmond. Banjo artists are Toby Hall and Sam Brown, who also plays the mandolin. Allison Smith can be heard on the recorder, penny whistle and keyboard. Val Albertini plays the accordion while Stephanie Reiser is the cellist. Susan Abel keeps the beat with the bass fiddle. The guitarists are Dave Pearson and Roger Noyes. Bev Crockett is the pianist. These enthusiastic and dedicated musicians meet weekly to practice for future gigs.
Come to hear the jigs, reels and waltzes reminiscent of those played and loved by our ancestors in rural settings long ago. The music and dancing created joyful and healthful diversion in their lives. If you decide just to listen, the music will lift your spirits and lighten your mood as you mingle with friends old and new. If you decide to dance, you will find your physical and mental abilities enhanced in positive ways as you stimulate your muscles, lymphatic system, circulation and the cognitive portions of your brain.
To learn more about and follow the activities of the Some Reel People band, please visit their Facebook page for more information. You can also Google "Some Reel People" to access the Facebook information.