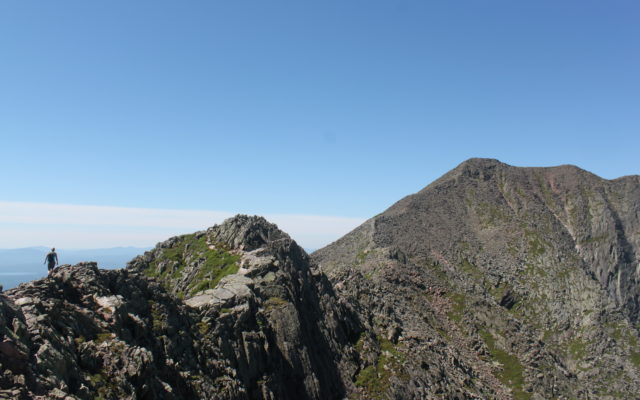 1minhike071713-3
File photo courtesy of Derek Runnells KNIFE EDGE OF KATAHDIN -- Bangor Daily News reporter Aislinn Sarnacki hikes over Knife Edge of Katahdin on July 13, 2013. The ridge becomes just a few feet wide at some points, and the mountain drops away for thousands of feet on both sides.
Hiker rescued after more than 60 hours on Katahdin
By Lynne Fort, Bangor Daily News Staff
A 59-year-old Missouri man was airlifted from Chimney Pond Ranger Station Sunday morning, June 20 after spending more than 60 hours on Katahdin, News Center Maine reports.
The man started off from Katahdin Stream on Thursday morning and hiked the Hunt Trail up the mountain. It was meant to be the start of a southbound Appalachian Trail attempt, according to News Center Maine.
The man spent Thursday night on the mountain, summited Friday and spent that night near the tree line. On Saturday morning, News Center Maine reports, a group of hikers, an EMT, members of Mahoosuc Mountain Rescue and Baxter State Park rangers found the man and began to help him down Katahdin.
They reached the Chimney Pond Ranger Station around midnight, where the man was treated for dehydration and preexisting injuries, and a helicopter arrived to transport him to Millinocket on Sunday morning. He was then taken to Millinocket Regional Hospital for further treatment, according to News Center Maine.