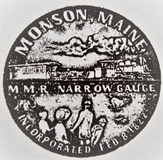 Co-Working Space receives additional $17,000 Maine Community Foundation grant
MONSON — Friday, June 25 from 5-7 p.m. is the date and time for the launch celebration of Monson's new Co-working Space and Artist Cottage. The location is outside the town office, next to the Appalachian Trail Information Center. Monson's Economic Development Committee has been working for over a year to make this happen. They have much to celebrate because they have just learned that they won a grant of $17,000 to help expand the capabilities of their co-working space, capitalizing on their high-speed fiber-optic internet connection.
MEDC received a $17,000 grant from the Maine Community Foundation's "Start Up Scale Up" program. The funds are to help support, expand and find an eventual permanent location for the coworking space, currently in the meeting room of the municipal building.
In 2020, Monson was one of three towns awarded $70,000 by the MCF and the Maine Development Foundation for a pilot Innovation and Entrepreneurship program. A co-working space was one of four goals identified through the program's Entrepreneurship Ecosystem Summary (https://monsonmaine.org/2021/03/09/entrepreneurship-grant-report/). The others are becoming an Affiliated Maine Downtown Center, creating a pop-up venue for local artisans and developing a marketing plan for the town.
"We wanted to start a coworking space because it fits in with the direction that the world is moving, namely remote working. In the past someone who wanted to move to Monson was not able to for work reasons, now they can" said Daniel Swain, Monson town manager.
An open house event is planned for June 25 for any individuals interested in seeing the coworking space and pop-up venue or Monson's downtown in general. The event will be from 5-7 p.m. at the town office, located at 10 Tenney Hill Road. Light refreshments will be available.
For more information about the coworking space email Swain at manager@monsonmaine.org. To rent the artisans pop-up venue, email Alison Barkley at monsonartisancottage@gmail.com.
The town of Monson is a town in Piscataquis County situated on Route 15 just before Greenville and Moosehead Lake. In 2016 the Libra Foundation purchased the former school from the town, along with buildings in the downtown and began a revitalization of Monson that has seen steady growth since. The local leaders, business owners and residents are working to ensure that the growth continues.
Headquartered in Ellsworth, with additional personnel in Portland, Dover-Foxcroft and Mars Hill, the Maine Community Foundation works with donors and other partners to provide strong investments, personalized service, local expertise, and strategic giving to improve the quality of life for all Maine people. To learn more about the foundation, visit www.mainecf.org.