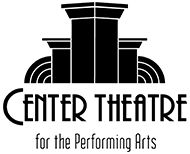 Free block party at Center Theatre
DOVER-FOXCROFT — The Center Theatre in Dover-Foxcroft announced that it will be hosting a free New Neighbors Block Party on Sunday, June 27 from 3-6 p.m. The Block Party will take place in the parking lot beside the Theatre and the Center Theatre will also be open for people to tour. The Block Party will feature live music by the Doughty Hill Band as well as a free BBQ by the Dover-Foxcroft Kiwanis Club. There will also be activities, games, raffles and a video on the history of the Center Theatre playing on the new 2nd screen.
According to the Theatre's Executive Director Patrick Myers they see the block party as a way to welcome some of the new arrivals to the community. "We've all seen houses selling and new faces in the grocery store," he said. "We wanted to put on this block party to welcome some of our new neighbors to the community."
For more information on the free block party, or any other programs at the Center Theatre, visit www.centertheatre.org or call the Theatre at 207-564-8943. The Center Theatre is located at 20 East Main Street in Dover-Foxcroft and is a 501(c)3 non-profit organization with a mission to make arts, education and entertainment accessible to our rural communities to engage and inspire.