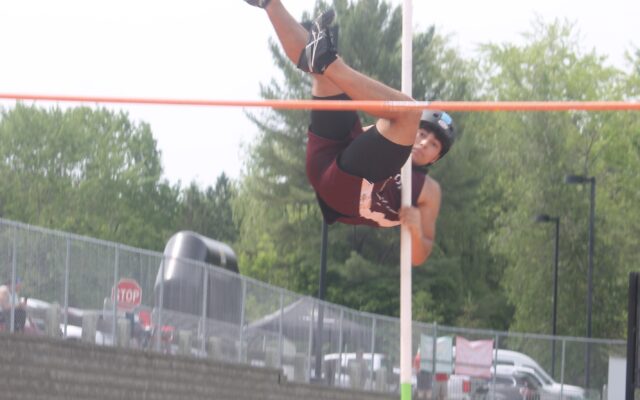 PO-sptrackdrury-22-21
Observer photo/Stuart Hedstrom NEAR THE TOP OF THE POLES -- Foxcroft Academy junior Jesse Drury cleared a height of 9-08 to finish seventh in the pole vault during the Class C track championship on June 5 at the Brewer Community School. Drury also was sixth in the 100 meters and anchored the sixth-place 4x100 relay as the Ponies placed 17th.
Foxcroft boys finish 17th at Class C track championship
BREWER — The Foxcroft Academy boys scored points in four events during the 2021 Class C Outdoor Track & Field Championship at the Brewer Community School on June 5. The Ponies finished the day with a score of 12.5 points, good for 17th place among 30 schools with athletes recording top seven finishes.
Foxcroft freshman Jackson Smith cleared the bar at 5 feet, 8 inches to end the day in third place in the high jump for nearly half of his team's 12.5 points. Pony junior Jacob Reed tied for sixth in the high jump at 5-06 with Winthrop High School sophomore Kyle Dionne. Foxcroft freshman Jack Kingsbury had no height in the event.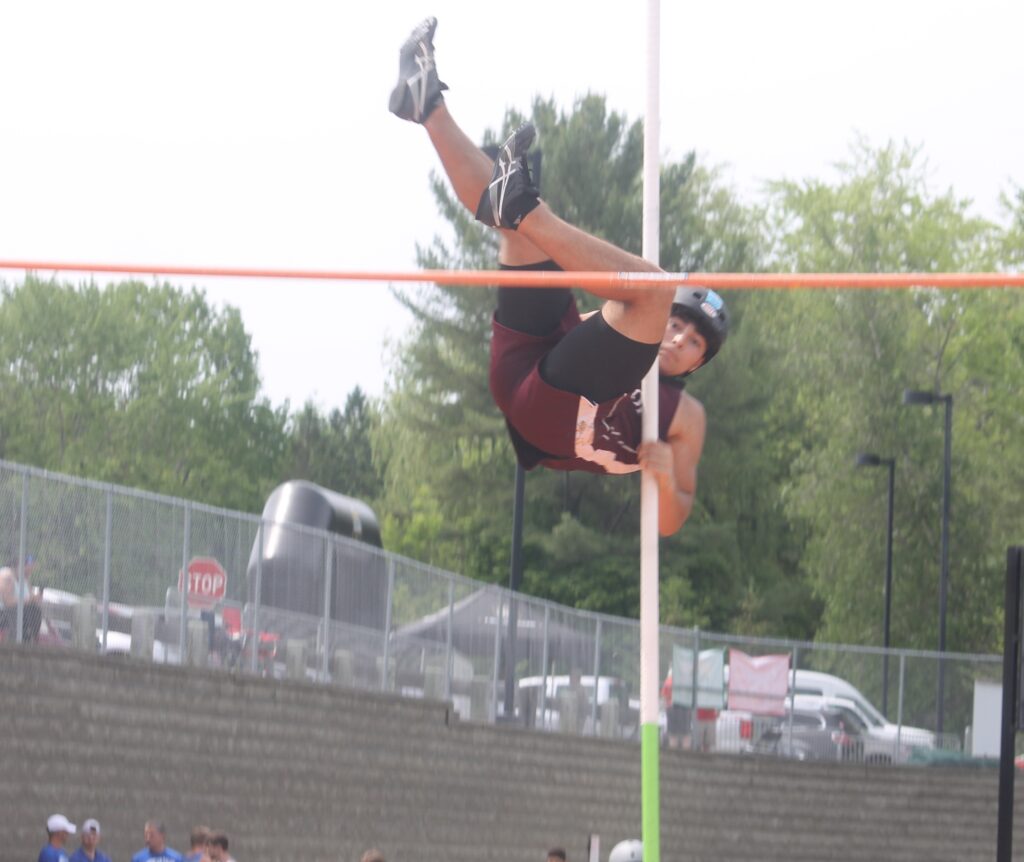 In the 100-meter finals junior Jesse Drury picked up a sixth-place finish in a time of 11.87 seconds. Drury also came in seventh in the pole vault as he cleared a height of 9-08. He was 19th in the long jump at 17-06.
The Foxcroft 4×100 relay had the day's sixth-best time. Smith, junior Bodie Clarke, freshman Kemsley Marsters and Drury combined to cover the lap in 47.53 seconds.
Marsters would just miss placing in the shot put and discus as he ended up eighth in each throwing event. He threw the shot 38-04.75 and the discus a length of 125-03. He also was 11th in the 100-meter prelims at 12.37 seconds.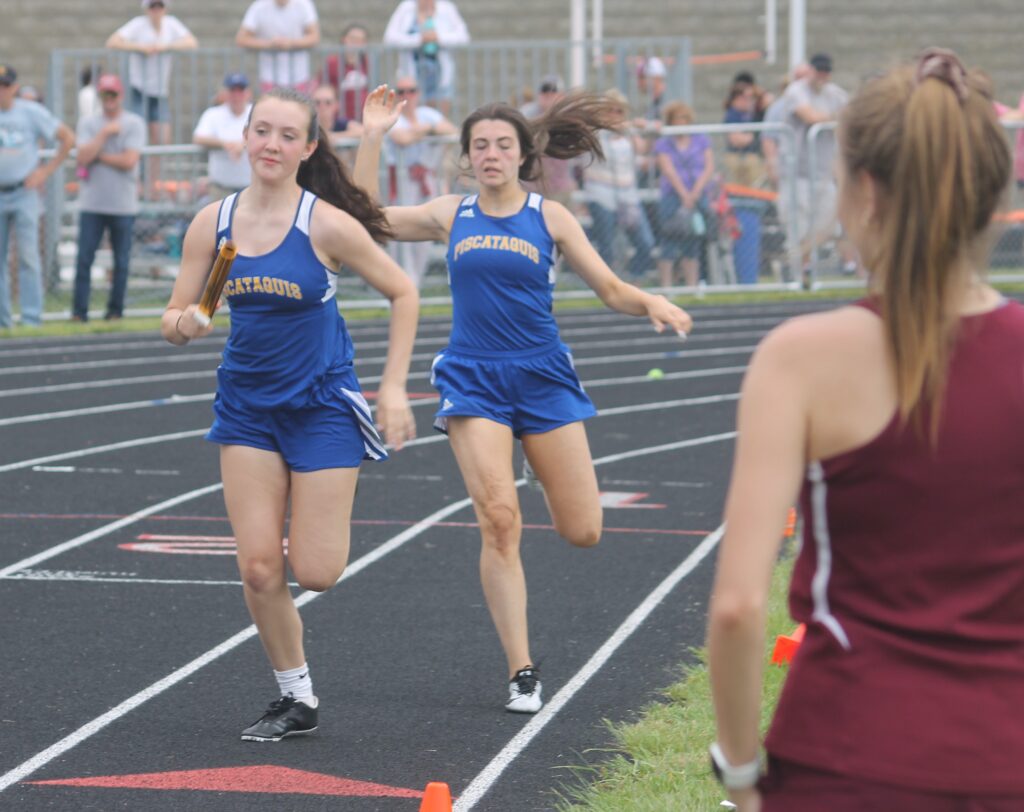 Smith tied Searsport District High School junior Thomas Bradley for eighth in the pole vault at a height of 8-06 each.
Reed came in 13th in both the long and triple jumps at respective distances of 18-09.25 and 36-11.
Among the area high schools, Greenville High School had the next highest finish. The Lakers' eight points put the team in a tie for 24th place with Boothbay Region High School.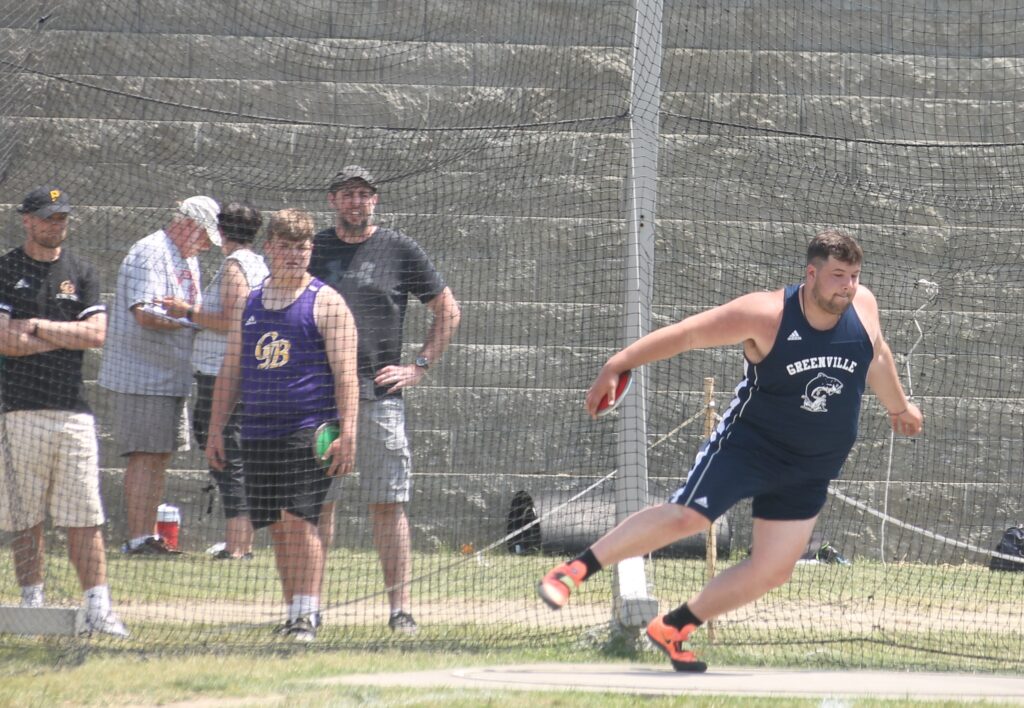 Greenville senior Matt Snyder scored all eight of his team's points with his second-place throw in the discus. Snyder had a top throw measuring 137-06, just two inches behind state champion Jared Martin of Monmouth Academy.
Classmate Andrew Pierce was 21st in the discus with his throw of 71-09.
A fourth-place throw by senior Isaac Webber in the javelin gave Dexter Regional High School four points and a 28th place finish. Webber's throw landed at a distance of 138-06.
Tiger junior Gage Sinclair was 17th in the javelin at 106 feet. Sinclair also came in 13th in the shot put at 35-08.75.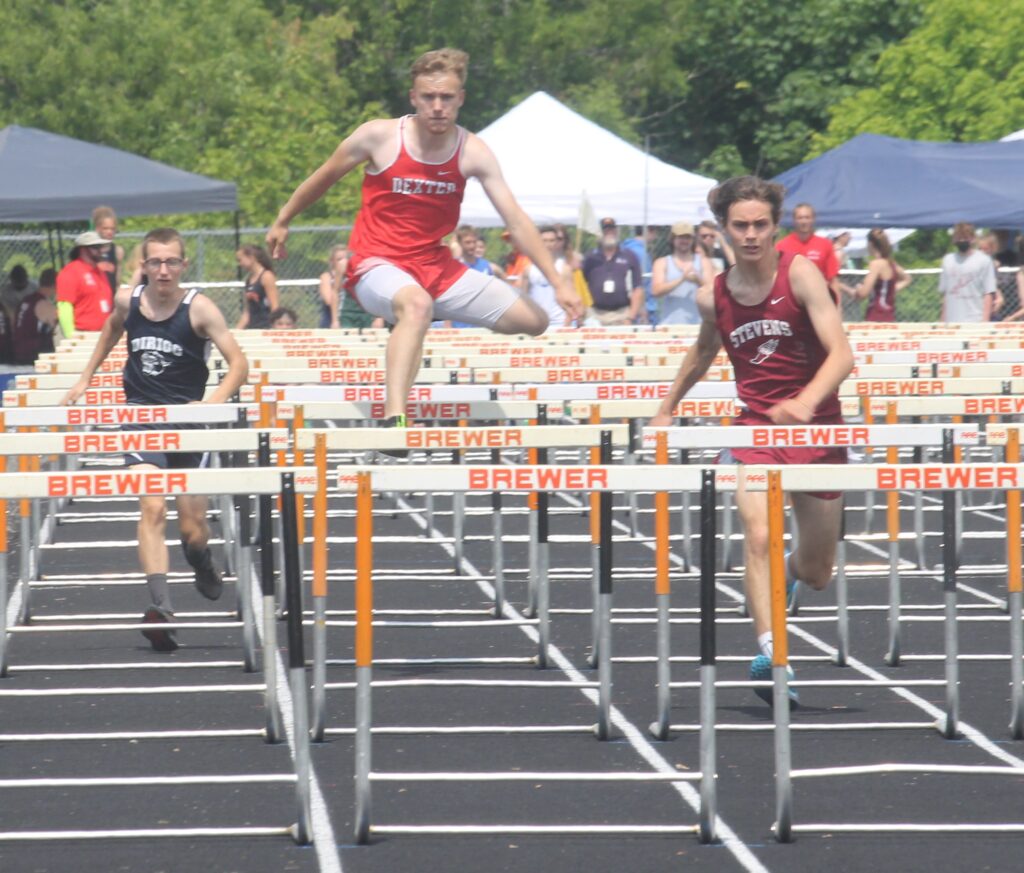 Senior Michael Gadwah was ninth in both the 110 hurdle prelims and the 300 hurdles in 19.40 and 48.23 seconds. Tiger junior Elijah Warner finished 13th in the 110 hurdle prelims in 21.27 seconds.
Junior Avery Gagnon just missed medaling in the triple jump as he came in eighth at a distance of 39-09.25. He also was 14th in the long jump at 18-06.25
Junior Cameron Allen came in 22nd in the 400 in a time of 61.65 seconds and he was 23rd in the triple jump at a distance of 32-08.25.
Penquis Valley High School junior David Stone competed in the discus on Saturday. Stone's throw of 92-07 put him in 16th place.
Bucksport High School won the Class C championship, the program's first since 2004 and second overall, with 75 points. Traip Academy of Kittery placed second with 56 points and Washington Academy of East Machias was third with 51 points.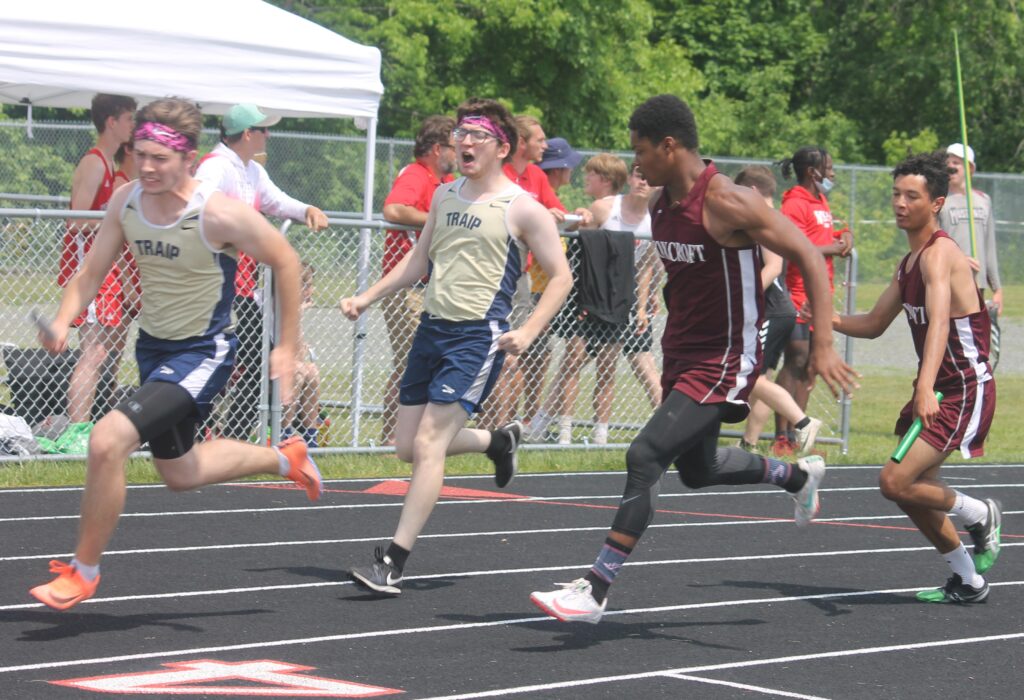 In the girls' meet, Piscataquis Community High School had the highest finish among the five high schools in the region. The Pirates had three points to tie Dirigo High School of Dixfield and Traip for 22nd place among 31 girls teams recording points on June 5.
Pirate sophomore Molly Sipple picked up her team's three points with a fifth-place performance in the discus. Sipple's top throw measured 86-07.
Sipple came in 11th in the 200 in a time of 29.05 seconds. In the 100 meter prelims she was 13th at 13.74 seconds, and PCHS junior Ariana Fanjoy was 20th at 14.49 seconds.
The Pirate 4×100 relay finished 15th in a time of 58.03 seconds. The team was made up of Fanjoy, sophomore Kendall Kimball, sophomore Samantha Goodwin and Sipple.
Goodwin and Kimball placed 13th and 15th in the javelin with respective throws of 76-03 and 74-01.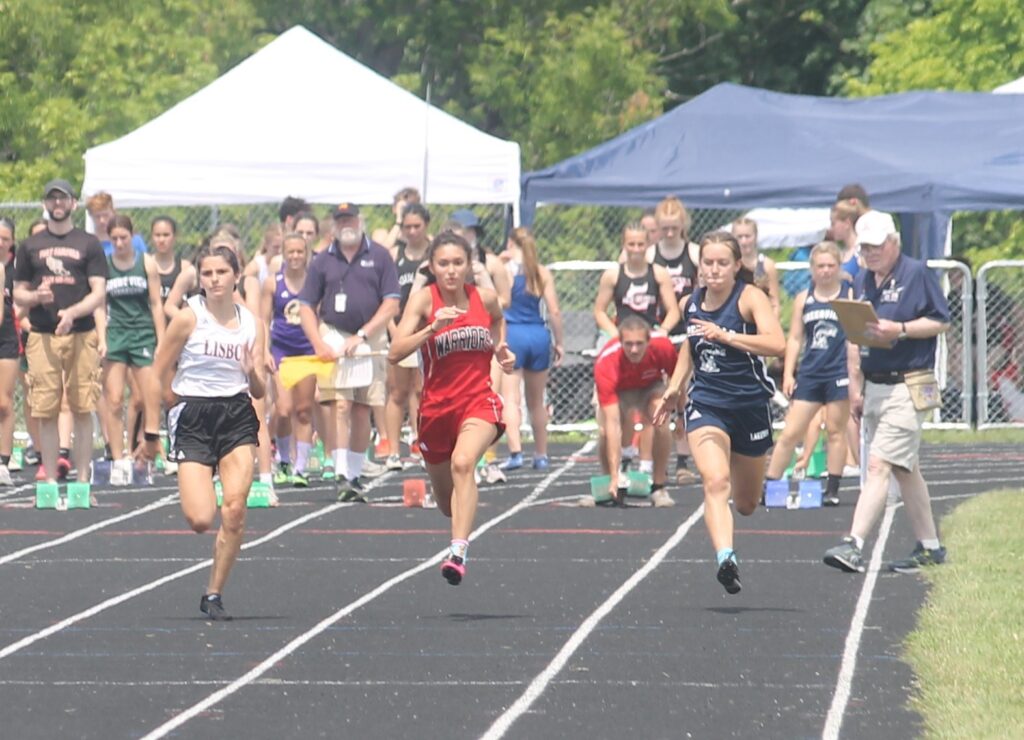 For the Dexter girls, sophomore Lauryn Brunner tied for 12th in the high jump with Houlton High School/Greater Houlton Christian Academy senior Emmalyne Drake. Bunner and Drake both jumped a height of 4-06.
Foxcroft Academy was represented at the state meet by its 4×100 relay team Junior Rebekah Demers, freshman Paige Weidman and sophomores Cadence Herrick and Emma Ladd combined for a time of 58.66 seconds, good for 17th place.
Two Greenville girls competed over the weekend. Senior Lindsey Chandler placed 12th in the long jump at a distance of 14-07.50. Chandler was also 17th in both the 100 prelims and 200 at 14.20 and 29.91 seconds.
Laker senior Madison Kane came in 24th in the 100 hurdle prelims in a time of 20.64 seconds.
Penquis senior Courtney Rouleau entered the high jump, recording no height.
The cooperative program from Lisbon High School and Oak Hill High School of Wales won the girls' championship with a score of 113 points. Winslow High School came in second at 90 and Bucksport was third with 56.33 points.
2021 Class C outdoor track championship
Boys: 1. Bucksport 75 2. Traip 56 3. Washington 51 4. Orono 46 T-5. Lisbon/Oak Hill and George Stevens 45 7. Hall-Dale 30 8. Monmouth 28 9. Winthrop 27 10. Winslow 25.40 11. Mt. Abram 21 12. Sacopee Valley 19 T-13. North Yarmouth and Old Orchard 18 15. Seacoast Christian 16 16. Bangor Christian 13 17. Foxcroft 12.5 T-18 St. Dominic and Sumner 12 20. Wells 11 T-21 Dirigo and Mt. View 10 23. Madison 9 T-24 Boothbay and Greenville 8 T-26 Maine School of Science and Mathematics and Searsport 6 28. Dexter 4 29. Maranacook 3 and 30. Central 2
Girls: 1. Lisbon/Oak Hill 113 2. Winslow 90 3. Bucksport 56.33 4. Orono 56 5. George Stevens 52 6. Houlton/Greater Houlton Christian 32 7. Monmouth 30 T-8 Kents Hill and North Yarmouth 25 T-10. Central and MCI 21 12. Hall-Dale 20 13. Mt. View 18 14. Carrabec 14 15. Seacoast Christian 12 16. Gould 10 17. Winthrop 8.33 18. Ft. Fairfield 8 19. Washington 5 20. Wiscasset 4.33 21. Mt. Abram 4 T-22 Dirigo, PCHS and Traip 3 T-25. Ft. Kent, Hyde, Mt. Valley, Telstar and Wells 2 T-30. Narraguagus and St. Dominic 1