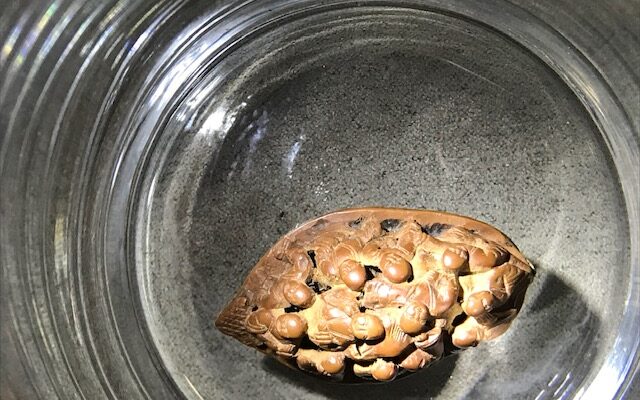 PO-museumwalnut-22-21
Photo courtesy of Jean Greenough INTRICATE CARVING -- A walnut shell with 12 very detailed people carved into it. This is one of many items on display at the Harrigan Learning Center and Museum in Milo.
The Harrigan Learning Center and Museum now open regularly
MILO — Have you ever wanted to hold an ancient Incan tool made from a meteorite, or see a Columbian Mammoth tooth? Most museums are sober, quiet places that discourage interaction with the exhibits, but the Harrigan Learning Center and Museum, located in Milo, is a breath of fresh air. The Director Tom Harrigan and Assistant Director Lydia Richard are welcoming and affable. They encourage guests to take photos, engage with the exhibits, and some pieces are even allowed to be handled. Tom and Lydia are happy to guide guests through the museum and regale them with the tales behind the artifacts. As Tom says, "this museum is built on stories" and he has one for just about every item on display.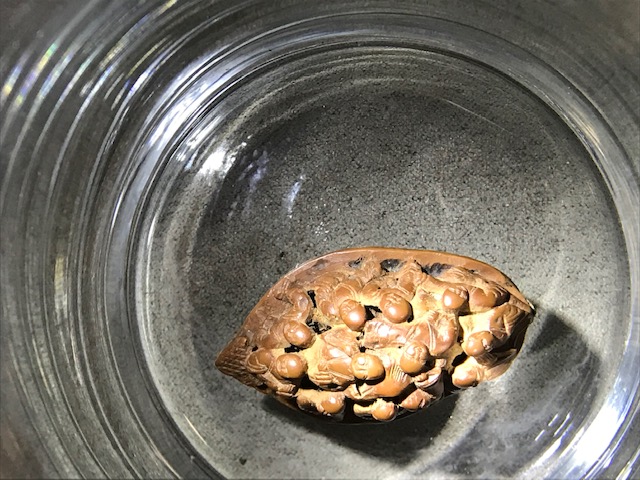 The Harrigan Learning Center and Museum of Fossils, Minerals and First American Artifacts (and much more) is one of five buildings Nancy and Tom Harrigan designed, and hired Ron Desmarais to build for them. The town of Milo gave them 2.1 acres of land in the Business Park to put them on. The Harrigans completely furnished the buildings and obtained a 501(c)3 tax status and a Foundation designation for the Three Rivers Milo and Brownville Kiwanis Club and then donated the buildings one by one to the Kiwanis Club when the work on them was completed. The Kiwanis Foundation Headquarters building was completed in 2013, the Museum building was completed in 2016, the Points North Visitors Center and the Pavilion were completed in 2017, and the vehicle and storage building was completed in 2018. All the buildings are powered from two banks of 36 solar panels each, one mounted on the roof of the Museum and the other mounted on the roof of the Visitor Center.
The Museum has something to peak everyone's interest — from alligator skulls to arrow heads, to rhinoceros fossils, moose antlers, dinosaur tracks, petrified wood from Arizona, fluorescent minerals from Franklin, New Jersey, a Native American exhibit that was blessed by a local chief, lots of fossils and minerals and much more. The Museum also has 17 large murals painted by Suzette East who chose subjects to enhance the collection. She also painted 21 large canvases called destination paintings that are on exhibit in the Visitor Center. The center recently added a webcam display that shows 14 local locations, most of which are in Milo and Brownville, including a view of an eagle's nest over the Piscataquis River.
If you head into the Visitor Center you will also be able to find books written by local authors, a Boy Scout exhibit, a display of historical photographs of Milo and Brownville, a mineral display by the Penobscot Mineral and Lapidary Club, other minerals and fossils, exhibits from the past by both the Milo and Brownville historical societies, wildlife photography by Marcie Palmer and aerial photography by Blaine Chadwick and a museum exhibit with accompanying stories, of course.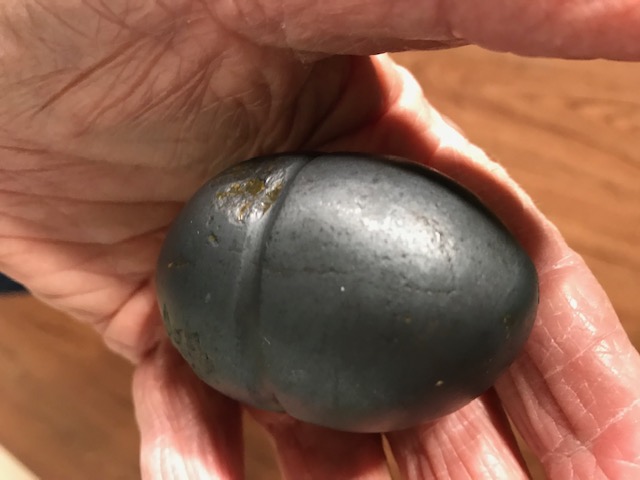 The Harrigan Learning Center and Museum has caught the attention of many, as it has hosted U.S. Rep. Jared Golden and U.S. Sen. Angus King. Television stations WABI and WVII and newspapers Bangor Daily News, the Eastern Gazette and the Piscataquis Observer which have reported stories on the museum. King described the Harrigan Learning Center and Museum as "the Smithsonian of the North" because of the uniqueness and quality of its collections. U.S. Sen. Susan Collins visited Kiwanis Headquarters building a little after it first opened and gave a program there.
The Harrigan Learning Center and Museum has been operating by reservation only during the pandemic but has opened its doors as of May 15. The hours are Wednesday and Saturday 10 a.m. to 4 p.m. and Sunday 1-4 p.m. or by appointment. School field trips and group visits are welcome, just call ahead for arrangements at 207-943-3675 or 207-943-3677. Minimum admission donations are adults $9, seniors over 65 $7, children (4-16) and students $5. Children under 4 are free. The Museum's address is 15 Harris Pond Road Milo, ME 04463 (it is in the Business Park next to a 67,000 solar panel solar park).