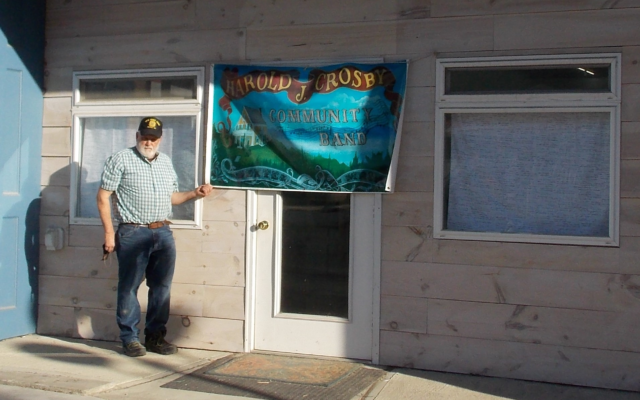 PO-bandacquisition-22-21
Contributed photo NEW BAND SPACE -- Harold J. Crosby Community Band President Jeff Patterson hanging the "on the road banner" outside the currently used space on Main Street in Dexter.
Main Street venue acquired for HJ Crosby Community Band
DEXTER — The Carl R. Cuthbert Community Band Foundation and Harold J. Crosby Community Band are pleased to announce the acquisition of a new venue at 8-12 Main Street in Dexter. The building will undergo extensive repair/renovation and will be used as a practice area, office and future performance/arts center. The Crosby Band has been holding socially-distanced practices in part at the site for the past few weeks in preparation for this summer's concert series.
Many transformations of the space have taken place over the years since Carroll Patterson, the Band president's father, managed the First National Store there. We look forward to this permanent location for future practices, performances and other events including an art gallery. Other plans include free music lessons with instruments provided (if needed) as well as special practice areas.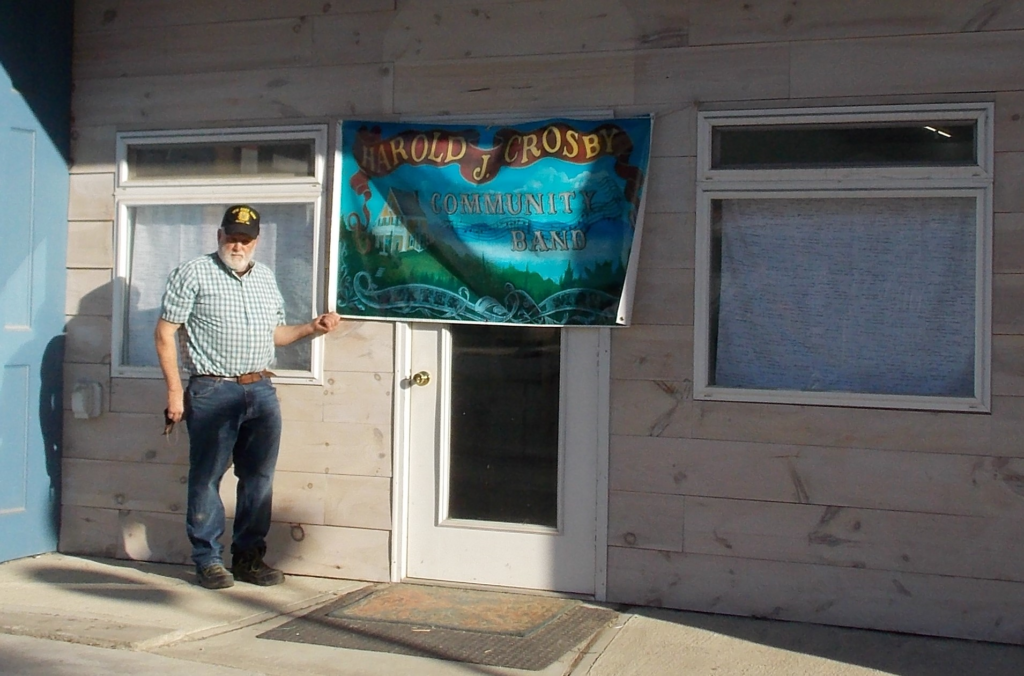 The Harold J Crosby Band Camp 2021 will be celebrating the Maine Bicentennial at the new site Sept. 17-19 with original music from the Maine Centennial concert. Guest performer and conductor, Dr. Christopher Whilhelm, former French Horn player for the Boston Ballet, Boston Opera (retired) and New Jersey Wind Symphony and an international conductor, will play a Rondo for Horn by Mozart and a whimsical Horns-a-Plenty with the band camp musicians.
The Harold J Crosby Community Band, a traditional wind and percussion band, will continue serving the public this summer in the local area with a concert series at several venues on Thursday evenings. The program of original HJ Crosby March music from 100 years ago — revived and alive today — will be featured along with patriotic music, traditional rock group medleys, foreign and domestic folk song suites. The HJ Crosby Band members are "Friends to the Shrine Band" in Searsport, Machias and Newport during the summer, raising funds for the Shrine hospitals.
The Band's free outdoor concerts schedule:
June 17 Corinna Gazebo 7 p.m.;
July 8 Dexter Municipal Parking lot 7 p.m.;
July 15 Monson bandstand 7 p.m.;
July 22 St. Albans dam 6:30 p.m.;
July 29 Garland 25 Oliver Hill Road athletic fields 6:30 p.m.;
Aug. 5 Sangerville park gazebo 6:30 p.m.;
Aug. 12 Abbot Town Hall 6:30 p.m.;
Aug. 19 Dover-Foxcroft's Thompson Free Library 6:30 p.m.; and
Aug. 26 Guilford municipal building 6:30 p.m.
Donations accepted to help defray the performance rights' costs.