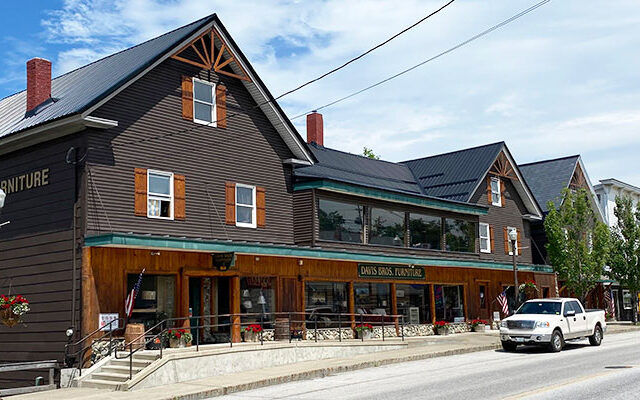 top-01
Photo courtesy of Davis Bros. Furniture
Davis Bros. Furniture sold to the Speed family
GUILFORD – Davis Bros. Furniture in Guilford has been sold to David and Kara Speed.
Nestled on the Moosehead Trail, the furniture store has been in Guilford for 65 years. Tony Davis purchased the store from his father and uncle, Gordon and Harold in 1990. He and his wife, Patti, have been proud community supporters as they built and grew this successful business in the Guilford community.
"Patti and I are excited to be passing the baton to Kara and Dave. Having a family like the Speeds to take over the business that my family has owned for over 65 years, gives me great pleasure and reassurance that the work we have put into this business will continue to grow in their hands," said Tony Davis.
Dave Speed grew up in the area and was thrilled at the chance to bring his family back to Piscataquis county. "Kara and I are so thankful for the opportunity to continue the great service and trust that Tony and Patti have built," said Speed. "We will continue to run the business under Davis Bros. Furniture, a name and business that holds great respect and memories in the area and all existing staff will remain. We are looking forward to meeting all of our loyal customers."
Dave and Kara are lifelong Mainers and have two young daughters, Harper and Hayden. They are excited to start this next chapter of their lives and be living and working in this community.
Davis Bros. Furniture is one of the state's leading sellers of Marshfield Furniture, America's premiere manufacturer of unique collections and special order furniture. The store provides customers with quality household furniture, mattresses, bedding, lighting and home décor. With 25,000 square feet of space, the store houses many product lines that are inspired by nature, from very rustic to natural elegant. Davis Bros Furniture sells and delivers throughout the state of Maine. Visit davisbrosfurniture.com for more information.