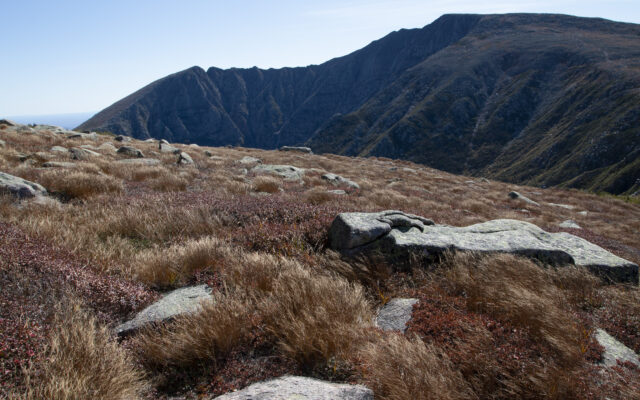 Hamlin0920-07
Bangor Daily News file photo Grass and other low-lying alpine vegetation covers the rocky terrain near Hamlin Ridge in Baxter State Park. This view shows Katahdin's Knife Edge.
Baxter State Park ranked on HomeToGo 2021 State Park Index
HomeToGo, the world's largest vacation rental search engine, today released its 2021 State Park Index, ranking the most extraordinary parks in America for adventure travelers and solitude seekers. Taking into account factors such as park size, annual visitors, wildlife, activities and affordable accommodations nearby, HomeToGo compared state parks across the nation to find the best options for travelers to lay low and adventure far.
Baxter State Park ranked 13th on the list. The park description says "Baxter State Park in Maine is a great spot for visitors hoping to catch a glimpse of majestic wildlife. The park is home to the state's largest mammals including moose, white-tailed deer, black bears, and lynx. Birdwatching at this park is also excellent."
"State parks have experienced record attendance highs this past year and this summer will be no exception. In fact, one quarter of travelers in our recent survey noted they are likely to visit a state park in 2021," said Caroline Burns, head of PR and travel expert at HomeToGo. "With travelers eager to spend more time in the great outdoors and stay in nearby vacation rentals, we're pleased to help them safely and responsibly plan their summer escapes by sharing this year's State Park Index with noteworthy under-the-radar options."
To rank each state park featured in the 2021 State Park Index, HomeToGo researched the following data points:
solitude: annual visitors and overall size of the park;
wildlife: number of observed species (plants and animals);
activities: variety of activities offered to visitors such as hiking, fishing, swimming, mountain biking and kayaking; and
accommodations: number of overnight accommodations within a 30-mile radius, including average nightly price.
For more details on the methodology, as well as a breakdown on each state park featured in the ranking, visit: https://www.hometogo.com/united-states/state-parks/#best-parks-2021. For more information on HomeToGo, visit HomeToGo.com.