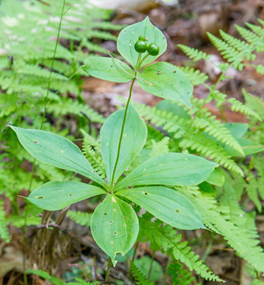 PO-edibleforaging-20-21
Photo courtesy of Michelle Benoit INDIAN CUCUMBER -- Register today for the PCSWCD's Wild Edible Foraging Workshop guided by Tom Seymour, Maine author and forager.
PCSWCD offers wild edible foraging workshop
DOVER-FOXCROFT — After high demand, Piscataquis County Soil and Water Conservation District is pleased to present another Wild Edible Foraging Workshop on Saturday, June 26 with Maine naturalist and author Tom Seymour. Seymour has presented wild plant seminars across the state and we are excited to welcome him back to Piscataquis County for his third visit working with PCSWCD.
Seymour will be taking our groups on a field trip to the Law Farm, one of PCSWCD's public lands located on Lee Cemetery Road in Dover-Foxcroft. Seymour will walk with participants on the land while identifying and explaining the uses and properties of wild plants in the Maine woods. He will also explain how to use wild plants as substitutes for more familiar vegetables and how these plants add their own unique flavors, textures and aromas to easy-to-prepare meals. Seymour has written several books on hiking, fishing, birding and foraging wild plants in New England, along with magazine and journal articles featuring his knowledge and passion for the outdoors. He will be offering an opportunity to receive a signed copy of any books he has for purchase on the day of the event.
Registration is required and space is limited. We are offering two different time slots to choose from: 10 a.m. to noon or 1-3 p.m. If you are curious to learn more about wild edible foraging and would like to come to this workshop, please contact the Piscataquis County Soil & Water Conservation District at 207-564-2321 ext. 3, email us at info@piscataquisswcd.org or visit our website www.piscataquisswcd.org to register.