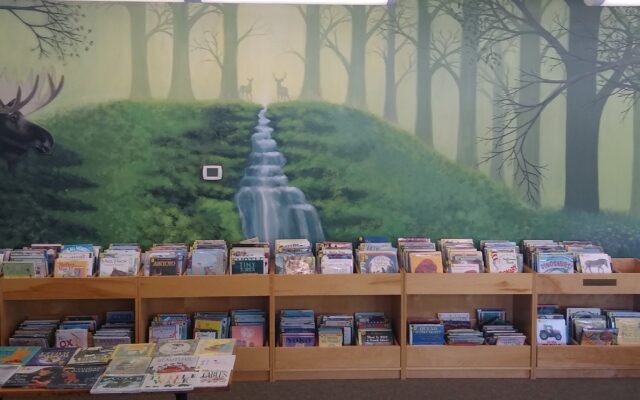 PO-librarymural-21-21
Photo courtesy of Thompson Free Library IN MEMORY OF LIBRARY PATRON -- A new mural commissioned in memory of Suzanne Stacy by her family is on a children's section wall at the Thompson Free Library in Dover-Foxcroft. Local artist Lydia Rose Spencer painted the mural.
Library mural captures patron's passions
By Jon Knepp, Thompson Free Library director
DOVER-FOXCROFT — The Thompson Free Library has brought the outdoors in with a new mural in the children's section! The beautiful painting features many of the wildlife we enjoy here in Maine. The mural was commissioned in memory of Suzanne Stacy by her family. Stacy was a longtime library patron, supporter and advocate, who passed away on Christmas Day 2020.
Since her passing, Stacy has been deeply missed in Dover-Foxcroft, no place more so than at the library. Stacy was a first grade teacher for 34 years, and her passion for children's literacy carried over to her support of the library. For nearly 50 years, she remained a fixture at the library, whether helping with story hours, bulletin boards or advocating for the library.
In a 2008 letter to the editor, Stacy stated that " . . . there is another landmark this community is so fortunate to have and that's Thompson Free Library . . . our library has much to offer people of all ages."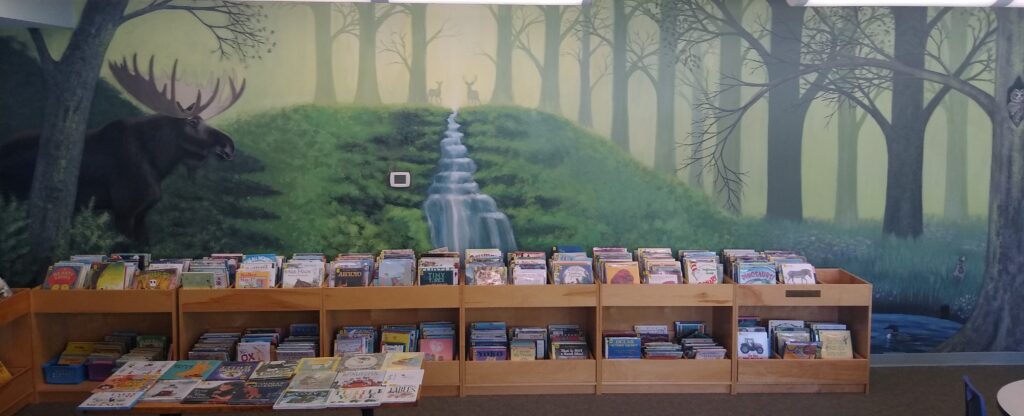 After she passed, donations came into the library in memory of Stacy from many in the community. Because of her love of children and her commitment to their literacy, the library wanted to honor her by expanding its children's collection and programming as well as adding a meaningful, lasting addition to the children's section. After some discussion, we decided on a mural to replace the drab green walls in that area.
"We chose a mural because murals add new life to the space," said Michelle Fagan, youth services librarian at the library, "they can highlight the wonderful talents of community members and can be enjoyed for years to come."
Local artist Lydia Rose Spencer was chosen to paint the mural. Because of Stacy's love of the Maine outdoors, a woodland scene with a moose, loon, deer, and other forest flora and fauna was chosen. However, Spencer said she "didn't want to do a typical Maine scene that everyone's seen before. I wanted it to create atmosphere and add depth to the space. It was important to me that it gave an inviting and magical atmosphere to the children's section, and that it reflected the love that Suzanne had shown the library."
Over four completely packed weekends going up and down ladders, Spencer realized how much work a 250-square foot mural is! "It's something people will be up-close-and-personal with. So you really can't skimp on the details . . . it has to feel real even when you're standing right beside it."
In the end, all the time and effort paid off. "It turned out even better than I envisioned," Spencer remarked, "everyone worked together and we created something wonderful that will hopefully be there for many years to come!"
It was a fun surprise to come in after every weekend and see the progress that Spencer made while we were gone! One day, I came in and there was a life-sized moose where there used to just be a bush. The next week, a loon, owl and rabbit joined him. It makes the room feel a lot bigger and it's hard for us to imagine the room without it; we have to look at pictures. It seems like it always should have been here. We couldn't be happier!
The mural will continue to brighten up the children's room at the library for many years to come. It will also carry on Stacy's legacy, passion and dedication to the library, especially its children. To see the piece in person (pictures don't do it justice), come visit the Thompson Free Library Tuesday to Friday 9 a.m. to 5 p.m. or Saturday 9 a.m. to 1 p.m. Follow us on Facebook (facebook.com/thompsonfreelibrary) or on Instagram @tf_library.