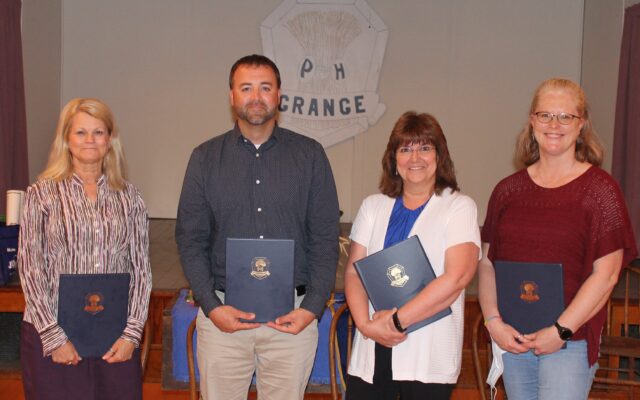 PO-grangehonor-20-21
Observer photo/Stuart Hedstrom COMMUNITY CITIZEN AWARD -- The Valley Grange of Guilford has recognized employees of four area school districts as the 2021 Community Citizen Award honorees for everything done for students and families during the coronavirus pandemic. Accepting the awards for SAD 4, RSU 68 and SAD 41 and 46 respectively on May 21 at the Grange Hall are, from left, SAD 4 Superintendent Kelly MacFadyen, SeDoMoCha School Principal Adam Gudroe, Brownville Elementary Principal Carol Smith and Ridge View Community School teacher Jennifer Batron.
Valley Grange honors school employees across the region
GUILFORD — Members of the Valley Grange #144 opted for an atypical choice as the organization's Community Citizen Award while looking back on a year-plus in the coronavirus pandemic. Instead of picking an individual or small group or business, the Grange chose to honor 1,000 recipients.
The Community Citizen Award honor was bestowed upon all employees, teachers, administrators, bus drivers, custodians, cafeteria staff and more, of RSU 68 of Dover-Foxcroft, the Guilford-based SAD 4, SAD 41 of Milo and SAD 46 of Dexter. The Valley Grange works with each school district, including the annual Words for Thirds Dictionary Project (in 2020-21 each third-grader received a dictionary to continue the tradition). The awards were presented to representatives of each unit during a May 21 evening presentation at the Grange Hall.
Valley Grange Program Director and Lecturer Walter Boomsma said usually the building is filled with friends and families of the Community Citizen Award recipient. "Typically we celebrate that we have a great community and celebrate a citizen of the year," he said, mentioning amidst the pandemic attendance was kept to a minimum.
"One of the traditions we have had in Valley Grange for as long as anyone can remember is to recognize the citizen of the year," Boomsma said. He said no award was presented in the spring of 2020 and Grange members wanted to bestow the honor again this year.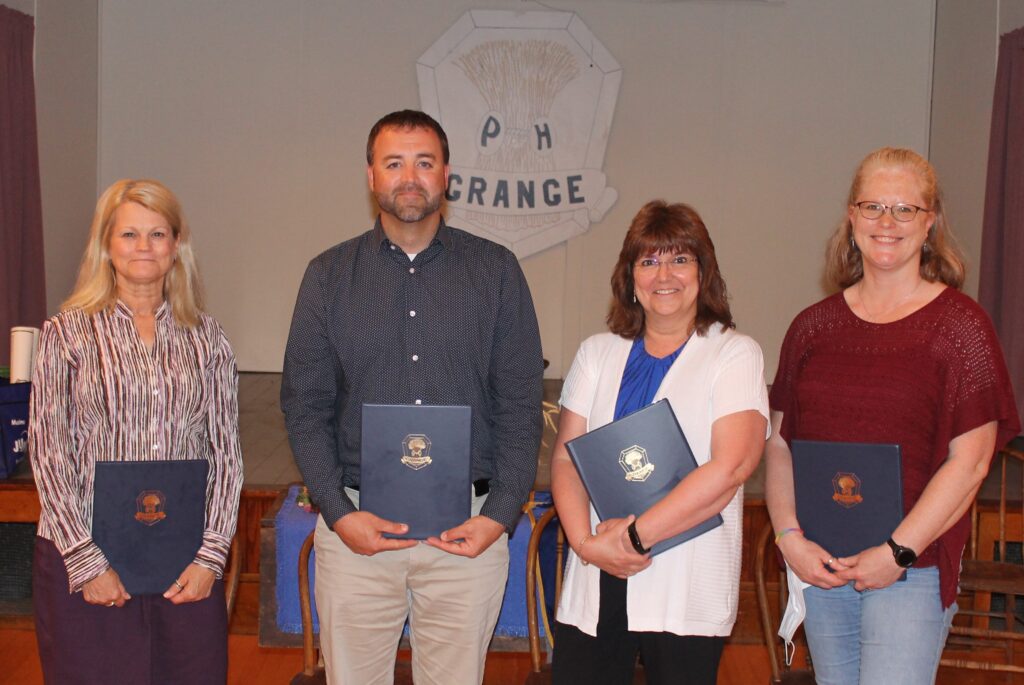 Several months prior planning began and selectors decided to recognize not just one honoree but a number of people who have made a difference over the last 15 months. "Our teachers and staff at school have probably had the most difficult time of their lives," Boomsma said.
He said he was at Piscataquis Community Elementary School taking yearbook pictures and had some conversations with students and staff about the last year. Boomsma said despite the numerous challenges, "Everybody had something positive to say."
"It was good to hear that because I feel that is important," Boomsma said, as those he spoke to were thankful for what they had, learned about different ways to teach and more.
He said between RSU 68 and SAD 4, 41 and 46 there are about 1,000 employees. Formal certificates were presented on May 21 to a representative of each district and PDF copies of the honor will be distributed so everyone can have their own.
"What I'm going to ask is when you go back to school, make sure word gets back to the teachers, the bus drivers, the custodians," Boomsma said. "What's most important is they shine their light of love on their kids and their community."
"I have to say all of my staff have worked in a heightened state of stress since last March and to have you recognize that is very special," SAD 4 Superintendent Kelly MacFadyen said. She said she could not be more proud of the efforts everyone made to have in-person learning in place all year.
"The education they have received under the circumstances has been stellar," she said.
The superintendent said internet access has been a challenge in the rural area but staff worked hard to do the best they could. "The things that go above and beyond what we normally do, people really just stepped up to the plate," MacFadyen said. "It shows when we need to come together, we can."
SeDoMoCha School Principal Adam Gudroe said he is very appreciative of how the community has supported the school during the pandemic. "It has not been easy but most important work is not easy, it's hard and well worth it," he said.
Gudore said SeDoMoCha has been able to stay open since the fall, but families opting for remote learning have been able to receive this method of instruction.
"The staff, I can't speak enough about them," Brownville Elementary School Principal Carol Smith said. She said some teachers have performed double duty by teaching in-class and remote students simultaneously.
Ridge View Community School teacher Jennifer Batron said schools in SAD 46 went through some positive cases that led to grades switching to remote-only learning. She said she was fortunate having been teaching to online learners before the adjustment but other educators had to learn as they went along.
"The amount of support we have been able to provide for one another in all of this has been incredible," Batron said. "What you go through, it is humbling and strengthening at the same time."
"We couldn't have done it without the communities we are in," Batron said. "The school community, the district community and the communities we are in."
A video announcement about the Community Citizen Award and more information is available at https://valleygrange.wordpress.com/.
Recipients of the Valley Grange Community Citizen Award from the last decade-plus are 2010, the Guilford Primary School; 2011, Dodie Curtis; 2012, Brian Woodworth; 2013, the Piscataquis Observer and WABI-TV; 2014, Julie Orton; 2015, Matt Hackett; 2016, Sherry French; 2017, Will and Melissa Wedge; 2018, Jamie Kane; and 2019, Judy Raymond and Barbara Austin.