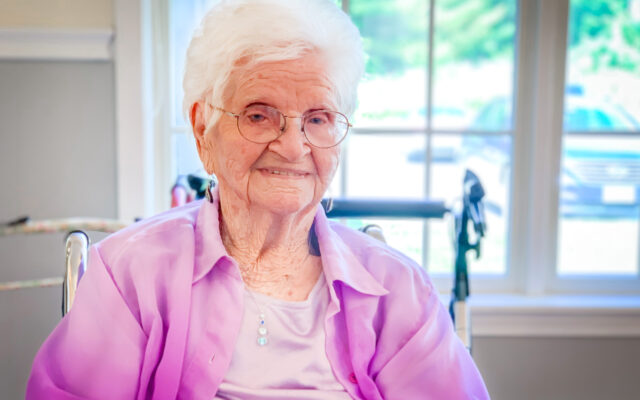 PO-108-19-21
Photo courtesy of Pleasant Meadows Estates 108TH BIRTHDAY -- Avis Spear, a resident of Pleasant Meadows Estates in Dover-Foxcroft, celebrated her 108th birthday on May 19. Spear and her late husband Newbert spent most of their married years living in Derby and Milo. They had three sons and eight grandchildren.
Spear celebrates 108th birthday
DOVER-FOXCROFT — Avis Spear was born May 19, 1913 in Presque Isle and moved to Mapleton when her father became employed with the railroad. She is one of nine children born to Cora and Melvin Archer.
Avis married young, having her first of three sons at age 17. She and her husband Newbert, to whom she was married for 69 years, lived most of their married years in Derby and then Milo, where she busied herself as a homemaker. While all three of her sons were serving in Korea, Avis started a "Mother's Group" for local women to get together and do whatever they could to support their sons and each other during those scary and lonely times. In 1974, she was baptized as Methodist. As a member of the church, she was very active in services and spent much of her time volunteering and helping others.
As a child Avis often helped her father in the garden, which provided some experience for her occupations later in life, including picking potatoes and fiddleheads (which she still loves to eat now!) She also worked for Daggett's Pharmacy in Milo, as well as a small clothing store, before she and Newbert bought a convenience store of their own where they sold a little bit of everything, including groceries.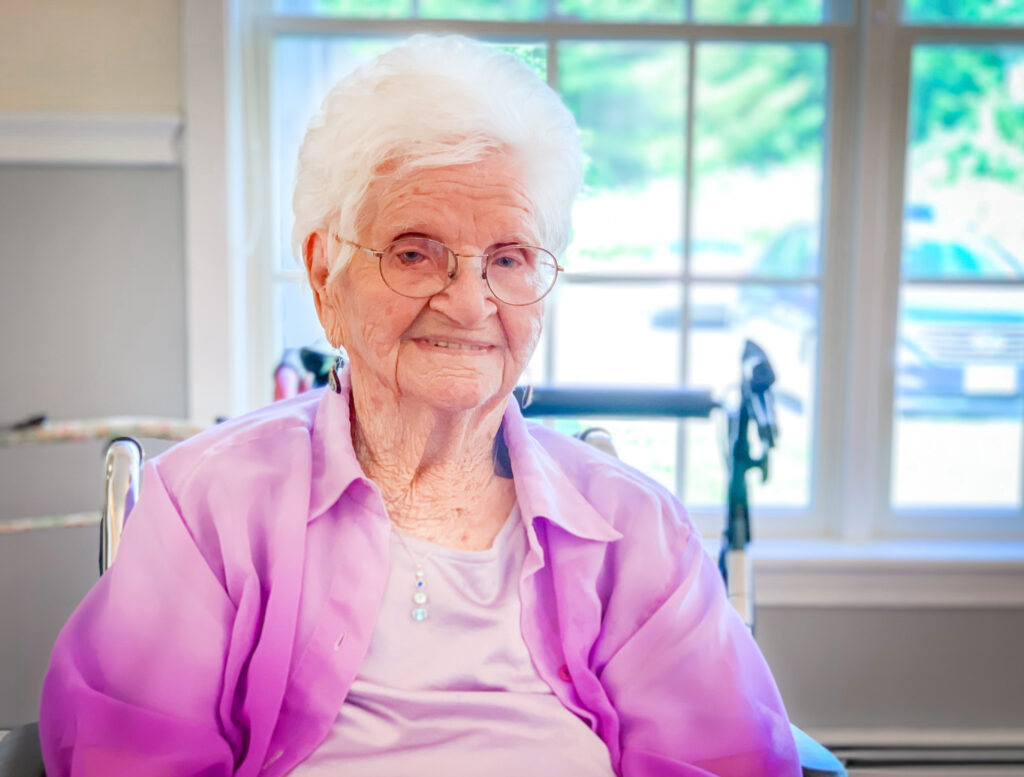 Avis and Newbert were snowbirds in their retirement years. They spent their winters in Florida where their youngest son Darrell lived, and their summers in Maine with their oldest son Dale. To break up the long trip from Florida to Maine, Avis and Newbert would stop for extended stays in Virginia to visit their middle son Byron. Between their three sons, they had eight grandchildren, all with whom Avis keeps in touch to this day!
As is the case for many who have reached the age of 108, Avis has outlived nearly all her relatives, including her eight siblings and their spouses, her husband, all three sons, one daughter-in-law and many others. She finds peace in going to the cemetery to "visit her friends" as she lightheartedly says; to remember the special people in her life. Never morose, simply appreciative. She has suffered many losses and holds onto this life loosely. She says she looks forward to Heaven. "It will be a gift, really…a comfort," she stated, "I think about it a lot. I'm not unhappy or anything, but I'm ready to go anytime he wants me."
Eight years ago, when Avis turned 100, she was awarded the Boston Post Cane. This is a tradition which was started back in 1909, when the Boston Post designed and purchased 700 canes that were provided to select New England towns. With compliments from the paper, they were to be given to the oldest citizen of the town for as long as they lived, and at their death handed down to the next oldest person. At 108, Avis often asks with a giggle if she is the oldest living person in Maine yet, which her family is working on finding out for her! Each year for her birthday, she celebrates while wearing a silver tierra. After each birthday, she hands the tierra off and asks that it be held on to for her to wear next year.
Avis' granddaughter Judi Coleman writes, "Growing up, I knew whenever we'd be with my Grammie (and my Grampie as well) there would be laughter, story-telling and whoopie pies! My Grammie always has had the ability to laugh at herself and at situations — tending to see the bright side. When you call her on the phone and say you miss her, she's likely to respond with, 'Well, who wouldn't!' along with a girlish giggle. She will break into song or a story in a moment and always leaves you in a better mood than before. When Grammie turned 100 and we gathered to celebrate, one of the things we asked her was, 'What is one invention that you were most grateful for in your life as you look back on all the things that have changed?' Her answer? A washing machine! Having had three rough-and-tumble boys … she said she felt all she did was wash clothes for about 20 years! She can sing her ABC's backwards (still!) and loves to bet younger people about doing it!"
Currently, Avis is a resident at DLTC Healthcare's assisted living facility, Pleasant Meadows Estates in Dover-Foxcroft. She moved to the facility in 2012 and made her mark from the first day she arrived wearing her bright red high heels. She never fails to mention how appreciative she is of the staff at the facility, stating "they always go out of their way to make me feel special!"
Avis spends her days relaxing and enjoying her time with her many friends at the facility, which include other residents and staff alike! Her favorite pastime is sending handwritten notes to family and friends. She sends out about 15 notes a month, but she has been known to send up to 25! In addition to writing, Avis loves crafting and going out to eat at Countryside Restaurant (she strongly suggests trying the baked beans and hotdogs with pineapple salad!). She also finds enjoyment in scenic car rides, church services and visits with her family.
Avis leaves a mark on all those she encounters with her bright personality and youthful spirit. She is known to crack a joke at any time and always has those around her smiling. When asked what the secret is to live a long, healthy and happy life, Avis replies "a lot of friends, keeping busy and crocheting!"