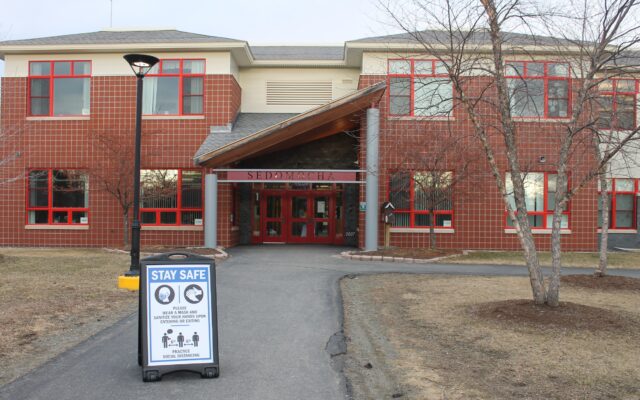 PO-RSU68building-13-21
Observer photo/Stuart Hedstrom SAFE RETURN -- Starting April 26 after a week of vacation, SeDoMoCha Middle School students in grades 6-8 will join their younger peers in attending in-person classes four days a week. Across town Foxcroft Academy will be doing likewise.
RSU 68 directors approve near $12M budget
Subhead: District budget meeting set for May 25
DOVER-FOXCROFT — The RSU 68 School Board approved a preliminary budget for the 2021-22 fiscal year totaling $11,999,662 during a May 11 meeting at the SeDoMoCha School. The directors also set the annual district budget meeting for 6:30 p.m. on Tuesday, May 25, at the school, with an information meeting starting at 6 p.m.
The nearly $12 million budget proposed for 2022 is up slightly from the 2020-21 spending plan that is just under $11,970,900. The budget total approved on the evening of May 25 will be moved to a referendum vote at the respective polls in the district towns of Charleston, Dover-Foxcroft, Monson and Sebec.
During a budget presentation at the April meeting, Superintendent Stacy Shorey explained that the district will receive about $250,000 less from the state in 2021-22.
"We had 80 fewer students from last year to this year because of COVID and families making homeschool choices," she said.
"Overall you will see a 1.03 percent increase to the taxpayers from last year to this year," Shorey said. She said the proposed 2022 budget has a local contribution of $4,754,683, up $48,545 (1.03 percent) from the current figure of $4,706,137.
Three of the four district communities would see increases while Monson's share would be down by 7.06 percent, from $584,769 to $543,472. "Monson is down this year because the number of students in Monson is down this year," Shorey said, saying the community valuation can cover all of its costs for RSU 68.
The rest of the proposed shares of the budget are $642,214 for Charleston, up $15,777 (2.52 percent); $2,864,532 for Dover-Foxcroft, an increase of $52,463 (1.87 percent); and $704,465 for Sebec, which is $21,603 (3.16 percent) more than in 2020-21.
In other business, SeDoMoCha Principal Adam Gudroe reported on the post-April vacation switch of grades 6-8 students coming to school four days a week (Monday, Tuesday, Thursday and Friday) instead of two cohorts attending two different days per week.
"It really does make a difference being in-person vs. online," Gudore said, saying there have been some tweaks to the schedule and to various building setups to accommodate health and safety guidelines. He said he hopes students will end the year on a positive note so they can start strong when classes resume in the fall.
The last day of school for students will be Friday, June 11, as the school board approved a change from Monday, June 14.
In her report, Shorey said the area superintendents association sent a letter to the Maine Department of Education asking that fall guidelines for school operations be determined in a timely manner.
"The sooner we know, the better it will be to make plans for that," she said, such as planning for how students eat lunch.
Board Chairperson Jenny Chase said a presentation was planned for the evening to recognize board member Blake Smith, who opted not to seek another term after serving for 18 years. Chase said she had a plaque for Smith but he told her with the rain holding off he needed to tend crops at his Windy Knoll Farms.