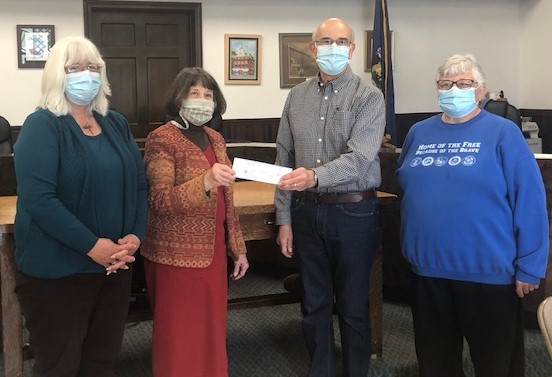 PO-agefriendly1-18-21
Contributed photo PLUMMER MEMORIAL FOUNDATION CONTRIBUTION -- From left, Jean Jacobs, Liz Breault and Nancy Hoskins accept the donation of tech/tablets and elevated raised garden beds from Rich Pfirman, Plummer Memorial Foundation representative.
Dexter Age-Friendly Committee develops elevated raised garden beds, technology for seniors and art
By Beth Ranagan
During this past year through the pandemic, the Dexter Age-Friendly Committee has developed and instituted some meaningful projects for older people in the community. The dedicated people on this AARP-supported program met in person and on Zoom for a year for their plans to become reality and bring light and hope after a year of despair for many.
Communication is often a stumbling block for older people lacking the technological equipment and savvy to connect with family, friends, their healthcare providers, social media, for civic and cultural participation and life-long learning. The committee raised funds through grants from the Plummer Foundation and the Life-Long Communities Fellows program through the Maine Community Foundation to purchase 10 tablets with styluses for 10 interested Dexter recipients who are 65 and older. The generous donations from the Masonic Charitable Foundation and the Dexter Masons' Penobscot Lodge #39 will ensure the senior tablet/technology programs continue to be available as their contribution will allow the purchase of more tablets as needed. The committee members are so grateful to those charitable groups that made this possible.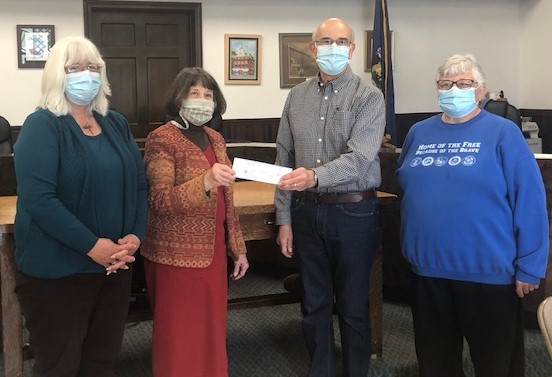 The plan includes instruction for tablet recipients. Instruction will occur via Zoom using the National Digital Equity Center program. The NDEC is a non-profit based in Machias, dedicated to providing free instruction so that everyone can have digital instruction and access. Additional one-on-one instructional help from students at the Tri-County Technical Center will be available, thereby providing a bridging the generations opportunity for older and younger people. Committee member Steve Pratt along with TCTC instructor Nicki Webber will facilitate this part of the project. Classes will be held at the Abbott Memorial Library and the Dexter Town Office.
The opportunity to be creative brings meaning, purpose, and joy to life. Seven fortunate older citizens participated in an artful-aging program, called Open Minds Through Art, presented by Husson University students through the School of Occupational Therapy. The brain-child of Dr. Laurie Mouradian, chairperson of the occupational therapy school, and Kathy Smith, MFA, associate professor at Husson, the program aims to bridge generations through art, address ageism and have fun.
Presented via Zoom, either at the student's home or at the town office, older participants used ink stamping, collage and painting with acrylics or watercolors to create their own unique pictures utilizing materials provided by Open Minds Through Art.
"The effects of this program are far-reaching as participants can use the techniques with their grandchildren," commented Jean Jacobs, Dexter's human services director. Dot Mountain, program participant, reported enthusiastically, "It was a great experience, and we had one of the nicest teachers. It was a joy!"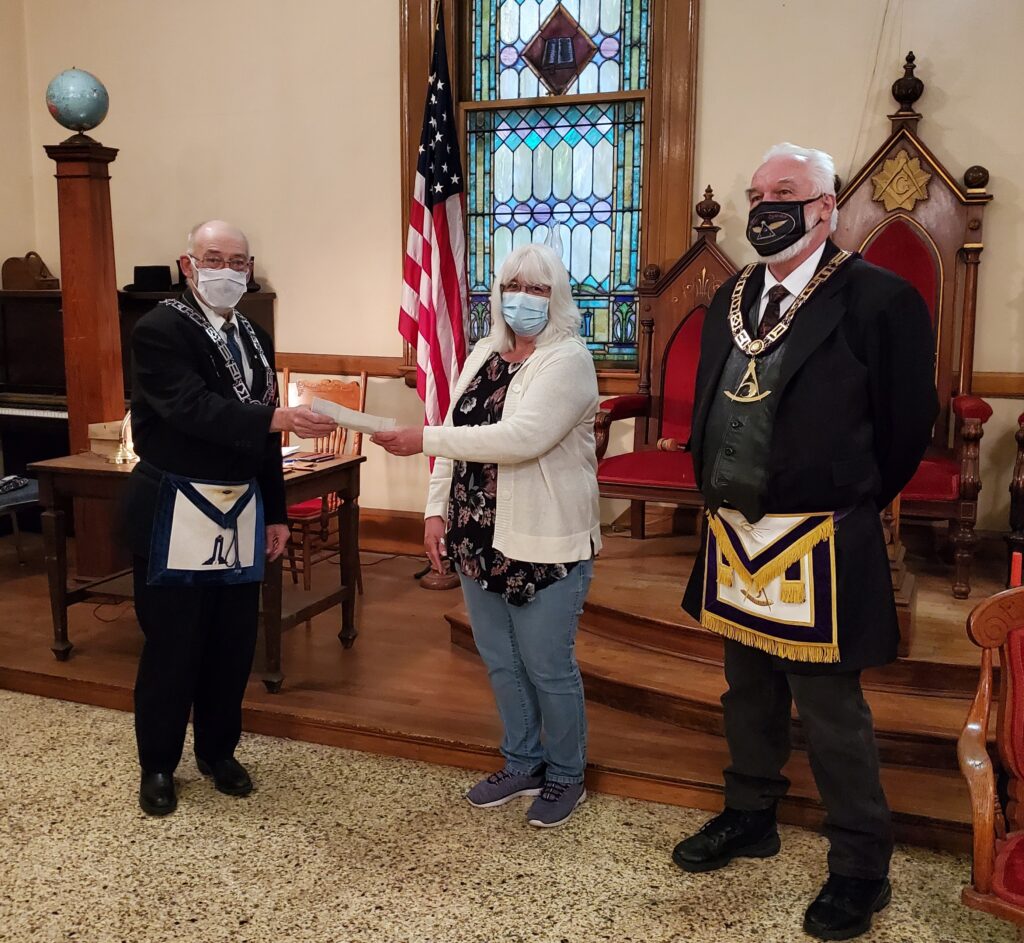 Lil Bennett said, "We had a good time!"
In the coming months, students' art work will be exhibited at the Abbott Memorial Library.
Due to the popularity of the OMA program, there are plans to present it in the fall of 2021 in person or, if necessary, via Zoom. Participation is an excellent opportunity for those with limited resources to express themselves using art materials with instruction freely provided by Husson University.
With planting time approaching, many are anxious to have at least a small garden for flowers, vegetables and herbs. So many older people either don't have the land space for even a small garden project, the tools to put that dream into reality, the physical agility to do the work, or the ability to afford an elevated raised bed to grow their favorite plants. With all these factors in mind, the Dexter Age-Friendly Committee found the monetary and labor resources to design, build and pay for the materials to build 37 elevated raised beds to be distributed to Dexter residents 65 and older and to those with physical disabilities.
Grant money for the project came from the Bangor Savings Bank and the Plummer Memorial Foundation. The elevated raised garden beds are made of cedar purchased from Yoder's Saw Mill and donated lumber from the Carl Cuthbert Foundation, and labor was supplied by Don Reed, Gary Giles and the students at Tri-County Technical Center. The committee is so appreciative of the grants and the donations of time and materials for the completion of this project.
Recipients will receive the soil to fill their raised bed as well as coupons for three to six packs of plants from the Spring Street Greenhouse to help complete their garden. There are still a few elevated raised garden beds available. Contact Jacobs at the town office to see if you qualify for one.
Roe O'Toole, a resident of Fairway Knolls Apartments in Dexter, is excited about her forthcoming elevated raised bed, "As a second-floor apartment dweller, I am happy that the elevated raised bed will fit nicely on my balcony so that I can grow some vegetables to enjoy and keep healthy. I'm looking forward to it."
Librarian Liz Breault, who spearheaded the elevated raised bed garden project commented, "Gardening is so beneficial to the mental and physical health of people of all ages, and especially older people. That is why I initiated this project last fall in 2020. It is nice to see it come into fruition."
The Dexter Age-Friendly Committee will continue to develop programs to enrich the lives of people in Dexter as well as work to provide unmet services and needs where necessary.