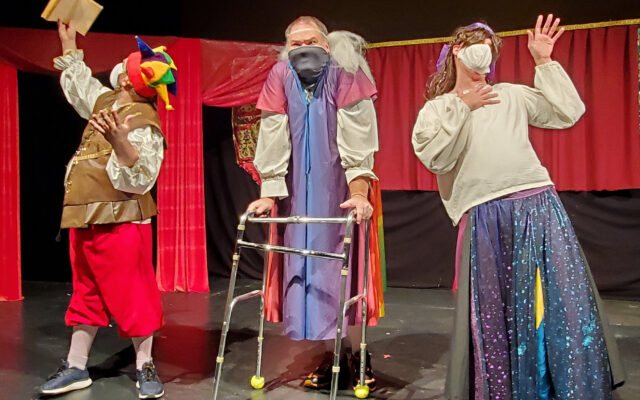 PO-summershows-18-21
Photo courtesy of Center Theatre AUDITIONS -- From left, Will Stecher, Cary Libby and Dan Sharrow on stage in "The Complete Works of William Shakespeare (abridged)[revised]." "Complete Works" was the last live theatrical performance at the Center Theatre in December of 2020. The Center Theatre and Slightly Off-Center Players are holding auditions on May 22-23 for two summer productions to be held outside this summer.
Theatre holding auditions for summer shows
DOVER-FOXCROFT — The Center Theatre in Dover-Foxcroft and Slightly Off-Center Players Community Theater Group announced that they are holding auditions for two summer productions on May 22-23. The auditions, which will be held at Central Hall Commons, will take place between 1 and 4 p.m. on Saturday the 22nd and 4 to 6 p.m. on Sunday the 23rd. No advance preparation is necessary, but due to COViD-19 restrictions, attendees do need to register in advance.
"We are very much looking forward to putting on these two productions this summer," said Patrick Myers, the executive director of the Center Theatre, "They're scheduled for late July and early August, but it all starts with the auditions in May. We're hoping there are a lot of actors or actors-to-be who want to have some fun and make people laugh this summer."
Derrick Buschmann, who is directing both performances, said that the two productions were chosen specifically to be fun and light-hearted and to give people a distraction from the stresses of the past year. "Treasure Island: A Musical Panto" will be performed outside at the Piscataquis Valley Fairgrounds in early August. It's for actors 15 years and older and features a hilarious script.
"The show is loosely based on the Robert Lewis Stevens Classic," according to Buschmann, "and while it is a musical, you do not need to be a strong singer to come out to audition. Exuberance and enthusiasm will count for much more than being pitch perfect for this performance."
The other performance actors can audition for is only for high-school students and it's something new for the Theatre and Slightly Off-Center Players. "We are looking for five to 10 high school students interested in performing at a series of different outdoor venues in late July and early August," Buschmann said, "The central show is called 'Twain by the Tale,' a humorous review of Mark Twain's writings. Once cast, we will add in a few short skits and other pieces, to work in performers' strengths."
Because of the long time commitment for this production and extra travel, the high school performers will receive a $50 stipend for each of the six performances as well as mileage reimbursement if they drive to the shows. The performances are planned for Greenville, Monson, Dover-Foxcroft, Dexter and the Milo/Brownville area.
To register for the auditions go to www.centertheatre.org/summer-auditions or call the Theatre at 207-564-8943. The Center Theatre is a 501(c)3 non-profit corporation with a mission to make arts, education, and entertainment accessible to our rural communities to engage and inspire.