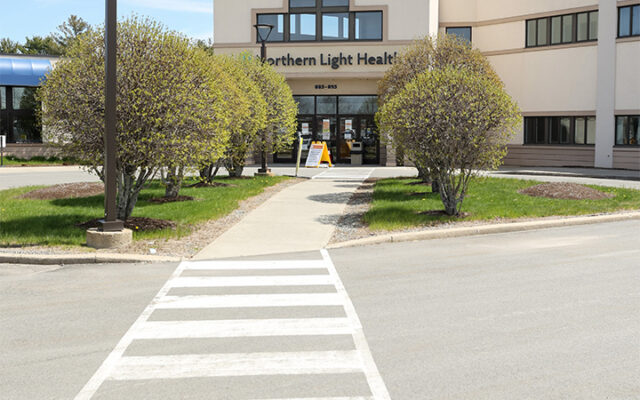 NL Health Center – Union Street reduced
Photo courtesy of Northern Light Health The Northern Light Health Health Center on Union Street in Bangor.
Bangor area COVID-19 community vaccination to move from Cross Insurance Center to Union Street
Throughout the COVID-19 pandemic, Northern Light Health has adapted care and service to meet the needs of our communities. As COVID-19 vaccines became available, we moved quickly to offer vaccinations at central locations, designed to deliver vaccine to as many people as possible as quickly as possible. With over half of Maine's eligible population vaccinated, it is time we shift our approach to ensure that those who have not had the opportunity to be vaccinated can continue to do so after moving out of the Cross Insurance Center.
Starting on Tuesday, May 11, Northern Light Eastern Maine Medical Center will begin offering first dose COVID-19 vaccinations at the Northern Light Health Center, 885 Union Street in Bangor. Community members can begin registering for those appointments today, starting at 2 p.m. Walk-in appointments will also be offered. However, for faster service, community members are encouraged to register online at covid.northernlighthealth.org or by calling 207-204-8551. General hours of operation will be Monday to Friday, 10:30 a.m. to 5:30 p.m., and Saturday, 8:30 a.m. to 4:30 p.m.
Our large-scale vaccination clinic located at the Cross Insurance Center in Bangor will host its last first dose vaccination clinic on May 6. The Cross Center will remain the location for those who received their first dose at that location but still require their second dose. A tentative final day of operation at the Cross Insurance Center is set for May 27. Any community members with outstanding second doses after that date will be contacted directly to confirm that their second dose will take place at the Northern Light Health Center, 885 Union Street, Bangor.
We want to thank the Cross Insurance Center, the City of Bangor, our community partners, all our volunteers and our community for making COVID-19 vaccinations a success; this has been a team effort for the health of our communities.