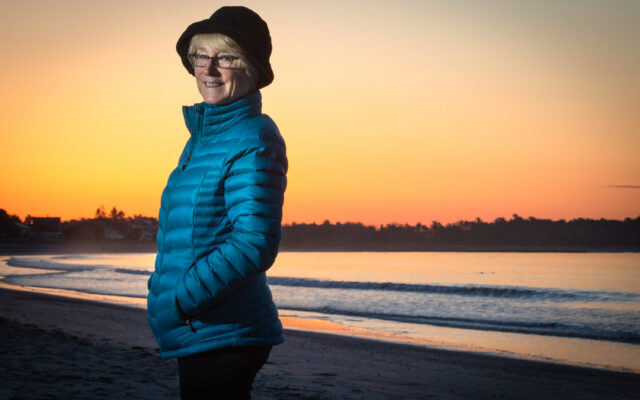 anni-clark-maine-beach-sunrise-troy-r-bennett-2
Bangor Daily News photo/Troy R. Bennett CONCERT OF THE HEART -- Maine singer and songwriter Anni Clark stands on the beach at Pine Point in Scarborough at sunrise where she's spent a lot of time during the pandemic. A near death experience on Moosehead Lake last year helped inspire Clark's first album of new music in 20 years. Clark will perform at The Center for Moosehead History at 7 p.m. on Saturday, May 22.
Maine native Anni Clark opens spring with 'A Concert of the Heart' at The Center for Moosehead History
GREENVILLE — Well-known balladeer Anni Clark is no stranger to Moosehead Lake. She's played to wide audiences here dozens of times. But not since the COVID-19. And not since she fell into the freezing lake a year ago in Rockwood and almost didn't live to tell about it. Now, she's back — inspired by the hardships of this past year to release her first full studio album in 18 years. And, she said, there's no better place to debut "A Concert of the Heart" than right here in Greenville.
"It's such a pleasure to bring Anni back. Her Heart premieres at The Center for Moosehead History's Community Hall on Saturday, May 22 at 7 pm. We're super lucky to have her grace our theatre again, and bring some light and air back," said Suzanne AuClair, executive director of the Moosehead Historical Society.
Advance tickets are $12 by calling MHS at 207-695-2909, $15 at the door. Proceeds will be shared between Clark and the historical society, so this will be a great support to both. For this first foray into a spring celebration, in a new way, only a limited number of tickets will be sold. Seating will be safely distanced, masks required in the building until seated.
Clark has thrilled audiences at The Birches Resort and at Blair Hill Inn. New England Performer Magazine said of her, "Clark's music is right up there with her mentors. Joni, Rickie and Bonnie, move over. Make room for Anni."
Said Clark, "The Community Theatre is a beautiful historic venue and I can't wait to perform here again…it's been a long time."
Check the date at www.anniclark.com and www.mooseheadhistory.org.