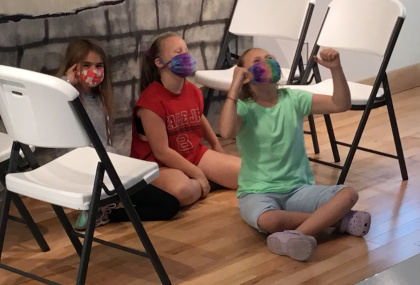 PO-dramacamp-16-21
Photo courtesy of Center Theatre SUMMER DRAMA -- Campers rehearse a scene at the 2020 Center Theatre Children's Summer Drama Camp. The Center Theatre is accepting registrations for the 2021 summer camps, including a new session being held at Dexter Regional High School. Registration information is available at www.centertheatre.org/drama-camps or by calling the Theatre at 207-564-8943.
Spinning Yarns for NICUs and drama camp
DOVER-FOXCROFT — The Center Theatre for the Performing Arts in Dover-Foxcroft is holding a fundraising event in early May to benefit area Neonatal Intensive Care Units and the Theatre's children's summer drama camps. The fundraiser, called "Spinning Yarns" began April 29 and will go through May 15.
According to the Theatre's Executive Director Patrick Myers, it's a first for the Theatre, "Spinning Yarns is a chance for folks who knit, crochet or create with fiber to donate their time and talents to benefit two great causes. We're asking knitters to collect pledges from friends and family based on how many little hats, blankets, and peapods they can make between now and May 15. All the warm goodies will go to NICUs in Piscataquis and Penobscot counties and the money raised from the pledges will support our summer drama camps where kids will be spinning their own yarns this summer."
The Center Theatre's Summer Drama Camps are their longest running program, celebrating their 23rd year of bringing kids from different backgrounds together to work together, learn together and have fun. This year the Theatre is running four camp programs in Dover-Foxcroft, Monson and a new camp in Dexter.
The idea for the fundraiser came from the Theatre's Fundraising Committee. "We have some very creative people who help us figure out new ways to support our programming and support the community," Myers said, "It's truly a pleasure seeing the creative process at work."
Anyone interested in making items for the NICUs or donating to support the fundraiser can join the effort at www.centertheatre.org/spinning-yarns or by calling the Theatre at 207-564-8943.
The Center Theatre is a 501(c)3 non-profit with a mission to make arts, education and entertainment accessible to our rural communities to engage and inspire.