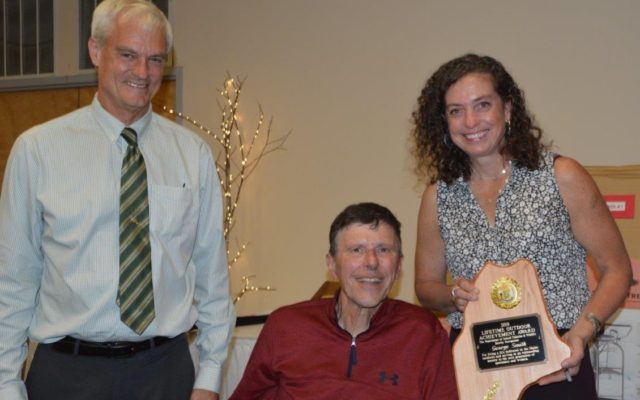 PO-outdooraward-38-19
Photo courtesy of MDIFW LIFETIME ACHIEVEMENT AWARD -- George Smith, center, is pictured with MDIFW Commissioner Judy Camuso and MDIFW Deputy Commissioner Tim Peabody after being honored with a department Lifetime Achievement Award on Sept. 7. Smith, who has a camp at Nesowadnehunk Lake on the edge of Baxter State Park, has been executive director of the Sportsman's Alliance of Maine for 18 years, host of the TV show "Wildfire," a 30-year columnist for the Kennebec Journal and outdoor blogger for the Bangor Daily News.
Spring check-in with MDIFW Commissioner Camuso Friday morning
In this special edition of Coffee with MDIFW, we're checking in with MDIFW Commissioner Judy Camuso. She will discuss spring recreation opportunities and department updates.
Join the conversation live at 9:30 a.m. on Friday, April 30 at the MDIFW YouTube page, https://www.youtube.com/watch?v=CGyYp_a_1uA.