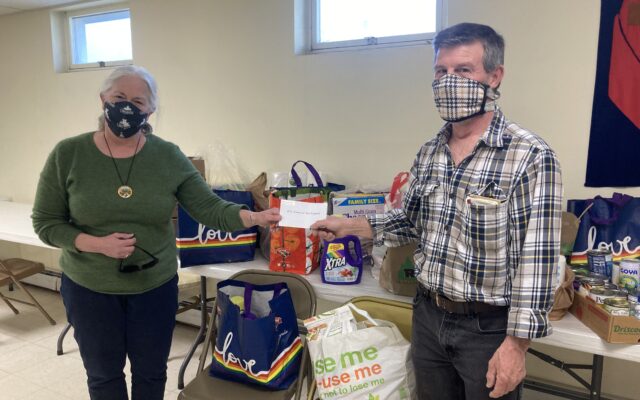 PO-demdonation-16-21
Photo courtesy of Piscataquis County Democratic Committee DYERS' HOPE HOUSE DONATION -- Piscataquis County Democratic Committee member Cynthia Freeman Cyr presents a $200 check to John Cramm of Dyers' Hope House.
Piscataquis County Democrats collect for Dyers' Hope House
DOVER-FOXCROFT — Piscataquis County Democrats continued their efforts to address local food insecurity on Saturday, April 24, as they collected food, pet food, household supplies and money at their office on North Street in Dover-Foxcroft. Once again the community generously stepped forward with cereal, peanut butter, canned goods, pet food and cash in the amount of $175.
This generosity allowed the Piscataquis Democrats to deliver a truckload of food to the Milo Ecumenical Food Cupboard, now known as Dyers' Hope House, on Saturday afternoon along with a check for $200. Dyers' Hope House serves over 300 families a month through the Thursday distributions at the United Methodist Church on Park Street in Milo. The building next to the church is being renovated for the new food cupboard and funds are sought to support this renovation work. For more information, interested parties can call 207-279-1614.
The next collection day will be the fourth Saturday in May, May 22 rather than the 29th because of Memorial Day Weekend. In the meantime, interested donors can contribute through the Piscataquis Democrats Service Committee account at https://secure.actblue.com/donate/pcdcservice.