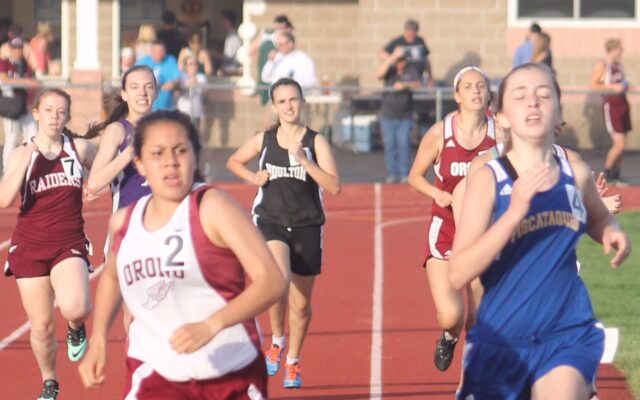 sp-trackharris800-22 (1)
Observer file photo/Stuart Hedstrom ALMOST THERE - PCHS' Lexi Harris, right, and Jordan Hernandez of Orono sprint to the finish line during an 800-meter heat at the 2015 Penobscot Valley Conference Small School Outdoor Track & Field Championship in Dover-Foxcroft. Gordon Contracting will donate up to $85,000 to pave the track at PCHS and work on the soccer field to alleviate drainage issues, and a fundraising effort will seek monies to rubberize the track.
Committee to start raising funds for PCHS track surface
GUILFORD — With a pair of area businesses' donations for upgrading the Piscataquis Community High School soccer field and track, a committee will start raising the $103,000 needed for a rubber surface on the new running oval.
The SAD 4 school board approved the fundraiser during a meeting at Piscataquis Community Elementary School on April 13.
The athletic field at Piscataquis Community High School will have a replaced track circling the soccer field, thanks to the generosity of Gordon Contracting. The Sangerville-based business will donate up to $85,000 to pave the running area and work on the soccer field to alleviate drainage issues.
At the March board meeting, PCHS Athletic Director Joe Gallant said Gordon Contracting President/CEO Brian Howard — a PCHS graduate — will donate "up to $85,000 to pave the track, pave the pole vault runway and do whatever he can to upgrade the soccer field to make it better than it is."
The donation follows Herring Brothers Meats in Guilford agreeing to fund 100 percent of the costs for a lighting system for the field, valued at about $50,000. Trey Gilbert of Herring Brothers is a PCHS graduate who coaches the Pirates boys soccer team.
"We have been in touch with the town manager," PCHS Principal John Keane said when asked about getting the necessary approvals for the project. Keane said the district has a building permit and a flood plain inspection has been done.
"Unless we forget something, everything's been taken care of," he said.
In his report Keane wrote that Gordon Contracting will complete all initial work, including releveling and resodding the soccer field, replacing all irrigation piping and ditching for all electrical feeds for the lights, by the end of April. Paving of the track, pole vault and high jump areas will happen when the company sets up for paving work in Abbot that is scheduled for late May.
"With any luck we may have a finished project at the start of the season in the fall," Keane wrote.
Mentioning the Gordon Contracting and Herring Brothers contributions, Gallant said, "With that said, it needs to be rubberized but we don't have $103,000 to rubberize it." He said a letter has been drafted to go out to local businesses asking for donations.
The proposed project would have six lanes around the entire 400 meters. The track would probably not be used for postseason meets, as eight lanes are needed for the 100 meters and high hurdle events.
The previous non-rubberized track was installed more than a quarter century ago.
Gallant also gave an update on the spring sports season. "We're excited that we're able to play spring sports this year, all our teams are out and about," he said, mentioning there is no snow or even mud to contend with in 2021.
Players and coaches are practicing using health and safety guidelines, including wearing masks and staying six feet apart. Gallant said fans will be able to attend competitions, provided they adhere to similar protocols as the team members.
In other business, Board Chairperson Niki Fortier said a planning meeting on the proposed regional comprehensive high school between SAD 4, SAD 46 of Dexter and the Milo-based SAD 41 took place on March 16. She said two key issues to work on are governance and site selection, with governance being the first priority.
Currently there is no legislation for an RSU to oversee just a secondary school so special legislation would need to be passed. Rep. Paul Stearns, R-Guilford — who is a retired SAD 4 superintendent — has put in a placeholder so this legislation can be discussed during upcoming work sessions in Augusta, and Sen. Paul Davis, R-Sangerville, is also involved.
"One of the things we talked about is one person, one vote," Fortier said about a board to oversee the new school. She said the individual school districts would retain their own boards, but the high school board would operate in a manner similar to the directors of the Tri-County Technical Center in Dexter.
"At the end of the day it does not matter where we build it, it matters that we build it," Fortier said, encouraging her fellow board members to think not only of SAD 4 students but those in the neighboring districts who would benefit.
Fortier said she grew up in Guilford and is a proud PCHS graduate. "I'm a huge proponent of PCHS and the blue and gold but at the end of the day it doesn't matter where it goes," she said.
"Governance is key," Board Vice Chairman Brian Levensailor said. Speaking of conversations he has had in the community, he said, "They see it as losing control because they see it as replacement for the high school."
Levensailor said he is also in favor of doing what is best for students, but that board members likely will hear from constituents similar concerns to the conversations he has already had.
"Revisit the why often," Fortier suggested.
There will be straw polls, and there are plans to involve the towns as the project concept is brought to the communities.
The comprehensive high school project still needs to go through a number of steps to come to fruition including formal votes of residents in member districts. Three school units are currently involved, but this number could be subject to change.
Keane said RSU 64 of Corinth could be interested because its application for a new high school building was turned down. Superintendent Kelly MacFadyen said the local group has been unable to meet with RSU 64 officials following a COVID-19 outbreak in SAD 46.
"It's going to take a minimum of five years probably," Fortier said in response to a question about a project timeline, with multiple years of construction part of the half decade.
Levensailor reported the budget committee was scheduled to meet the following evening, the last session before bringing a proposed 2021-22 spending plan before the full board for approval at the May 11 meeting.
"We thought we had a great idea for prom but basically students didn't think so," Keane said in his report about the idea of a dinner theater experience in the decorated school gym to comply with COVID-19 restrictions. He said a survey, which had only 42 responding, indicated just seven students were interested.
"I don't think it is a realistic option to pull off this year," Keane said.
"We are working on a book about our experiences in the year of the pandemic," PCES Principal Anita Wright said.
In her report Wright explained that each grade level is working on submissions such as photo essays, artwork, poetry, personal narratives, informational writing, interviews and more. Students will explore topics such as the days of the shutdown, the role of community, friendships and family, the new school year and lessons learned.
The book should go to print at the beginning of May and be ready for distribution in June. Every child will receive a copy of the book, and additional books will be given as tokens of appreciation.