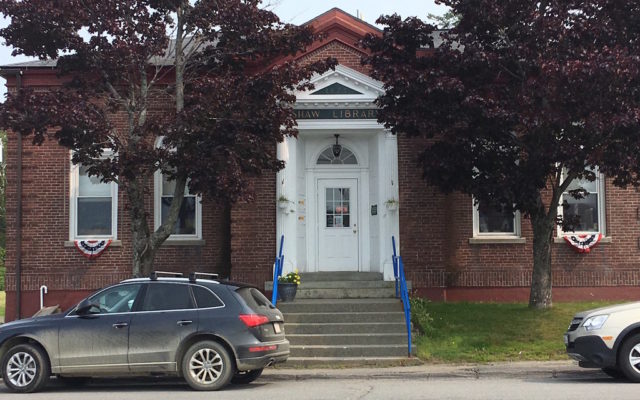 Shaw Public Library
The Shaw Public Library in Greenville
April events at Shaw Public Library
GREENVILLE — The Shaw Public Library Book Club meets at 4 p.m. on Tuesday, April 20 at the Greenville Town Office Meeting Room or via Zoom. We are reading "Summer House with Swimming Pool" by Hermon Koch.
"When a medical procedure goes horribly wrong and famous actor Ralph Meier winds up dead, Dr. Marc Schlosser needs to come up with some answers. Featuring the razor-sharp humor and acute psychological insight that made The Dinner an international phenomenon, 'Summer House with Swimming Pool' is a controversial, thought-provoking novel that showcases Herman Koch at his finest."
"Let Loose in the Woods: Early sporting history of the Moosehead Lake Region 1761 to 1900. A Talk with Steve Pinkham" takes place at 6:30 p.m. on Tuesday, April 27. The Zoom link is https://networkmaine.zoom.us/j/86312120785 and the Facebook event page is at https://fb.me/e/1hK7YoTLH.
Members of the Wabanaki Nation have visited Moosehead Lake for thousands of years in search of the rhyolite they needed for their tools, which could be found in abundance at Mount Kineo. The first known European to visit the lake was Col. Montressor, an engineer, accompanied by Mohawk guides, who canoed down the lake in 1761. They were followed by John Ellis, a guide, who came about 1804, followed by surveyors, lumbermen and timber cruisers.
Sportsmen began traveling to Moosehead Lake in the 1840s, and hotels opened up at Greenville and Kineo to accommodate them. They came by railroad, then stagecoach and finally by canoes, sailboats and steamboats. The first sporting camps were started just after the Civil War, when more and more sportsmen, then entire families, began vacationing in the woods. Learn about camps, guides, the early guidebooks, maps and more.
Pinkham is the author of "Mountains of Maine, Old Tales of the Maine Woods, More Old Tales of the Maine Woods," and has a monthly historical column in the North Woods Sporting Journal. Today he has collected over 17,000 articles on the Maine Woods. He began visiting Moosehead as a small boy, visiting his grandparents who lived in Rockwood.
The Book Barn is the used book store run by the Shaw Public Library Association. After a long hiatus, we are now accepting donations. The book barn is open during library hours. We also plan to have outdoor book sales several weekends this summer. All money raised benefits the Shaw Public Library Association. The SPLA is an independent group that supports the library.
As always, the library is looking for volunteers to help us with projects and regular tasks here at the library, such as shelving, shelf-reading and helping us neaten the stacks. As summer approaches we also need help maintaining our gardens and planters (watering, weeding etc.). We are also looking for donations of gardening soil, flats of flowers and other basic gardening tools to get the library ready for spring and summer.
This month our displays celebrate: National Poetry Month. We have a poetry tree that you can take a poem from, books of poems by Maine authors and many classics.
National Humor Month, check out our display of writers that will make you laugh, such as Bill Bryson, David Sedaris and more.
Remembering Beverly Cleary, We are celebrating the life and work of Cleary. She recently passed away and leaves a legacy of literacy and well loved characters such as Ramona and Henry Huggins.
The Shaw Public Library is located at 9 Lily Bay Road. For more information please contact 207-695-3579 or shawpublic2@yahoo.com.