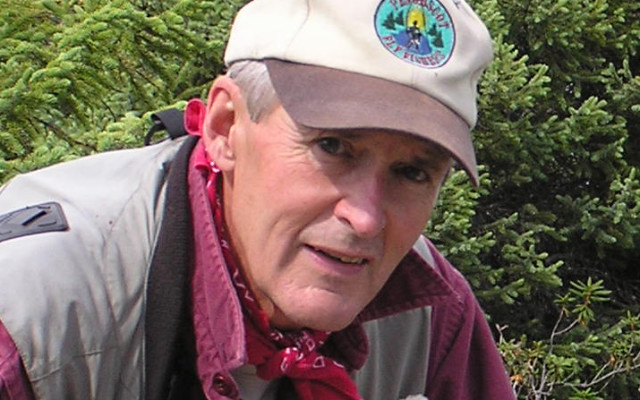 23112101_H18775345
V. Paul Reynolds
Doe permits aren't managing the herd
By V. Paul Reynolds
For many years, Maine wildlife biologists have depended upon hunters to help manage the state's deer population. The issuance of any-deer (doe) permits through a lottery system or draw has been relied upon to regulate doe harvest numbers. Each year, state biologists, using time-tested data, work out a calculus and decide how many does need to be harvested to either reduce doe numbers or allow them to increase.
According to retired deer research leader, Gerry Lavigne, who was on the ground floor for the debut of the any-deer (doe permit system), more than a quarter century ago, the Department issued four doe permits for every doe needed to be harvested. Today, that ratio is markedly different: the Department issues 10 or more doe permits in order to harvest one doe.
What's going on here? What is causing this doe-permit inflation?
Nathan Bieber, the current deer research leader, said this: "Compensating for a lower doe harvest and non-use of permits are very related issues. We're issuing a lot of permits and not seeing a proportional increase in doe harvest, which can only happen if a lot of permits aren't being used."
You got it. Too many deer hunters are putting in for doe permits but holding out for that dream buck!
This is making it increasingly difficult to scientifically manage Maine's deer population. Bieber says, "Inflating permit numbers to try and reach high doe harvest objectives has been hit-or-miss lately. Issuing a then-record number of permits in 2018 led to us slightly exceeding our doe harvest objective for the first time in a long while; issuing an again-record number for 2020 did not do this."
So how do you fix this? There is, excuse the pun, no silver bullet. According to State Rep. Scott Landry, who chairs the legislative fish and wildlife committee, his bill to address this issue, along with some others, have been sent to a working group for exploration and reconciliation.
It's not easy to influence a deer hunter's decision process, even with targeted policy changes. Some states deal with this by requiring hunters to first take a doe before they get a buck permit. This would find rough sledding in Maine. A good first step to deal with this doe-permit inflation might be to get back to basics: Give doe permit applicants just one choice for a hunt zone, not multiple choices. Last fall, for example, I drew a third-choice doe permit, but in an area that I didn't know well, and where I could not find any non-posted land on which to hunt. My permit was wasted. Additionally, too, bonus permits and Superpack options may be compounding the problem.
Something tells me that a partial solution may lie in the instant harvest data that is now available to wildlife biologists from the tagging station activity. Would this not allow doe permit regulators to "fine tune" the doe take as the season progresses? Bieber sees problems with this inasmuch as tagging station data on sex and age has been historically flawed, which could lead to unscientific choices being made in mid-stream during the deer season. There is also a concern about whether the bureaucracy, even with the data, could actually implement the overnight decisions that would have to be made. And could word be gotten to hunters soon enough?
If you are a hunter and have suggestions or insights on this topic, you might want to pass them along to your state lawmaker or your area representative to the Fish and Wildlife Advisory Council.
This is a critical issue. Getting it right will ensure that Maine's deer populations will be managed as scientifically as possible in the years ahead.
____________
The author is editor of the "Northwoods Sporting Journal." He is also a Maine guide and host of a weekly radio program — "Maine Outdoors" — heard Sundays at 7 p.m. on "The Voice of Maine News – Talk Network." He has authored three books; online purchase information is available at www.maineoutdoorpublications.com. or www.sportingjournal.com. Contact email — vpaulr@tds.net.