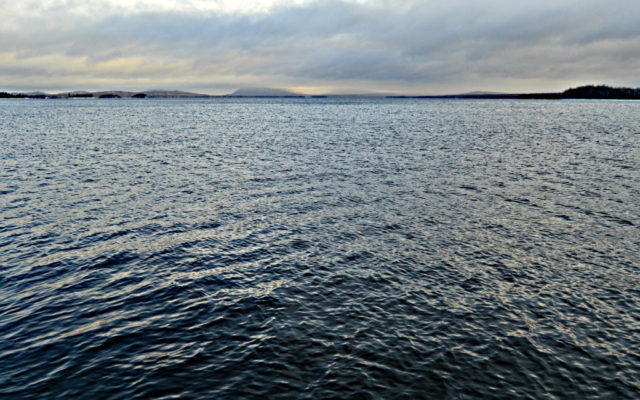 Moosehead Lake
Moosehead Lake
Moosehead regional fishing report
By Stephen Seeback
fisheries resource technician
An ice fishing excursion to the Moosehead Lake region would not be complete without trying your luck on Maine's largest lake. The centerpiece of the region, encompassing 74,890 acres, an area of 117 square miles, a perimeter of 190 miles, surrounded by breathtaking scenery, vast areas of undeveloped shoreline and mountain views in every direction. It's bounty of isolated coves, large bays and vast stretches of rocky shoreline gives anglers unlimited options to discover their own secluded fishing hole. The fishery on Moosehead Lake has seen staggering improvements in the quality of brook trout, lake trout and salmon over the last 10 years, and both the angling public and social media have taken notice. However, there are other waters in the region that deserve some recognition and consideration when planning your next trip that will provide the same nostalgic scenery and could use some more attention from the angling public.
The following waters have seen recent regulation changes to help facilitate management objectives to improve fish quality, in hopes to return these waters to their once historic stature. These objectives are obtainable, with the help of the angling public. Angler use on these waters are trending below average and harvest is below our goals. The result, we are stockpiling fish and we need help to reduce fish abundance with harvest. Regulation changes on the following three waters exhibit different examples of how changes can encourage harvest: increasing fishing opportunity, focusing harvest on length cohorts that are currently carrying too many individuals and reduce a minimum-length restriction.
Allagash Lake, T7 & 8 R14 WELS (North Zone)
In 2020, we removed the long-time ice fishing regulations of only open in February and restricted to two lines per angler (1980 to 2019). Now Allagash Lake is open Jan. 1 to April 30. Anglers can now use five lines (general law). Current bag limits are; Minimum length limit on lake trout (togue): 18 inches (general law), two fish daily bag (general law); Minimum length limit on whitefish: 16 inches, three fish daily bag (general law); Daily bag limit on brook trout, two fish, minimum length limit: 12 inches, only one may exceed 14 inches (S-16). The use or possession of live fish as bait (general law) and the use of motorized equipment are prohibited. This three-month increase to the winter fishing season, in addition to the increase in line restrictions, should help offset the current low trends we have documented in recent use estimates over the last 15 years. The extension of the season should provide anglers greater opportunity to fish Allagash Lake multiple times over the course of the season and allow for the potential of better weather later into the season when the days become longer and warmer. This focus will hopefully result in an increase in the harvest of lake trout.
Chesuncook Lake (Including Moose Pond, Caribou Lake, and Ripogenus Lake), T3 R12 & 13 WELLS, T4 R12 & 13 WELS, T5 R12 WELS, Chesuncook Twp.) (North Zone)
In 2018, after many years of evaluating the previous regulation: daily bag limit on landlocked salmon: three fish; minimum length limit: 14 inches, only one may exceed 18 inches, we knew we were going to be hard pressed to see any real changes in this fishery under the status quo and that we needed a "game changer" to help offset the lack of use and harvest to meet our lake management objective of reducing the overabundance of smaller salmon that was plaguing this fishery. The current regulation on salmon says it all: No size or bag limit on salmon less than 16 inches and a daily bag limit on salmon greater than 16 inches: one fish. Our messaging is resonating with some of the angling public, with an uptick in salmon harvest this past season, but we are still below our objective. Our annual harvest, summer and winter, objective is to remove between 2,000–3,000 salmon, our 2020 harvest estimate was 1535 salmon. Though we are below our objective, it is a significant improvement under this new regulation. A little more effort and harvest by the angling public is the catalyst needed to move us closer to achieving our goal. The true test will be to keep harvest at the annual goal for numerous years before we will see the full potential that this resource can provide. We are one step closer to the return of the 4- to 5-pound salmon to the North Maine Woods. Stay tuned!
Big Houston Pond, T6 & 7 R9 NWP (North Zone)
In 2020, the special minimum length limit of 23 inches on lake trout was removed. This trophy regulation was implemented in 1996, after being brought to a public hearing in 1995. At that time our voluntary data and gill netting reflected low catch rates and a high percentage of fish over 23 inches. Very few smaller lake trout were being caught by anglers and in our nets, indicating low recruitment. But times have changed, recent sampling paints a different picture. Although catch rates continue to stay consistently low for smaller lake trout, we are seeing very few lake trout over 23 inches now. Our netting, census, and voluntary data indicated we were stockpiling lake trout just below 23 inches. This situation was practically creating a catch-and -release fishery for lake trout that did not align with lake management objectives. The new regulation will hopefully rectify the current situation allowing harvest of fish 18–23 inches, with a daily bag limit of one lake trout, 18 inches minimum (general law). Since recruitment is still low, the February only opening, and the two-line restriction is still appropriate with recent catch rate data.
Our take home message is simple, certain waters need anglers to "Keep More Fish." Additional harvest is the key to our success in turning these fisheries around.
Tips for getting started ice fishing: Regardless of your fishing destination, get out there and take part in the fishing heritage that is so important in the lives of Mainers. If you are thinking about becoming a part of this heritage, one great way to get started is to check out the Department's Beginner's Guide to Ice Fishing in Maine. It has some great suggestions on what you need to get hooked on ice fishing.
.Reminder: When planning your trip, familiarize yourself with Maine's ice fishing law book and check out the great tools provided online at mefishwildlife.com – including the new ways to view special fishing laws: map-based Fishing Laws Online Angling Tool (FLOAT) and the searchable special fishing laws. Remember, general fishing laws still apply, and these tools display the special fishing laws. This is a good tip if you are planning your first or 21st ice fishing trip to the Moosehead Lake region because while the views haven't changed much, the regulations have.