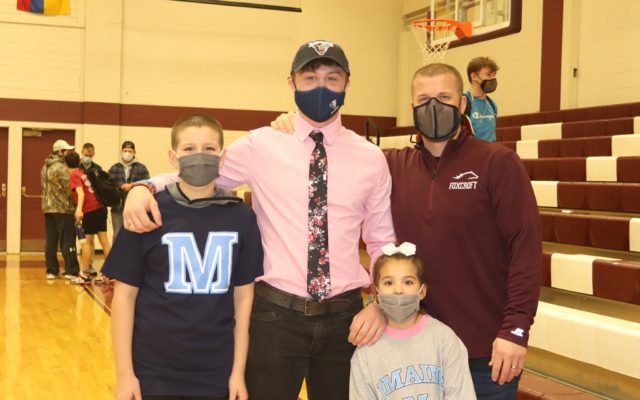 With White family
Photo courtesy of Foxcroft Academy Communications Officer Toby Nelson PROUD COACH -- Foxcroft Academy senior Logan Martin (second from left) spends time with Ponies football coach Danny White (right) and White's children Owen (left) and Ava (front) on Feb. 3 after signing a letter of intent to enroll at the University of Maine and join that school's football program
Foxcroft's Martin to join UMaine football program
By Ernie Clark, Bangor Daily News Staff
What has been a frustrating time for many high school football players around the state — especially those in this year's senior class — has been a lesson in patience for Logan Martin.
Not having a final season with his teammates due to the COVID-19 pandemic admittedly was tough on the Foxcroft Academy standout, but Martin was able to turn some of his attention to pursuing a chance to continue playing the sport at the next level.
That effort paid off Wednesday, Feb. 3 when the speedy wide receiver announced that he will join the University of Maine football program this fall as a preferred walk-on.
"Being a Maine kid you've got to be patient," Martin said after a press conference at the academy's gymnasium attended by teammates and family members. "Not a lot of Maine kids have played Division I football, not a lot of Maine kids have been to the NFL, not a lot of Maine kids have been recruited.
"I'm blessed to be in this position but one thing I've learned throughout this process is patience. Going into my junior year and then having a great junior year, I didn't get offered anything until October of my senior year. But being patient and focusing on what I needed to do to make myself better and then let the chips fall, that's what I had to do."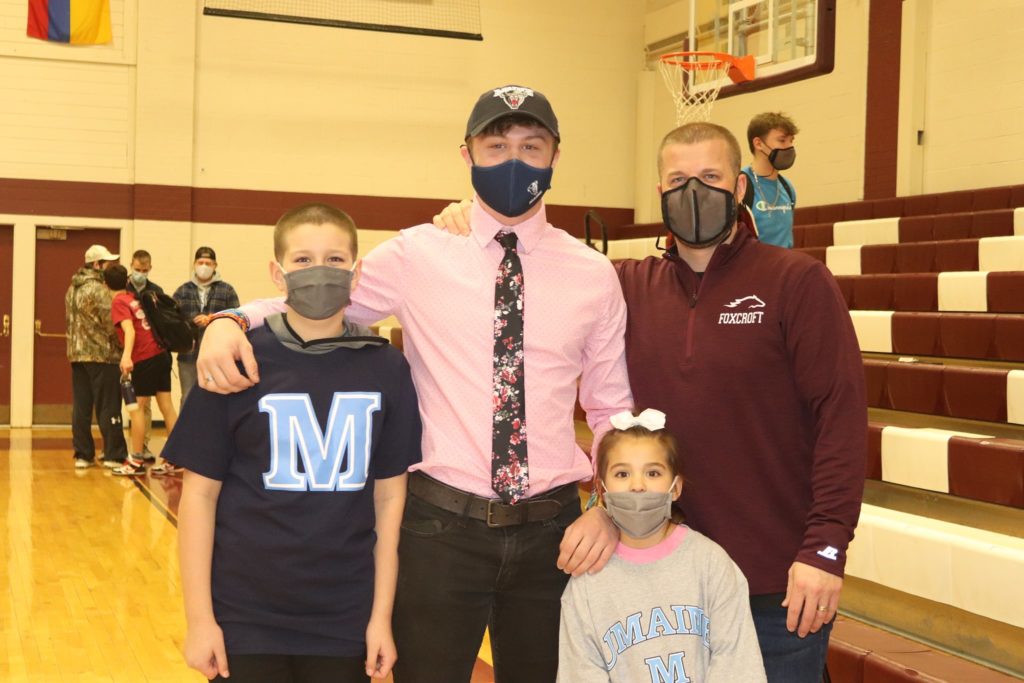 Martin, 18, chose UMaine from a trio of final options that included the University of New Hampshire and Wagner College on Staten Island in New York City, one of two programs he said offered him a full scholarship along with Division II Saint Anselm College of Manchester, New Hampshire.
"This is a big thing for Foxcroft Academy and Foxcroft Academy football," Foxcroft football coach Danny White said. "We've had some great athletes here over the years and Logan exemplifies that. He brings us a great deal of pride and we're very proud of him."
The chance to play for the state university and to remain close to his family geographically were deciding factors in Martin's decision to make the 40-mile move from Dover-Foxcroft to Orono later this year.
"Everyone says to make the best decision for yourself, and the best decision for myself was having family, friends and loved ones, the people that have been closest to me and have watched me grow into the player and person I am today, be able to come out and watch me play," Martin said. "That was probably the biggest factor in my decision."
Martin's status as a preferred walk-on comes with no guarantees, but he is eager to make the most of the opportunity.
"You don't recruit a player that you don't think is going to do anything or is going to sit on the sidelines for all four years," he said. "My mentality is that I'm coming in freshman year and I don't care if I'm a freshman, I'm coming in to earn some minutes and help us win.
"I'm going in as a wide receiver, and if they have me play running back or have me play safety or have me play special teams, that's what I'm going to do. I'm just going to play football."
The 5-foot-11, 185-pound son of Brent and Kandi Martin of Dover-Foxcroft emerged as a potential college-level player as a junior in 2019 when he earned first-team All-Little Ten Conference accolades after scoring a touchdown once every 4.8 times he touched the ball whether as a rusher, receiver or after intercepting a pass.
"His physical skill set is speed, and obviously there's no coaching against speed," Foxcroft Academy football coach Danny White said. "As far as his speed and quickness and flat-out ability to catch the ball and get open, there's something to be said about that. That combination and his hugely competitive spirit, if you put all those things together he's got a chance to make an impact."
Martin hopes his impact at UMaine will be felt sooner rather than later, but if achieving that goal requires additional patience, lessons learned from the recruiting process and having his senior season of tackle football wiped out by the coronavirus should come in handy.
"When you're a Division I player, unless you're a five-star recruit you're not going to necessarily get a lot of minutes or any minutes your freshman and sophomore years," said Martin, who plans to major in business. "I'm not going in thinking I'm not going to play my freshman and sophomore years. I'm going to do the best I can to earn minutes and help the team win.
"If I don't get minutes I'm going to stay patient, but I feel like this is the best decision for me whether it's major or location or playing football, and patience is a huge part of it."