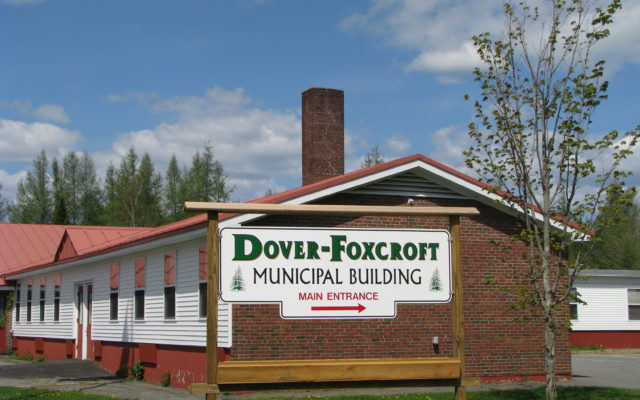 Morton Avenue
The Morton Avenue Municipal Building in Dover-Foxcroft
D-F officials looking at options for replacing 1993 ladder truck
DOVER-FOXCROFT — The Dover-Foxcroft Fire Department's 1993 ladder truck has had a blown motor since early December and due to the age of the vehicle, a replacement is difficult to find and even more difficult to be warranted for an extended period of time.
Department officials have been looking at options on how to proceed and Fire Chief Joe Guyotte and Lt. Brian Gaudet met with the town's Board of Selectmen during a Jan. 11 meeting held over Zoom.
"The ladder truck is out of service right now and it's got some significant issues," Town Manager Jack Clukey said. He said the fire department has been looking at what types of vehicles, new and used, are available as well as what else might be done.
Guyotte said the department has looked across the country and spoken with a dealer about a 2012 model ladder truck that is currently in Alabama after having been used in Virginia. Guyotte said the truck will come with a 3-year guarantee and "he'll deliver it and pick up the old truck." The warranty would cover all components valued at $3,000 or more.
"It was offered to us for $675,000. We counter-offered $575,000 if they took our old truck," the fire chief said.
Finance Director Dave Johnson said for this amount financing would be done through a loan. The USDA has municipal programs, such as 15 years for new vehicles and 30 for used, and right now the interest rate is a favorable 2.125 percent.
Clukey said the only borrowing the town has done in the last decade has been for sewer projects. "We've been paying debt down rather than taking on new debt," he said.
Selectperson Gail D'Agostino said out of the various departments Dover-Foxcroft has mutual aid agreements with, the ladder truck is the only vehicle able to reach the tallest buildings in the region such as the Piscatauqis County Courthouse and Foxcroft Academy dorm.
"We can't get another motor with any guarantee," Guyotte said. He said the last had a six-month guarantee and then problems began during the seventh month, and new motors are not available that would work in the vehicle.
"Every mechanic we talk with says 'throw the motor in the trash, that's all it's worth,'" Gaudet said.
Select Vice Chairperson Cindy Freeman Cyr wondered if a portion of the cost could be covered as a down payment and the remainder financed, and she was told yes.
Clukey said a vehicle loan would need to be approved via a special town meeting, authorizing town officials to borrow up to a certain amount. "We could certainly look at that," he said.
Johnson said the next oldest fire vehicle in the fleet is a 1999 engine truck and perhaps the department could look at replacing this vehicle now with the low interest rate and potentially combining the purchase.
The idea of multiple towns combining to purchase a ladder truck was mentioned.
"It's a great idea, just a logistical nightmare," Gaudet said. He explained he served on a fire department in southern Maine that had such an arrangement and when repairs were needed it was difficult to determine who had what responsibilities. He also said the needs in Dover-Foxcroft would be different than those of other area fire departments.
The selectmen gave the fire department approval to travel to Alabama and inspect the ladder truck, Johnson said they should be able to get a close look via Zoom before then.
The finance director will start USDA paperwork to have this in place should a special town meeting be scheduled.
In other business, the selectmen moved to schedule a hearing about a dangerous building at 72 Lincoln Street Depending on the timeline to post notice of the hearing, this would likely be held during the Jan. 25 meeting or the next session on Feb. 8.
Gaudet, who serves as code enforcement officer, said there have been numerous efforts to rectify the situation at 72 Lincoln Street dating back nearly 30 years. "It looks like it's time to take the next step on this property and have a dangerous building declaration hearing," he said.
"It seems like the same thing gets promised over and over to the town," Gaudet said. He said assurances have been made to fix the issues but none of these have not come to fruition.
Last month Gaudet spoke with property owner Alberta Luchetti, who lives out of state. She said she was going to put the parcel on the market and he told her the issue was going to be brought to the selectmen.
"I think it's time we move forward, I don't think the owner's going to do anything," Gaudet said.
The selectmen also heard a pair of recommendations from the administrative committee regarding concerns brought forward by resident Sam Katz at the December meeting.
The administrative committee recommends the town's pole flag holders only be used to display American flags. The committee also recommends that the recording feature not be enabled on Zoom meetings in order to keep these as close to in-person meetings as possible.
In his report, Clukey said the town has advertised for 2021 paving bids and the contract should be awarded during the Feb. 8 meeting.
He also said the land use ordinance committee should be meeting later in the month or in early February to consider possible revisions or amendments to the land use ordinance. Committee discussions are expected to include marijuana regulations.