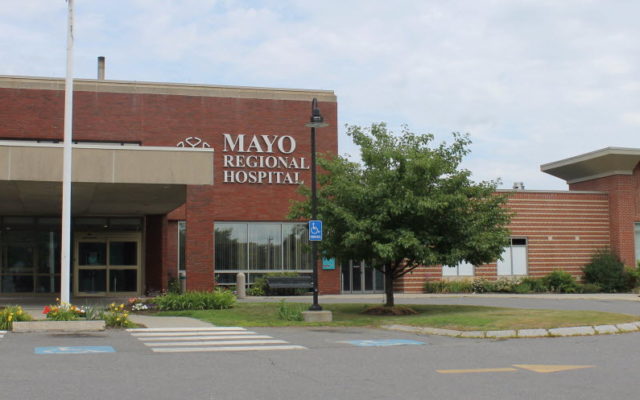 ax247_4e5a_9
Northern Light Mayo Hospital in Dover-Foxcroft
Northern Light Health provides $10K for access to behavioral health resources
Many have suffered hardships in our communities and will continue to do so until the COVID-19 pandemic is behind us. Northern Light Health is dedicated to supporting our communities by upholding our tradition of partnering with others to better serve and support Maine people in need. In the spirit of collaboration and in this time of extraordinary need, the statewide health delivery system made a $10,000 donation to the Alliance for Addiction and Mental Health Services, Maine (The Alliance). This gift was made in honor and recognition of the collective voluntary service of the more than 160 board members within our integrated governance model throughout the system who have stepped up during this crisis and tirelessly give of their time and talent.
Tim Dentry, president and CEO, Northern Light Health, and Kathy Corey, chair, Northern Light Health Board of Directors said in a joint letter to board members, "At no time before has our healthcare system been as challenged or demonstrated more resiliency than in 2020, nor required more from our volunteer board members to guide us through this scourge. In years past, it was our tradition to share a small gift with each of you in appreciation for your service, loyalty, and dedication to making healthcare work for all across our great state. But this year, of all years, we wanted to 'up our game,' and express our humble gratitude in a timely and meaningful manner."
The Alliance is a highly regarded nonprofit statewide membership association of community behavioral health organizations. Their work helps ensure Mainers have full access to the continuum of a recovery-oriented system of care for mental illness and substance use disorder from prevention through treatment and into peer recovery.
In hearing the news, Malory Shaughnessy, executive director of the Alliance commented, "We are thrilled to be the recipient of this gift and delighted that Northern Light Health would consider us when making such a generous gesture. We are keenly aware of both the increasing need and of other fine organizations across Maine who are doing great work in this arena. This gift will help the Alliance to advocate for those who need a voice for addiction and mental health treatment services and comes at a time when the global pandemic is pushing even more folks to need these services. A heartfelt thank you to Northern Light Health for its commitment to working with our communities, healthcare providers, and to improving the health of all Mainers. This is a great example of that commitment."
"While we are not yet beyond this awful pandemic, we know Northern Light Health will endure and emerge better and stronger, in no small part thanks to the service of our board members," commented Dentry. "It is their unwavering dedication, diligence, and adaptive innovation that has helped us weather this terrible storm. That is why we'd like to recognize them with this gift that will go toward uplifting Mainers by advancing statewide treatment and recovery-oriented services. Together, we are building a brighter future for Maine."
At Northern Light Health, we're building a better approach to healthcare because we believe people deserve access to care that works for them. As an integrated health delivery system serving Maine, we're raising the bar with no-nonsense solutions that are leading the way to a healthier future for our state. Our more than 12,000 team members — in our hospitals, primary and specialty care practices, long-term and home healthcare, and ground and air medical transport and emergency care — are committed to making healthcare work for you: our patients, communities, and employees. To learn more about Northern Light Health and our locations across Maine, visit www.northernlighthealth.org.