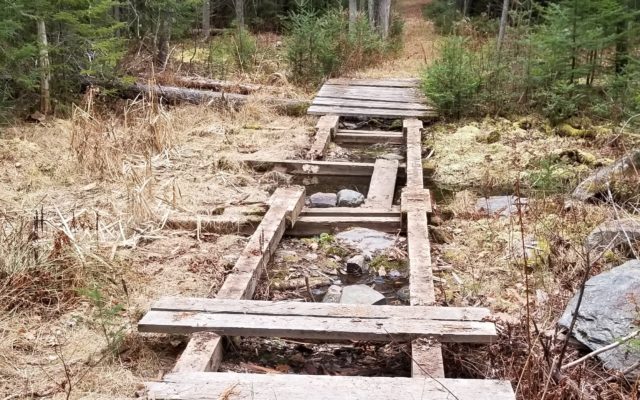 PO-greenvilleschoolgrant-1123-20
Photo courtesy of Dawna Blackstone BRIDGE WORK -- The Maine Environmental Educational Association has awarded a grant to Greenville Consolidated School teacher Dawna Blackstone to help rebuild the biggest bridge on the campus trail system.
Grant to help repair trail bridge at Greenville school
GREENVILLE — Schools from all over the state submitted proposals to the Brunswick-based Maine Environmental Education Association's (MEEA) Mini-Grant for Outdoor Learning Program. The program started with only $30,000 to give away, but through some great network support, MEEA received an additional $70,000 to distribute to schools. Dawna Blackstone, a teacher at the Greenville Consolidated School was a recipient, receiving a fully-funded grant to support her work.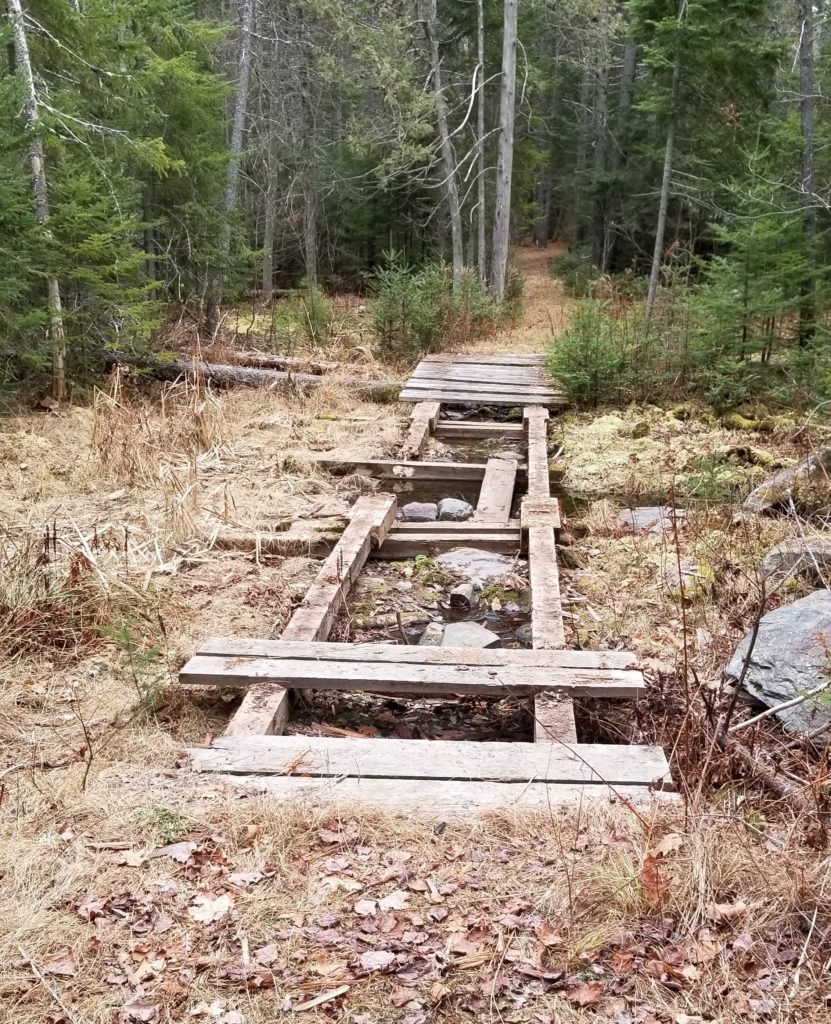 Teachers this year are stretched incredibly thin due to the restrictions COVID-19 has placed on their classrooms. Fortunately enough, outdoor classrooms provide a break from masks and virtual classes, allowing students to get some fresh air and give their eyes a break from screens. To get students outside, teachers often need extra support to meet pandemic regulations and have successful classes. MEEA hopes that the funding from this program will be able to do exactly that by helping fill the gap between teachers' plans for outdoor learning and the budget they have available.
Blackstone related how important this funding is to support her project, "We have had this wonderful school trail for 15 years and our bridges are now rotten and uncrossable. Our .75-mile trails are used by many classes, especially our science classes, our physical education and outdoor ed. classes. They have been our outdoor learning labs, our wildlife habitat (deer, squirrels, birds, fox, etc.), our fitness/snowshoe/ski trails, part of our community clean-up projects, orienteering courses, fairy house settings and so much more, but recently, the bridges have been dangerous to cross and not many classes can get out to use the trails.
For the past two years, environmental science teacher Selena Tardif and I have been working with students on how we can improve our school trails. We have help from the Maine Forest Service to come and cut the snagged and downed trees that are in the trail, and now thanks to the Maine Environmental Education Association , we will have some badly needed funds to rebuild our biggest bridge. We plan to rebuild this bridge next spring with high school student and community help, once again allowing classes access to our wonderful outdoor learning space."
"At MEEA we are so excited to be able to support the incredible work teachers and schools are doing getting Maine youth outside learning!," MEEA's Executive Director Olivia Griset said. "We are grateful for the generosity of many who helped fund this effort to get needed resources quickly to teachers to take down the barriers to get their students outside learning. Even in such a difficult year for teachers and families, we are seeing so many innovative projects all across the state that are getting youth outside in the fresh air, learning, moving, growing and connecting curriculum to the natural world around them! We know that outdoor learning is an effective response to COVID from a safety perspective and we are excited to see many of the teachers suggesting that they will be incorporating outdoor learning in their teaching well beyond the pandemic. We are very pleased to support outdoor learning in Maine public schools!"
The funds from this grant were able to be distributed across the state, supporting schools in Androscoggin, Cumberland, Franklin, Hancock, Kennebec, Knox, Lincoln, Oxford, Penobscot, Piscataquis, Sagadahoc, Somerset, Waldo, and Washington counties. Individuals teaching at a variety of grade levels applied, achieving a spread of applications from high schools, middle schools and elementary schools. The teachers that applied are doing incredible things for their students and filling these students' needs wherever they can. As Maine moves into winter, teachers are recognizing that their students need winter clothing to continue spending time outside. This trend was evident in the applications, as over 30 percent of teachers sought to use this money to outfit students, knowing that their students might not be able to acquire suitable clothing to continue learning outside.
Supporting teachers and schools in the pursuit of outdoor learning is a critical piece of MEEA's mission as the organization strives to enhance and amplify the efforts of individuals and organizations that are building environmental awareness, fostering appreciation and understanding of the environment, and taking action towards creating equitable and resilient communities. MEEA continues to seek impactful partnerships with local communities and organizations during this changing cultural and environmental climate, as the equity-centered environmental work that MEEA creates plays a key role in building an environmentally literate Maine; where all people can engage civically and understand the relationship between their wellbeing and that of their environment.
The Maine Environmental Education Association (MEEA) distributed mini-grants to teachers all over the state as part of a grants program supporting outdoor learning. The grant program allowed teachers to apply for up to $1,500 to fund their outdoor learning projects, from projects like building picnic benches for classrooms, creating mud kitchens for young kids, outdoor learning curriculum development and purchasing foul-weather gear.